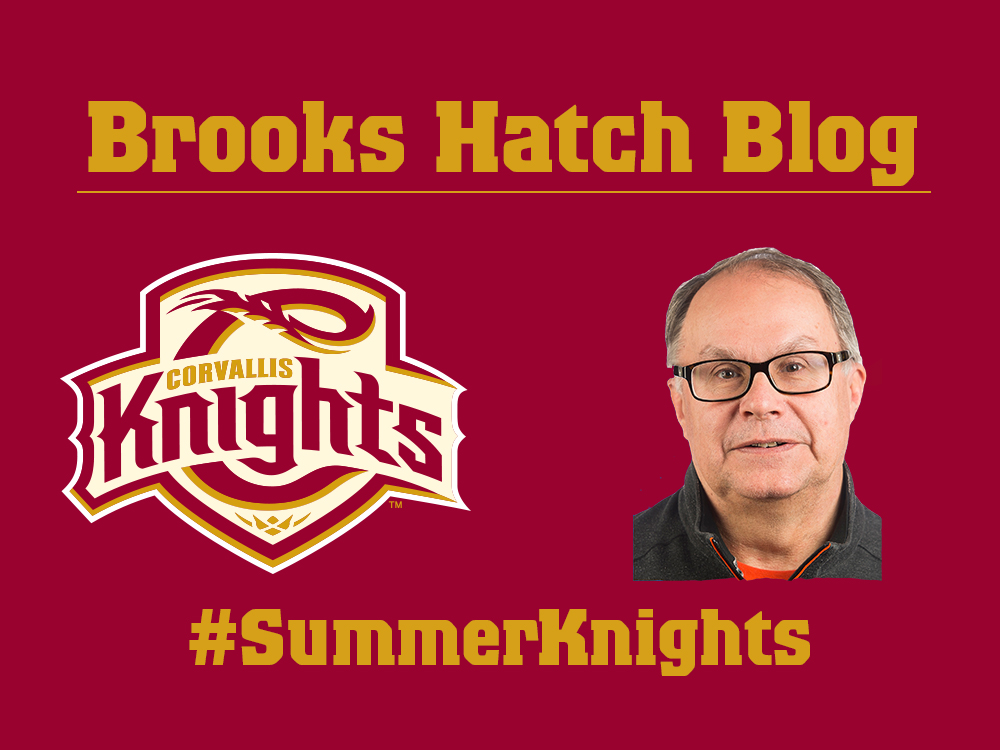 Brooks Hatch Blog: Knights Host Portland on Friday in Playoff Opener
Happy Tuesday, everyone, from the world-wide headquarters (WWHQ) of the Corvallis Knights, your 2016-2017 West Coast League champions!
————–
We will open the best-of-3 West Coast League South Division playoffs at home on Friday, Aug. 10, against the Portland Pickles. Game 2 and Game 3 (if necessary) will be played at Walker Stadium in Portland on Saturday and Sunday.
The winner will advance to the best-of-3 WCL Championship Series, which begins on Aug. 14 at a to-be-determined site. Bellingham has clinched one berth in the North Division playoffs; the other entrant is still TBA.
We will have home-field advantage for the WCL Championship Series – if we advance that far – if we win one of our final two games against Yakima Valley either tonight or on Wednesday. That would give the Knights (and Portland) more total wins than Bellingham, whose 35 total victories lead the North Division playoff qualifiers.
Please click here for information on playoff tickets.
The race for the final North Division playoff berth between Yakima Valley, Wenatchee, Kelowna and Wenatchee is incredibly close, and complicated.
Bellingham won the first half and finished with a 17-11 mark in the second half, which could be good enough to win again. If that happens, the remaining team with the best overall record earns the second playoff berth, and with two games remaining Yakima Valley, Wenatchee, Kelowna and Wenatchee are all 26-26.
Please click here for the tiebreaking protocol.
————–
Tonight is Wilson Motors Night. Free tickets are available at the dealership, located at the corner of Buchanan Avenue and 5th Street in Corvallis. Also, it's a 2Towns Tuesday, with special discounts on cider and $2 tacos. Game time is 6:30 p.m.
Wednesday is Pioneer Fireworks and Fan Appreciation Night. There are also special discounts on wine and $2 peanuts. Note the special 7:05 p.m. starting time.
Our total attendance this year stands at 42,253 for 29 dates, an average of 1,457 per opening. For a look at total WCL attendance (league games only), please click here.
See you at Goss!
————–
The Knights currently have eight alums playing in the major leagues: Pitcher Sam Gaviglio (2009) of Toronto; pitcher Matt Boyd (2010) of Detroit; pitcher Tyler Anderson (2009) of Colorado; pitcher Matt Andriese (2009) of Arizona; pitcher Bud Norris (2005) of St. Louis; pitcher Jace Fry (2011) of the Chicago White Sox; outfielder Mitch Haniger (2010) of Seattle, and third baseman Matt Duffy (2010) of Tampa Bay.
We also have 10 alums in triple-A, eight alums in double-A and 24 more at the Class A or Rookie levels.
Two more (Steven Kwan, Clay Fisher) from our 2015 team have signed but have not yet been assigned to a minor-league affiliate.
Please click here for a complete list of our Knights in the Pros.
————–
Montgomery (AA Southern, Rays) first baseman Dalton Kelly (2014) was 3-for-5 with a double and a run in a 12-2 win over Pensacola on Monday night to earn Corvallis Knights Minor League Player of the Day honors. He played at UC Santa Barbara.
Honorable mention goes to:
Wisconsin (A Midwest, Brewers) first baseman KJ Harrison (2015) was 1-for-4 with a double and two RBIs in a 10-3 loss to Clinton. He played at Oregon State.
————–
UCLA freshman-to-be infielder Matt McLain of the Bellingham Bells and Walla Walla CC sophomore-to-be pitcher Michael Peterson of the Walla Walla Sweets were named the Moss Adams West Coast League Player of the Week and Pitcher of the Week for July 30-Aug. 5 by commissioner Rob Neyer, are for the week of July 30-August 5.
McLain went 10-for-26 (.385) for the week with eight runs scored, a double, triple, homer and seven RBIs. He was a first-round pick of the Arizona Diamondbacks in the 2018 MLB June draft.
Peterson tossed seven innings of scoreless ball to earn the win in the Sweets 2-0 home victory over Kelowna on Aug. He allowed one hit and one walk, and struck out nine.
For more details, please click here.
————–
That's all for today. See you at the ballpark tonight and Wednesday, and back here, and back at Goss Stadium, on Friday.