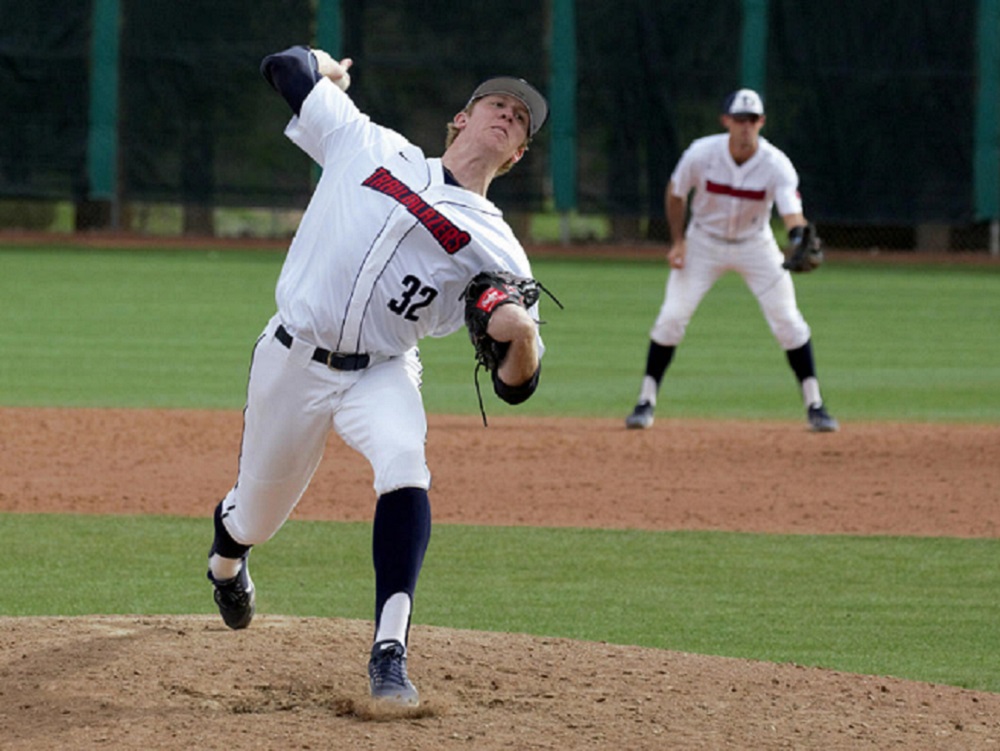 Brooks Hatch Blog: Knights Clinch Playoff Berth; Alums on the Move
Happy Friday, everyone, from the world-wide headquarters (WWHQ) of the Corvallis Knights, your 2016-2017 West Coast League champions!
————–
We clinched our 12th consecutive West Coast League playoff berth on Thursday night by defeating Bend 8-5 at Goss Stadium to sweep the series. It was our 10th win in a row overall and our 16th straight at home.
We will open the playoffs at home on Friday, Aug. 10, against the Portland Pickles in Game 1 of a best-of-3 South Division playoff series. The winner will advance to the WCL Championship Series, which begins on Aug. 14 at a to-be-determined site.
Please click here for information on playoff tickets.
We go to Longview, Wash., this weekend for a series with the Cowlitz Black Bears. Our projected starting pitchers are Connor Knutson of Portland (4-1, 4.26) tonight, Landen Bourassa of San Francisco (4-1, 2.04) on Saturday and Kolby Somers (3-1, 3.56) of Oregon on Sunday.
We then conclude the regular season on Monday, Tuesday and Wednesday at home with Yakima Valley.
————–
Some good news to report from the world of professional baseball.
The Minnesota Twins have promoted pitcher Tanner Howell (2016-17, pictured, above) to Elizabethton of the rookie-level Appalachian League. He was 0-0, 0.75 in seven games with the Gulf Coast League Twins, with three saves and 14 strikeouts in 12 innings. Tanner played at Dixie State.
The Chicago White Sox have promoted alum Nick Madrigal (2015) to Winston-Salem in the advanced-A Carolina League. He was at low-A Kannapolis. For more on Madrigal, please click here. Nick played at Oregon State.
Alum Marc Rzepczynski (2006) of UC Riverside has re-signed with the Seattle Mariners. The 10-year MLB veteran left-handed relief specialist, who has played in 506 career games for Toronto, St. Louis, Seattle, Cleveland, Washington, Oakland and San Diego, is currently with the Tacoma Rainiers in triple-A Pacific Coast League.
————–
Alum Adley Rutschman (2016) just completed a special season with the NCAA-champion Oregon State Beavers and with the Team USA. Portland Tribune reporter Kerry Eggers recently caught up with the Sherwood star; click here to read his story.
————–
Our final homestand of the year, a three-game set against the Yakima Valley Pippins, opens on Monday. We have good promotions for every game.
Monday is Les & Bob's Tee-Shirt Giveaway Night, presented by Servepro. The first 250 fans get a free Knights tee-shirt. Hot dogs and fountain sodas are also $2. Game time is 6:30 p.m.
Tuesday is Wilson Motors Night. Free tickets are available at the dealership, located at the corner of Buchanan Avenue and 5th Street in Corvallis. Also, it's a 2Towns Tuesday, with special discounts on cider and $2 tacos. Game time is 6:30 p.m.
Wednesday is Pioneer Fireworks and Fan Appreciation Night. There are also special discounts on wine and $2 peanuts. Note the special 7:05 p.m. starting time.
Thursday's crowd of 1,295 raised total attendance to 41,057 for 28 dates, an average of 1,466 per opening. For a look at total WCL attendance (league games only), please click here.
See you at Goss!
————–
Princeton (R Appalachian, Rays) outfielder Jordan Qsar (2017) homered twice and drove in three runs in a 9-0 win over Danville in Game 2 of a doubleheader on Thursday night to earn Corvallis Knights Minor League Player of the Day honors. He was 1-for-4 with a double and an RBI in a 4-3 loss in the opener. He played at Pepperdine.
Honorable mention goes to:
Albuquerque (AAA Pacific Coast, Rockies) reliever DJ Johnson (2008-09) struck out the side in a scoreless seventh inning to get the win in a 5-4 victory over Round Rock in Game 2 of a doubleheader. He played at Mt. Hood CC.
Hartford (AA Eastern, Rockies) catcher Chris Rabago (2012-13) hit a solo homer in a 2-1 loss to Binghamton. He played at UC Irvine.
Wisconsin (A Midwest, Brewers) first baseman KJ Harrison (2015) was 2-for-4 with a double in a 3-2 win over Burlington. He played at Oregon State.
————–
Time to update the stats of our alums playing independent baseball, through Wednesday night's games.
Infielder Cody Lenahan (2013) is hitting .281 (47-167) in 45 games for the Lake Erie Crushers of the Frontier League, with three homers and 25 RBIs. He played at Portland.
Outfielder Connor Hofmann (2011-12) is hitting .272 (71-301) in 81 games for the New Jersey Jackals of the Can-Am League, with four homers, 12 RBIs and 12 steals. He played at Oregon and at San Francisco.
Infielder Taylor Ard (2009) is hitting .301 (62-206) in 56 games with Long Island in the Atlantic League, with 12 homers and 40 RBIs. He played at Mt. Hood CC and at Washington State.
————–
That's all for today. See you at the ballpark next week, and back here on Tuesday.