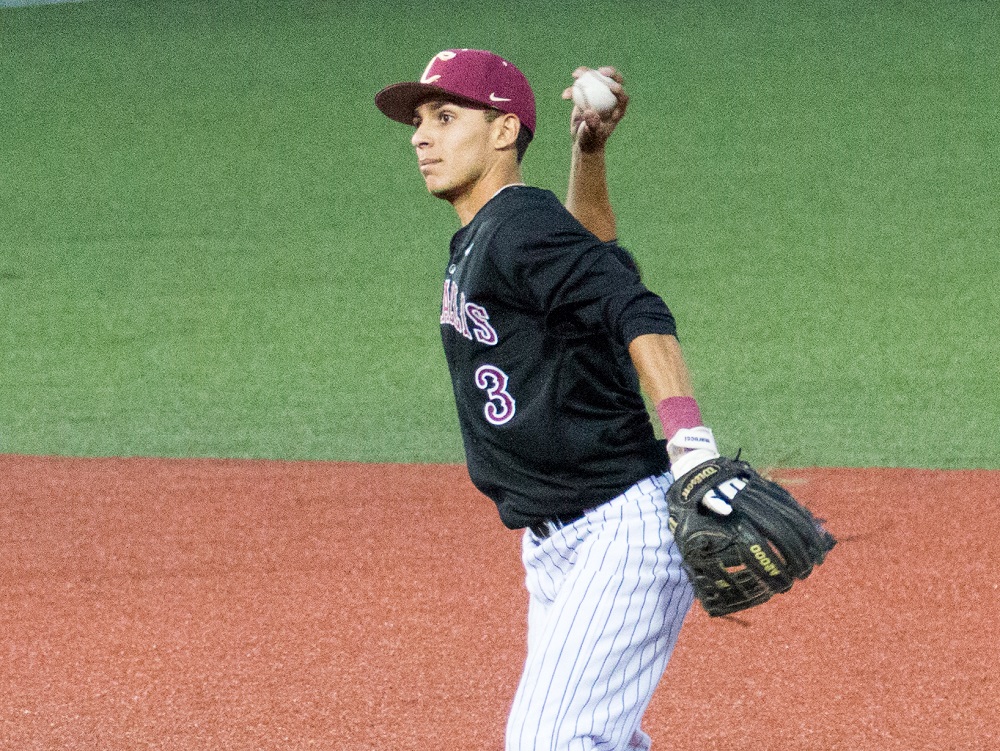 Brooks Hatch Blog: Alum Madrigal Making Quick Impact in Minors
Happy Tuesday, everyone, from the world-wide headquarters (WWHQ) of the Corvallis Knights, your 2016-2017 West Coast League champions!
————–
Alum Nick Madrigal (pictured above, in 2015) of Oregon State continues to make a big impression in the Chicago White Sox organization. They selected him as the No. 4 overall pick in the June MLB draft.
Nick is hitting .375 (15-40) at Kannapolis (N.C.) in 11 games in the Class A South Atlantic League, after Monday night's action. He has three doubles and six RBIs, has walked once, and has yet to strike out.
Please click here for an update on Nick from reporter Jonathan Lee of the SoxMachine website.
————–
We open a three-game homestand with longtime South Division rival Bend tonight. We have good promotions for every game, which all start at 6:30 p.m.
Tonight is Mom Appreciation Night, presented by Willamette Valley Power Yoga and MOM Magazine. Pregame yoga will be available on the field. Also, it's a 2Twosn Tuesday, with special discounts on cider and $2 tacos.
Wednesday is Bi-Mart Beach Party Night, with the first 300 fans receiving a free pair of sunglasses. There are also special discounts on wine, $2 peanuts, and $2 general admission tickets for seniors.
Thursday is Salute to Oregon State Baseball Night. The first 500 fans receive a Matt Boyd Bobblehead, depicting the current Detroit Tigers pitcher, who played for the Knights in 2010 following his freshman year at OSU. It's also a Block 15 Thursday, with discounts on craft beers and $2 nachos.
Our attendance this year stands at 37,031 for 25 dates, an average of 1,481 per opening. For a look at total WCL attendance (league games only), please click here.
Remember, Wednesday, Aug. 7 is Wilson Motors Night. You can still pick up your free tickets at the dealership, located on the corner of 5th Street and Buchanan Avenue in Corvallis.
See you at Goss!
————–
Student reporters from The Oregonian were at Goss Stadium last week as part of the High School Journalism Institute, an annual collaboration among The Oregonian/OregonLive, Oregon State and other Oregon media organizations. They did a profile on Knights' shortstop Beau Philip, a future Beaver, and a profile on utility Briley Knight, a future Utah Ute.
————–
Reno (AAA Pacific Coast, Diamondbacks) closer Jimmie Sherfy (2011) struck out one and pitched a scoreless ninth to record his 14th save in a 3-2 win over Round Rock on Monday night to earn Corvallis Knights Minor League Player of the Day honors. He lowered his ERA to 1.38. He played at Oregon.
Honorable mention goes to:
Albuquerque (AAA Pacific Coast, Rockies) reliever DJ Johnson (2008-09) struck out the side in a scoreless ninth to close an 11-5 win over Colorado Springs. He played at Mt. Hood CC.
Montgomery (AA Southern, Rays) first baseman Dalton Kelly (2014) was 2-for-4 with a double and a run in a 5-1 win over Jackson. He played at UC Santa Barbara.
Salem-Keizer (A Northwest, Giants) pitcher Jake Wong (2016) threw three scoreless innings and struck out three but was not involved in the decision in an 8-6 win over Everett. He played at Grand Canyon. Teammate Ryan Walker (2015) pitched an inning and earned a hold; he played at Washington State.
————–
Tacoma CC sophomore-to-be outfielder Justin VanDeBrake of the Port Angeles Lefties and UC Irvine redshirt freshman-to-be pitcher Michael Frias of the Portland Pickles were named the West Coast League Player and Pitcher of the week for July 23-29 by commissioner Rob Neyer.
VanDeBrake went 14-for-25 with seven runs, two stolen bases, two doubles, a home run and three RBIs. Frias tossed a combined eight scoreless innings in appearances against Corvallis and Bellingham. He earned a win in relief vs. the Bells and allowed only four hits and had nine strikeouts for the week.
Congrats to both players. For complete details, please click here.
————–
That's all for today. See you at the ballpark this week, and back here on Friday.