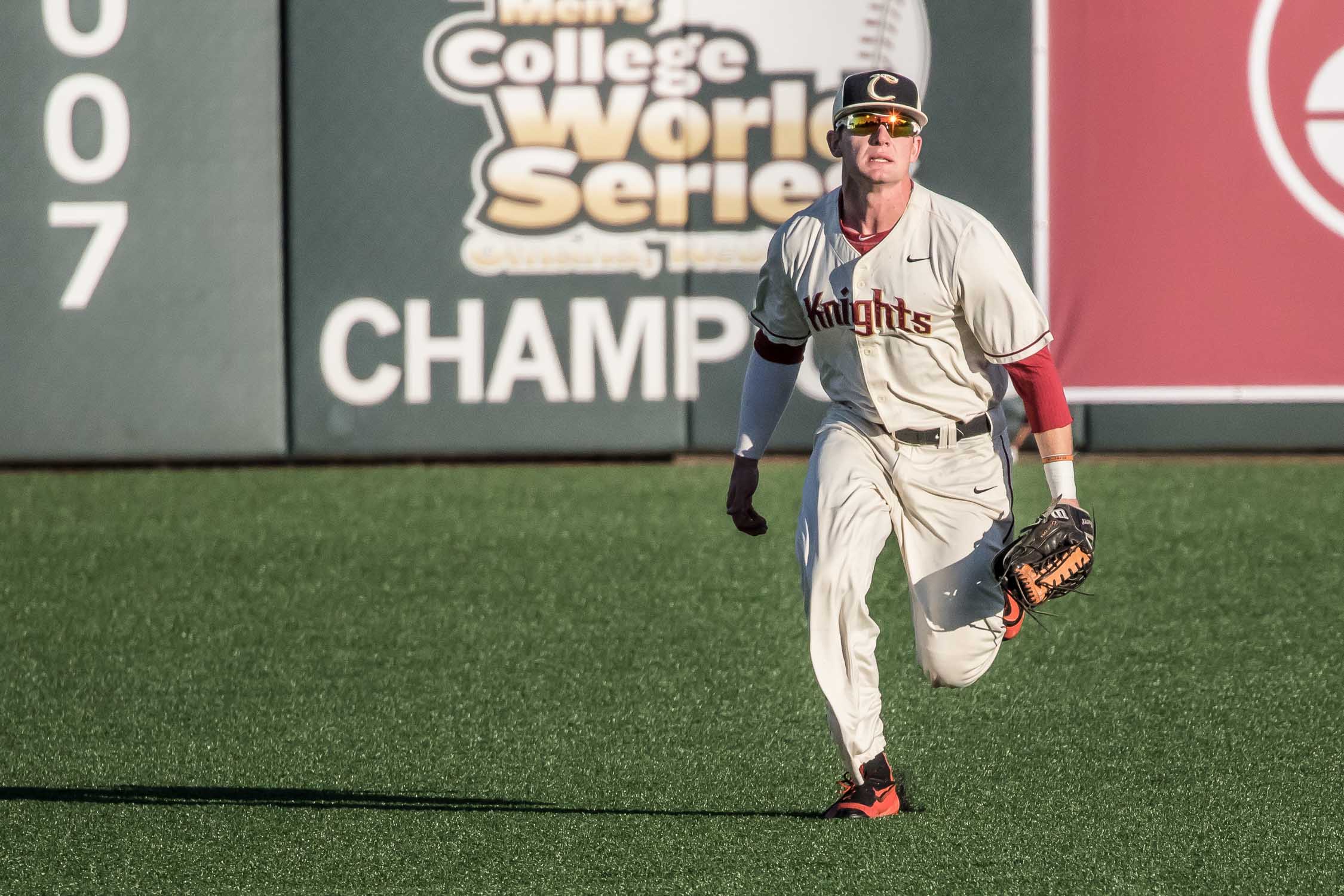 Brooks Hatch Blog: Alum Kyle Nobach Lands Coaching Job at Everett CC
Happy Friday, everyone, from the world-wide headquarters (WWHQ) of the Corvallis Knights, your 2016-2017 West Coast League champions!
————–
Former WCL-champion and current NCAA-champion outfielder Kyle Nobach (pictured in 2016, above) has been named the associate head coach at Everett Community College, his alma mater. Kyle played at ECC in 2014 before transferring to Oregon State in 2015.
A native of Marysville, Wash., Kyle was all-WCL in his lone season with the Knights. He also earned Pac-12 postseason honors with the Beavers in 2015 and NWAACC all-star honors with Everett.
Congrats to Kyle on his new position.
————–
We conclude a four-game homestand at 6:30 tonight by hosting Hayesville in our final nonleague game of the season.
It's Alyrica Internet Cap Night. The first 750 fans will receive a free Knights cap. It's also a Fred Meyer Family Friday and Reading Club Night No. 3. The Corvallis Police and Corvallis Firemen will have their annual game at 5 p.m.
Thursday night's crowd of 1, for the series finale against Kelowna raised the season attendance to 31,036 in 21 dates, an average of 1,478 per opening.
See you at Goss!
————–
Tampa Bay traded alum Matt Andriese (2009) to Arizona on Wednesday for minor-leaguers Brian Shaffer and Michael Perez. The UC Riverside product was the 2009 WCL Pitcher of the Year.
"I knew it was a possibility, but I didn't really see it coming today," Andriese told MLB.com. "It is kind of shocking. But we're always prepared for that situation.
"I guess you never can really see it coming until it actually happens, that's just part of baseball."
Andriese, who has shifted into a long-relief role, is 3-4 with a 4.07 ERA across 59.2 innings over 27 outings, including four starts. Over his four-year career, he is 19-22 with a 4.30 ERA over 99 games, including 48 starts.
Andriese will be arbitration-eligible for the first time this offseason, and he will not hit free agency until after the 2021 season. He expressed excitement to be joining the D-backs.
"Go to a first-place team, playoff push, and hopefully establish a good role there," he said. "I'm grateful for everything [the Rays] have done for me and the opportunities they gave me. I feel as though my time with the team made me a better baseball player and a better pitcher.
"[I] definitely learned from a lot of different circumstances, in terms of starting and relieving. It's made me a more well-rounded pitcher. I have nothing but good things to say about the organization."
————–
Kannapolis (A South Atlantic, White Sox) second baseman Nick Madrigal (2015) was 2-for-2 with a double and an RBI in a 2-1 win over West Virginia in Game 2 of a doubleheader on Thursday night to earn Corvallis Knights Minor League Player of the Day honors. He was 0-for-3 with a run scored in a 3-2 win in the opener and is now hitting .448. He played at Oregon State.
Honorable mention goes to:
Wisconsin (A Midwest, Brewers) first baseman KJ Harrison (2015) hit his 10th homer in a 3-1 win over Peoria. He also played at Oregon State.
Hartford (AA Eastern, Rockies) catcher Chris Rabago (2012-13) was 1-for-3 with a run and a walk in a 7-3 loss to New Hampshire. He played at UC Irvine.
Princeton (R Appalachian, Rays) outfielder Jordan Qsar (2017) was 1-for-5 with two runs and a double in a 10-8 win over Greeneville. The former Pepperdine star, our 2017 MVP, is hitting .353.
————–
Bend will host the 2019 WCL All-Star Game at Vince Genna Stadium, commissioner Rob Neyer announced on Thursday. A date will be announced once the 2019 schedule is finalized this fall. Please click here for more details.
————–
That's all for today. Have a great weekend, see you at the ballpark on Monday, and back here on Tuesday.