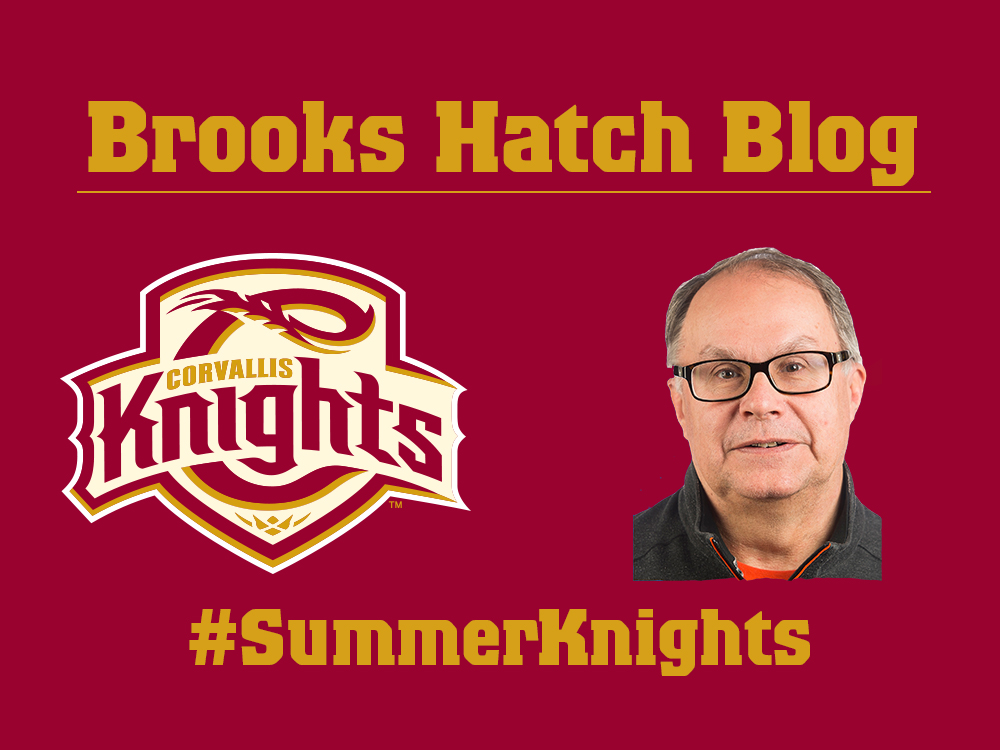 Brooks Hatch Blog: Knights Add LHP Logan Petet, Bolster Staff
Happy Tuesday, everyone, from the world-wide headquarters (WWHQ) of the Corvallis Knights, your 2016-2017 West Coast League champions!
————–
We have bolstered our pitching staff with the addition of lefty Logan Petet of Centennial High School in Boise. He is a 5-foot-11, 155-pound freshman-to-be at Utah Valley University.
He will make his Knights' debut tonight as our starting pitcher in the opener of a three-game home series with the Kelowna Falcons.
As a senior, he was named to a first-team South Idaho Valley Conference all-star, And a first-team 4A all-state selection. He was first-team all-conference as a junior, when he also earned team MVP and Cy Young winner after going 4-1, 1.50, with 65 strikeouts.
He pitched for the Kansas City Royals Area Code team and was also a 2017 Treasure Valley All-Academic Team selection.
"He possesses a quality fastball he can throw to both sides of the plate for strikes to right-handers and left-handers, throws a plus changeup and can throw his breaking ball for strikes and outs," UVU recruiting coordinator Derek Amicone said.
"He is a strike thrower, is extremely competitive and pitches with conviction which younger pitchers don't always have. We are looking forward to seeing the impact Logan will make for us."
————–
Big win in Portland last night for the Knights. We erased a 5-0 deficit and edged the Pickles 6-5 to take the series and split a tough six-game road trip to Victoria and Portland, two of the top teams in the WCL.
Bet that was a fun bus ride home!
We begin a four-game homestand at 6:30 tonight by hosting the Kelowna Falcons. We have some great promotions scheduled.
Tonight's game the 106.3 KLOO-FM Battle of the Interns Night, presented by Snap Fitness. It's also a 2Towns Tuesday, with special discounts on hard cider and $2 tacos. Game time is 6:30 p.m.
Wednesday's game vs. Kelowna is Christmas in July, presented by the UPS Store. Wear your favorite ugly sweater and join Santa at the ballpark. Stay after the game for a holiday-themed movie. It's also a Wine Wednesday, with special discounts on wine, $2 peanuts and $2 general admission tickets for seniors. Game time is 6:30 p.m.
Thursday's game vs. Kelowna is Portland Trail Blazers Night, presented by Washington Park Advisors. It's also a Block 15 Thursday, with special discounts on craft beer and $2 nachos. Game time is 6:30 p.m.
Friday's nonleague game vs. Hayesville is Alyrica Internet Cap Night. The first 750 fans will receive a free Knights cap. It's also a Fred Meyer Family Friday and Reading Club Night No. 3. The Corvallis Police and Corvallis Firemen will have their annual game at 5 p.m.
A crowd of 1,850 for the July 15 series finale against Port Angeles raised the season attendance to 31,036 in 21 dates, an average of 1,478 per opening.
See you at Goss!
————–
Wisconsin (A Midwest, Brewers) first baseman KJ Harrison (2015) was 3-for-3 with a double and three RBIs in a 5-3 win over Bowling Green on Monday night to earn Corvallis Knights Minor League Player of the Day honors. He played at Oregon State.
Honorable mention goes to:
El Paso (AA Texas, Padres) second baseman Peter Van Gansen (2013) was 2-for-3 with a double and an RBI in a 2-1 win over Corpus Christi. He played at Cal Poly.
Springfield (AA Texas, Cardinals) outfielder Blake Drake (2013) was 1-for-3 with an RBI and a walk in an 8-0 win over Tulsa. He played at Concordia.
————–
Oregon State rising sophomore infielder Ryan Ober of the Victoria HarbourCats and Washington State rising sophomore pitcher Bryce Moyle of the Walla Walla Sweets were selected as the Moss Adams Player of the Week and Pitcher of the Week for July 17-22 by commissioner Rob Neyer.
Ober went 7-for-17 (.412) with five runs, three homers and eight RBIs for the HarbourCats.
Moyle made two appearances and one start, tossing eight scoreless innings; giving up only four hits and three walks while striking out 13. He earned a win in his home start vs. Cowlitz.
For more on that story, please click here. Congrats to both players.
————–
That's all for today. Have a great week, see you at the ballpark tonight and all week, and back here on Friday!