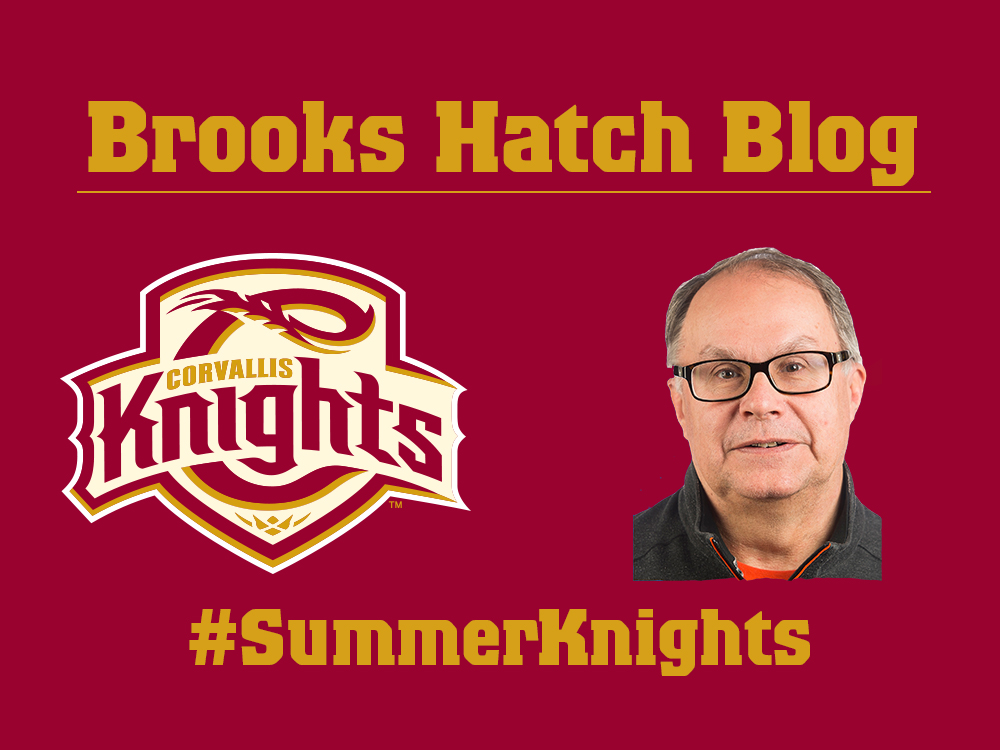 Brooks Hatch Blog: Chandler Anderson Named 2018 MVP
Happy Wednesday, everyone, from the world-wide headquarters (WWHQ) of the Corvallis Knights, your 2016-2017 and 2018 West Coast League champions!
————–
Catching up on some team notes following a long vacation for the Blog, which will now appear every Wednesday:
Center fielder Chandler Anderson was named the Most Valuable Player of the 2018 Corvallis Knights in a vote of the coaching staff and team CEO Dan Segel.
A rising senior at the University of Utah from Park City, Utah., Anderson played outstanding defense and led the Knights in batting average (.337), doubles (20) and steals (26). He had five homers and 34 RBIs in 62 total games.
Anderson set franchise records in at-bats (258) and hits (87), was a second-team WCL all-star started the All-Star Game for the South Division. His play was instrumental in helping the Knights capture their third consecutive WCL championship.
Chandler also received the team's Joe Segel Hustle Award. It is awarded to the player who best exemplifies the hustle and desire shown by Joe Segel, a team co-founder and a key member of the club's board of directors.
Right-hander Landen Bourassa earned Top Pitcher honors. A rising senior at the University of San Francisco from Lethbridge, Alberta, he was 5-1, 1.83 in nine total games, with 47 strikeouts and only nine walks in 47 innings.
Bourassa earned WCL Pitcher of the Year honors and was a first-team all-star. He led the league in ERA (1.95, WCL games only) and tied for the most wins.
Right-handed pitcher Abbott Haffar was named the club's Top Prospect. A sophomore-to-be at UC Riverside from Simi Valley, Calif., he was 5-0 with a 1.14 ERA in 13 total appearances, with three saves and 33 strikeouts in 31.2 innings.
Haffar was the winning pitcher against Portland in the Division Series championship game and saved the final game of the Championship Series against Kelowna. He did not allow a run in 14 innings over his final seven appearances.
————–
Oregon State College of Business student Nicole Schroeder was named the Corvallis Knights Staff Member of the Year for the 2018 season.
A business management & marketing student and a member of the OSU women's golf team from Rocklin, Calif., Schroeder's primary role was as a promotions intern. However, she also assisted the team with numerous operational-related tasks, and was the lead intern for the Sunday Kids Zone, US Bank Honorary Bat Kid program and our American Dream Pizza Dream Seats promotion.
Congrats to Nicole. For more details, please click here.
————–
Landen Bourassa of the University of San Francisco was named the West Coast League's co-Pitcher of the Year, and earned first-team all-West Coast League honors.
Senior-to-be outfielder Cody Hawken of University of Portland and sophomore-to-be catcher Cole Hamilton of Linn-Benton CC joined Bourassa as first-team WCL all-stars. Senior-to-be outfielder Chandler Anderson of Utah and junior-to-be shortstop Beau Philip of Oregon State earned second-team all-WCL honors.
First baseman Trace Tammaro (Portland), second baseman Chad Stevens (Portland), outfielder Austin Feist (St. Martin's), catcher/infielder Zak Taylor (Oregon State), pitcher Connor Knutson (Portland), pitcher Connor Redmond (Cal Poly), pitcher Cameron Haskell (Arizona) and pitcher Eli Morse (Portland) all earned honorable-mention.
For a story from the Knights website; click here. For the complete all-WCL team from the WCL website, please click here.
Landen was also one of five WCL players named to Perfect Game's Summer Collegiate All-America teams, which were released on August 23, 2018. He earned second-team honors.
The rising senior at San Francisco tied for the league lead with five wins and posted a league-low 1.95 ERA. Please click here for more on that story.
Also, Redmond and Philip were named the final WCL Pitcher and Player of the Week. For more on that, please click here.
————–
Some updates on our alums in professional baseball:
The Los Angeles Dodgers recalled alum Rocky Gale (2007, 2009) from triple-A Oklahoma City on Sept. 2.. A catcher who had appeared in 14 previous MLB games with San Diego in 2015 and 2017, Gale hit .281 (83-295) in 85 games at OKC, with four homers and 34 RBIs. Rocky played at Portland.
The Arizona Diamondbacks acquired catcher Chris Stewart (2001) from the Atlanta Braves in a waiver deal after Stewie was designated for assignment on Aug. 26. He is on Arizona's 40-man September roster. He played at Riverside City College and was our 2001 MVP.
Pitchers Jimmie Sherfy (2011) and D.J. Johnson (2008-09) were recalled from triple-A by the Arizona Diamondbacks and Colorado Rockies, respectively, for the final weeks of the season. Here's more on DJ and his incredible journey to the majors.
Milwaukee traded catcher/first baseman KJ Harrison (2015) to Washington in the Gio Gonzales deal. KJ played at Wisconsin in the Class A Midwest League and hit .228 (95-417) in 115 games, with 12 homers and 51 RBIs. KJ played at Oregon State.
San Francisco added pitcher Josh Osich (2008) and Chase Johnson (2011) to the major-league roster on Oct. 2. Josh played at OSU, Chase at Cal Poly.
Outfielder Steven Kwan (2015) finally recovered from the hamstring injury suffered at the College World Series. Drafted by Cleveland, he finished his first pro season by playing for the Arizona Rookie League Indians, and with the Mahoning Valley (Ohio) Scrappers in the short-season Class A New York-Penn League. He also played at OSU.
Altogether 293 WCL alums appeared in or were active in affiliated professional baseball in 2018. The WCL's list of 2018 pros features 38 players who appeared in major league games or were on big league rosters this summer. Click here for more details.
————–
Our Aug. 16 championship-night crowd of 1,286 upped the season's final total to 48,622 in 33 events, an average of 1,473 per opening.
We will welcome our 500,000th fan at some point next season. The Knights have drawn 467,789 fans since moving to Corvallis for the 2007 season.
————–
Lots of West Coast League news.
————–
That's all for today. Glad to be back; have a great week and we'll see you back here next Wednesday.