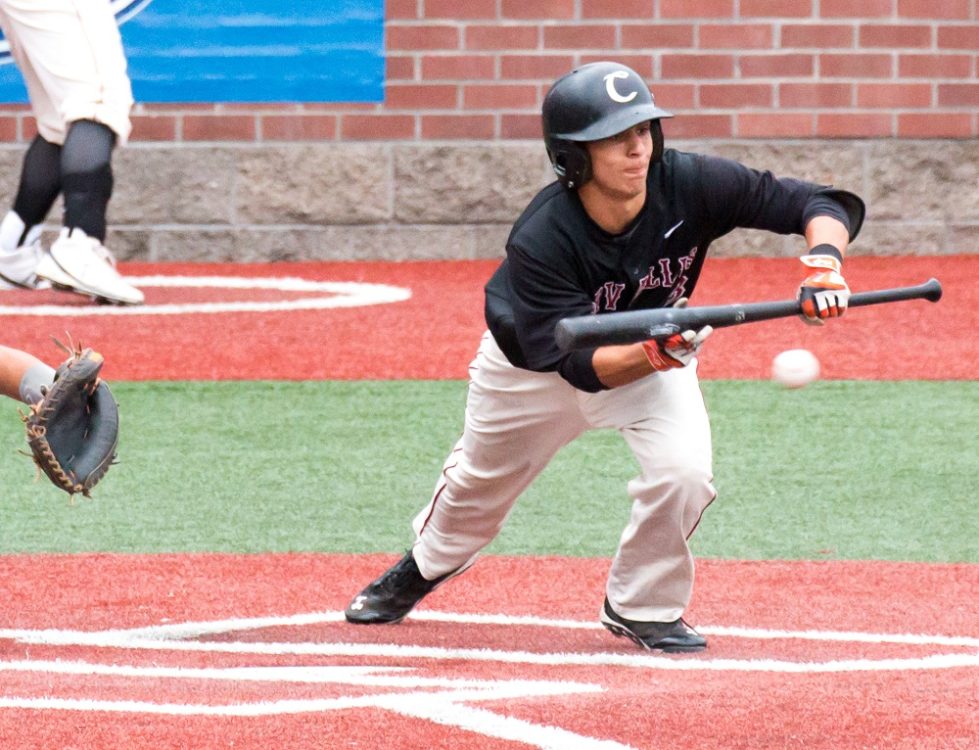 Brooks Hatch Blog: Alum Nick Madrigal Semifinalist for Golden Spikes Award
Happy Tuesday, everyone, from the world-wide headquarters (WWHQ) of the Corvallis Knights, your 2016-2017 West Coast League champions! Our May 30 Science, Engineering & Art Day opener with the Portland Sea Dogs is just eight days away, so get ready for another great summer of Knights' baseball!
Incidentally, SEA Day is sold out! Should be a great day at Goss Stadium!
————–
Alum Nick Madrigal (2015), a junior second baseman at Oregon State, was named a semifinalist for the Golden Spikes Award on Monday for the second year in a row. It is given annually to the nation's top amateur player.
Madrigal was named a semifinalist despite playing in just 26 of 52 games this season. He's batting .435 with two 11-game hit streaks, and has six doubles, four triples, two home runs, 27 RBIs, eight stolen bases, and a 1.000 fielding percentage on 120 total chances.
Madrigal is also a semifinalist for the Dick Howser Trophy. That honor is also given to the nation's top player by the National Collegiate Baseball Writers Association (NCBWA).
————–
Jacksonville (AA Southern, Miami) outfielder Cade Gotta (2011) was named the Southern League Player of the Week for May 14-20. He hit .458 (11-24) in seven games, with a homer, five RBIs and seven runs scored.
Cade played at San Diego Christian. Please click here for more on that story.
————–
Linfield third baseman Alec Cook has signed a 10-day contract with the Knights for the 2018 season.
He is a 5-foot-10, 180-pound junior from Springfield who played two years at Clark College in Vancouver, Wash., before transferring to Linfield. He hit .295 (31-105) in 34 games for the Wildcats in 2018, with no homers and 14 RBIs.
Cook hit .196 (35-179) in 61 games at Clark in 2016-17, with 20 RBIs. Players are signed to 10-day contracts to add depth early in the season, before all the full-time signees report. They can be retained as full-time players.
He earned four letters in baseball at Springfield High, and was a first-team Midwest League all-star as a senior and junior and a first-team all-star as a junior.
Welcome to the Knights, Alec!
————–
The Arizona Diamondbacks optioned reliever Jimmie Sherfy (2011) to Reno of the triple-A Pacific Coast League on Sunday after a brief stay with the big club.
A right-hander from Oregon, Jimmie did not allow a run in two innings over three appearances. He had one strikeout, and still has not allowed a run in 13 innings over 14 MLB appearances in 2017 and 2018.
Knights' teammate Jace Fry (2011) has taken on the closer's role for the Chicago White Sox. He had his first career save on May 20, against Texas, and is 0-0 with a 0.00 ERA in seven games, with 12 strikeouts in 8.1 innings. He is a lefty from Oregon State.
————–
A motivated team of interns will play a major role in the off-field success of the Knights during the 2018 West Coast League season.
Our interns will work with almost every aspect of the Knights organization, from merchandise sales, on-field entertainment, marketing, data analytics, ticketing and branding. Many receive academic credit and are exposed to the sports business via a wide range of preseason and summer projects that require critical thinking, creativity, enthusiasm and commitment.
"I am incredibly pleased with our interns this season," said Bre Miller, the Knights President and General Manager. "They are motivated, intelligent and eager to learn. "I could not be more excited to be going into the season with this group of young talent."
Please click here for more on that story, from our website.
————–
Springfield (AA Texas, Cardinals) outfielder Blake Drake (2013) homered, doubled, scored twice and drove in two runs in a 9-7 win over NW Arkansas on Monday night to earn Corvallis Knights Minor League Player of the Day honors. He played at Concordia.
Honorable mention went to:
Albuquerque (AAA Pacific Coast, Rockies) closer DJ Johnson (2008-09) pitched a scoreless ninth and had two strikeouts to earn his eighth save in a 6-4 win over Salt Lake. He played at Mt. Hood CC.
South Bend (A Midwest, Cubs) outfielder Christian Donahue (2015) was 1-for-3 with a run, a double and a walk in a 2-1 loss to Lansing. He played at Oregon State.
————–
Our 2018 season and single-game tickets are now on sale! For more details or to order your tickets online, please click here. Tickets may also be purchased by calling us at 541-752-5656 or by visiting our office at 4th Street and Jefferson Avenue in downtown Corvallis. See you at the ballpark in 2018!
We also have three fireworks nights and tons of other promotions planned for this summer. Our entire promotional schedule is also available, by clicking here.
————–
Walla Walla has signed freshman walk-on outfielder Cesar Lopez of Cal Poly Pomona for the 2018 season. Please click here for more on that story, from Our Sports Central.
Lots of news on new WCL commissioner Rob Neyer in this story from the Portland Tribune newspaper.
————–
That's all for today. Have a great week, go Beavers, and we will see you on Friday.