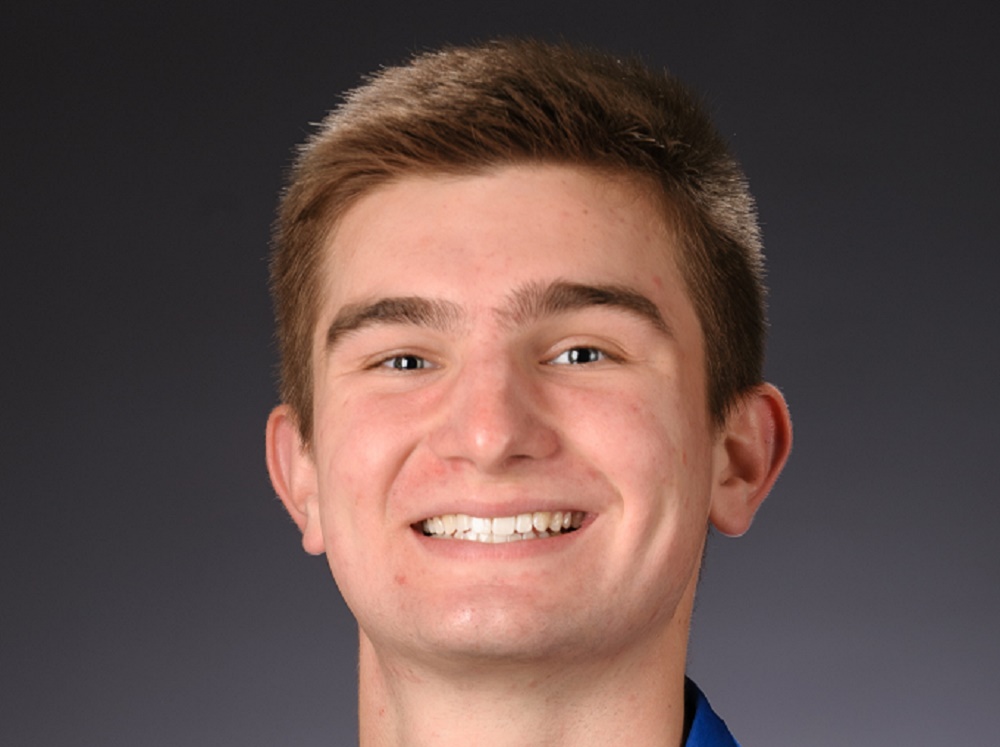 Brooks Hatch Blog: Knights add UCSB LHP Ben Brecht
Happy Friday, everyone, from the world-wide headquarters (WWHQ) of the Corvallis Knights, your 2016-2017 West Coast League champions! Our May 30 Science, Engineering & Art Day opener with the Portland Sea Dogs is just 12 days away, so get ready for another great summer of Knights' baseball!
Incidentally, SEA Day is sold out! Should be a great day at Goss Stadium!
————–
We have signed UC Santa Barbara left-handed pitcher Ben Brecht (pictured, above) for the 2018 season, coach Brooke Knight announced Thursday. He is a 6-foot-7, 215-pound sophomore from New Trier High School in Wilmette, Ill.
Brecht is 3-2, 5.59 in 14 games this season, with 39 strikeouts in 38.2 innings. Six of his 14 appearances have been starts. He was 4-2, 3.99 in 14 games as a freshman, with 39 in 58.2 innings, and had the lowest ERA on the team among pitchers with at least 18 innings pitched and the team's best winning percentage (.667).
Brecht was a three-year letterman at New Trier HS and was selected by Baltimore in the 36th round of the 2016 MLB draft after earning league Player of the Year and first-team all-state honors as a senior. He was 8-0, 0.31 in 44 innings as a senior, with 74 strikeouts.
Welcome to the Knights, Ben!
————–
The Baltimore Orioles recalled alum Andrew Susac (2009) from Norfolk of the triple-A International League on Thursday. He was 1-for-3 with a double and a run scored in a 6-2 loss to Boston in his 2018 MLB debut that night. Here's a lot more on that story, from MLB.com.
A catcher from Oregon State, Andrew was hitting .296 (16-54) in 16 games at Norfolk, with three homers and 14 RBIs. He replaces catcher Caleb Joseph on the 25-man MLB roster.
Andrew was ranked as the WCL's top pro prospect in 2009, the summer before his freshman year at OSU. He has also played for San Francisco and Milwaukee in an MLB career that began in 2014.
————–
Alum Adley Rutschman of OSU (2016) is one of 16 semifinalists for the Johnny Bench Award, given annually to the nation's top collegiate catcher. The three finalists will be revealed on June 4; the winner will be announced on June 28 in Wichita.
Rutschman leads the Pac-12 and is sixth nationally with a .413 batting average. He is second in the Pac-12 with 62 RBIs, with six home runs, 37 walks and just 25 strikeouts.
Please click here for more on that story, from the OSU website.
He is also one of 35 semifinalists for the Dick Howser Trophy, given annually to the nation's top collegiate player. Finalists for the 2018 award will be revealed June 8; the winner will be announced on June 15 on the MLB Network. Please click here for more info on that story.
————–
Two players with Knights' ties earned first-team NWAC all-South Region honors for the 2018 season.
Linn-Benton catcher Cole Hamilton (2018) hit .293 (36-123) in 39 games, with 27 RBIs. He also won a Gold Glove Award. Lane first baseman Jackson Soto (2014-15) hit .304 (42-138) in 43 games, with four homers and 32 RBIs.
————–
Jacksonville (AA Southern, Marlins) outfielder Cade Gotta (2011) was 2-for-3 with a double, an RBI and two runs scored in a 7-3 win over Mobile on Thursday night to earn Corvallis Knights Minor League Player of the Day honors. He played at San Diego Christian.
Rain postponed most of Thursday's games, so there were no honorable-mentions.
————–
Our 2018 season and single-game tickets are now on sale! For more details or to order your tickets online, please click here. Tickets may also be purchased by calling us at 541-752-5656 or by visiting our office at 4th Street and Jefferson Avenue in downtown Corvallis. See you at the ballpark in 2018!
We also have three fireworks nights and tons of other promotions planned for this summer. Our entire promotional schedule is also available, by clicking here.
————–
That's all for today. Have a great weekend and we will see you on Tuesday.