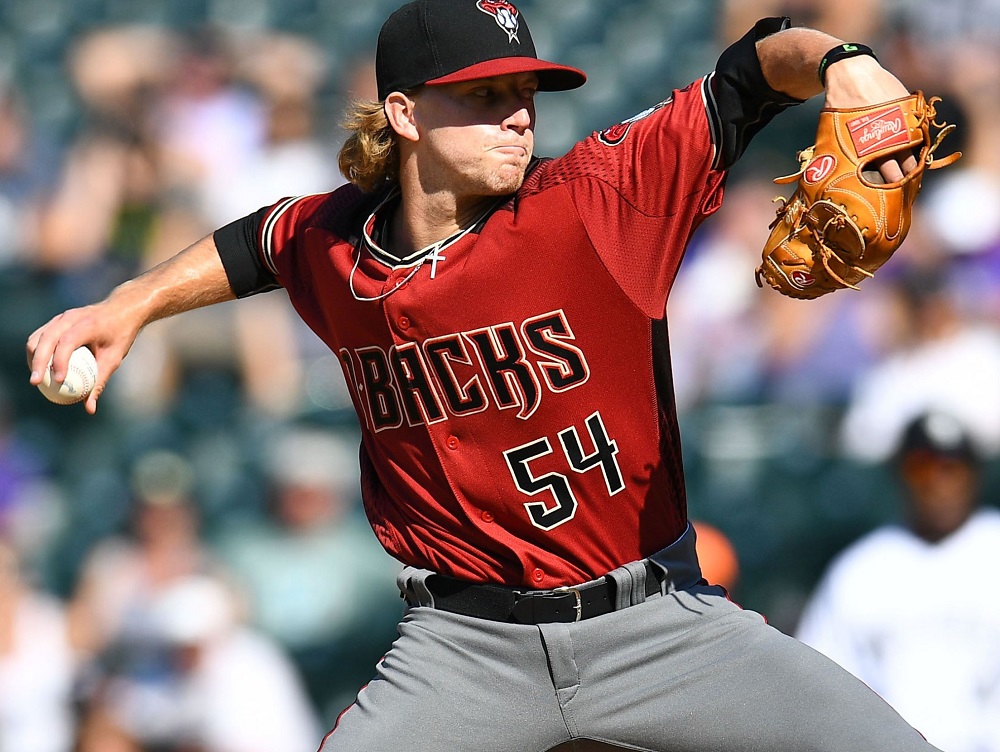 Brooks Hatch Blog: Alums Sherfy, Gaviglio Back in Major Leagues
Happy Tuesday, everyone, from the world-wide headquarters (WWHQ) of the Corvallis Knights, your 2016-2017 West Coast League champions! Our May 30 Science, Engineering & Art Day opener with the Portland Sea Dogs is just 15 days away, so get ready for another great summer of Knights' baseball!
Incidentally, SEA Day is sold out! Should be a great day at Goss Stadium!
————–
The Arizona Diamondbacks recalled reliever Jimmie Sherfy (pictured above, 2011) from Reno of the triple-A Pacific Coast League on Sunday. He pitched a scoreless inning in a 6-4 loss to Washington later that day and has still not allowed a run in 11.2 innings over 12 career appearances.
Jimmie was 0-0, 2.25 in 11 games at Reno, with seven saves and 18 strikeouts, prompting his recall.  Jimmie played at Oregon.
Also, Toronto recalled pitcher Sam Gaviglio (2009) from Buffalo in the triple-A International league on May 11. He pitched that night and tossed three scoreless innings in a 5-3, 12-inning win over Boston.
He went three scoreless innings, allowed one hit, and had three strikeouts. Sam was 0-0, 1.86 in five starts at Buffalo, with 29 strikeouts and only four walks in 29 innings. Sam played at Oregon State.
————–
Two Knights were nominated for Pitcher of the Week honors in their respective conferences for outstanding performances that featured saves from two other Knights' alums.
First, San Francisco's Landen Bourassa was nominated for West Coast Conference honors for his great job in a 6-2 win over BYU. He struck out five in 8.1 innings; ex-Knight Grant Goodman (2016) got the save with .2 innings of relief.
Then, UC Riverside's Trenton Toplikar earned a Big West Conference nomination for a three-hit performance over 7.2 innings in a 4-2 win over Cal State Fullerton. Toplikar had six strikeouts; former Knight Hazahel Quijada (2016-17) went the final 1.1 for the save.
————–
Western Oregon lefty Jacob Fricke (2016-18) pitched a complete game on Sunday to give the Wolves an 8-4 win over Montana State-Billings in the championship game of the Great Northwest Athletic Conference tournament. Please click here for more on that story, from the WOU website.
————–
Jacksonville (AA Southern, Marlins) outfielder Cade Gotta (2011) was 3-for-5 with a triple, an RBI and a run scored in a 7-4 win over Montgomery on Monday night to earn Corvallis Knights Minor League Player of the Day honors. He played at San Diego Christian. Ex-Knight Dalton Kelly (2014) was 1-for-2 with two walks for Montgomery; he played at UC Santa Barbara.
Honorable-mention went to:
Mobile (AA Southern, Angels) reliever Greg Mahle (2012) pitched 1.2 scoreless innings, struck out three, and improved to 3-0 in a 9-0 win over Birmingham. He also played at UCSB.
Wisconsin (A Midwest, Brewers) DH KJ Harrison (2015) was 2-for-4 with two runs in a 10-3 win over Beloit. He played at Oregon State.
————–
Our 2018 season and single-game tickets are now on sale! For more details or to order your tickets online, please click here. Tickets may also be purchased by calling us at 541-752-5656 or by visiting our office at 4th Street and Jefferson Avenue in downtown Corvallis. See you at the ballpark in 2018!
We also have three fireworks nights and tons of other promotions planned for this summer. Our entire promotional schedule is also available, by clicking here.
————–
The Wenatachee AppleSox have completed their 2018 roster, coach Kyle Krustangel announced Friday. For more on that story, please click here for details from Our Sports Central.
————–
That's all for today. Have a great week and we will see you on Friday.