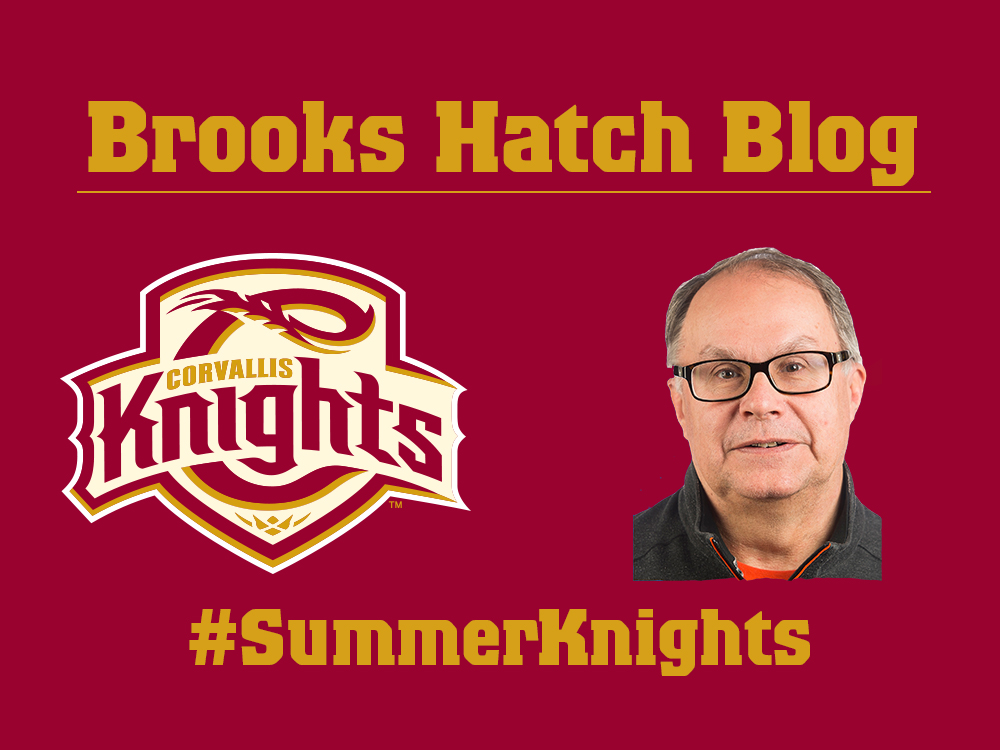 Brooks Hatch Blog: Knights Sign LBCC Infielder to 10-Day Deal
Happy Friday, everyone, from the world-wide headquarters (WWHQ) of the Corvallis Knights, your 2016-2017 West Coast League champions! Our May 30 Science, Engineering & Art Day opener with the Portland Sea Dogs is just five  days away, so get ready for another great summer of Knights' baseball!
Incidentally, SEA Day is sold out! Should be a great day at Goss Stadium!
————–
We have signed Linn-Benton Community College freshman infielder Fridtjof Fremstad to a 10-day contract. A 6-foot-180-pound freshman from Astoria, he is hitting .299 in 33 games for the Roadrunners, with a homer, 16 RBIs and six multi-hit games.
Fremstad was a first-team 4A all-state infielder at Astoria High School before coming to LBCC.
Players are signed to 10-day contracts to add depth early in the season before many of the full-time players arrive. They have a chance to stick with the team for the entire season.
————–
Pepperdine's Jordan Qsar (2017), our 2017 MVP, was named the West Coast Conference Player of the Year and teammate Cooper Chandler, a 2018 Knight, was named the WCC's Freshman of the Year and second-team all-league earlier this week.
Alum Cody Hawken (2016) of Portland was a first-team all-star; teammate Beau Brundage, an incoming 2018 Knight, earned second-team honors. Incoming Knights' pitcher Connor Knutson of Portland earned honorable mention all-league, and UP pitcher Eli Morse (2018) made the all-freshman team.
Click here for complete details.
————–
The San Francisco Giants recalled alum Josh Osich (2008) from Sacramento of the triple-A Pacific Coast League on Tuesday. He is a left-handed pitcher who played at Oregon State.
Josh was 0-0, 8.25 with 10 strikeouts in 12 games with the Giants earlier this season before being sent back to Sacramento after doing on the DL. He was 0-0, 0.00 in four games at Sacramento, with three strikeouts in 4.2 innings.
Also, the Rockland Hounds of the independent CanAm League have released corner infielder Taylor Ard (2009). He signed with Rockland in the offseason after being released by the Miami organization.
————–
Mobile (AA Southern, Angels) reliever Greg Mahle (2012) pitched two perfect innings, struck out three and lowered his ERA to 1.77 in a 12-0 win over Biloxi on Thursday night to earn Corvallis Knights Minor League Player of the Day honors. He played at UC Santa Barbara and was our 2012 MVP.
Honorable mention went to:
*Hartford (AA Eastern Rockies) catcher Chris Rabago (2012-13) homered in a 12-3 loss to Portland. He played at UC Irvine.
Jacksonville (AA Southern, Marlins) outfielder Cade Gotta (2011) was 2-for-5 with a run in an 8-1 win over Mississippi. He played at San Diego Christian.
————–
Our 2018 season and single-game tickets are now on sale! For more details or to order your tickets online, please click here. Tickets may also be purchased by calling us at 541-752-5656 or by visiting our office at 4th Street and Jefferson Avenue in downtown Corvallis. See you at the ballpark in 2018!
We also have three fireworks nights and tons of other promotions planned for this summer. Our entire promotional schedule is also available, by clicking here.
————–
The Bellingham Bells have added multiple ten-day players to the 2018 roster. The ten-day player class consists of six pitchers, a catcher, three infielders and an outfielder.
"This is a group of quality players and we believe each one of them could make a big difference in our early season success," pitching coach/recruiting coordinator Jim Clem said. "We have had our eyes on these particular players for a while." Please click here for more on that story, from Our Sports Central.
The Victoria HarbourCats have signed a full-time player and two 10-day players to their 2018 roster. Please click here for more on that story, from Our Sports Central.
————–
That's all for today. Have a great weekend, go Beavers, and we will see you on Tuesday.