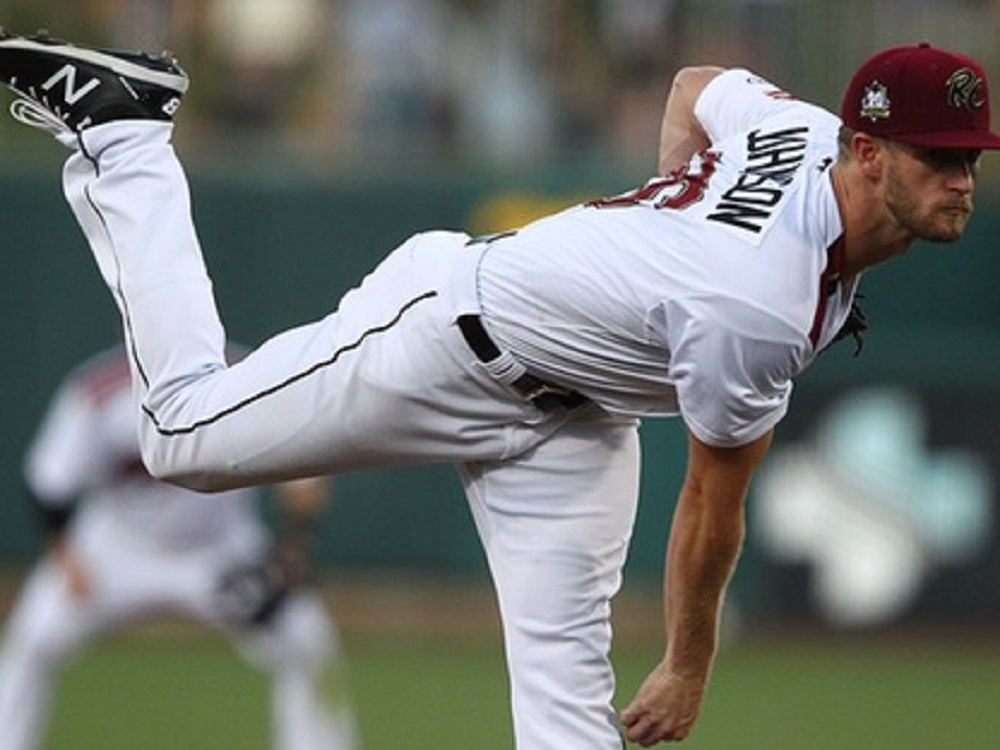 Brooks Hatch Blog: Alum Chase Johnson Signs With Padres
Happy New Year, everyone, from the world-wide headquarters (WWHQ) of the Corvallis Knights, your 2016, 2017, 2018 and 2019 West Coast League champions!
————–
Alum Chase Johnson (2011, pictured above) has signed with San Diego as a free agent. The former Cal Poly right-hander spent the past seven years in the Giants' organization after being selected by them in the third round of the 2013 MLB draft.
Johnson was 21-31, 3.84 in 144 career games in the Giants' organization, with seven saves and 425 strikeouts in 483 career innings. He reached triple-A in 2017 and 2019.
Chase was 5-0, 1.83 for our 2011 title team. He was ranked as the West Coast League's No. 5 pro prospect by Perfect Game and the No. 10 prospect by Baseball America that summer.
————–
Ex-Knights Jordan Qsar (2017), Jorge Perez (2012-13, 2015) and Trevor Frank (2012) are playing for coach Brooke Knight and the Perth Heat in the Australian Baseball League in 2019-20.
"Qsar has been really hot lately and surely hope he can keep it going," Knight said. "Perez has been pretty consistent.  He got touched up finally this past weekend, but he should be fine.
"Frank can be flat out filthy at times. He has a lot of confidence and loves to compete."
The Heat (17-11) are in second place in the Southwest Division, one game behind the Adelaide Giants (16-8). The teams play a four-game series at Adelaide this weekend.
"We need to get 3 of 4 if we can," Knight said. "We'd be tied for first if we could pull that off.
Please click here for more information.
————–
Our 2020 schedule has now been finalized. We will open the season against the Portland Sea Dogs on June 2 on Weyerhaeuser Science, Engineering and Art Day. For the complete home schedule, please click here. For the complete WCL schedule, please click here.
The Knights set a franchise record for total attendance in 2019 by drawing 59,357 fans to Goss Stadium in 36 regular-season and playoff games. We averaged 1,721 fans per regular-season game, and 1,071 fans for the four playoff games.
Thanks to the best fans in the West Coast League.
The WCL All-Star Game is scheduled for July 20 at Paul Thomas Sr. Field in Wenatchee. New AppleSox head coach Ian Sanderson and staff will coach the North Division's team and the 2019 West Coast League champion Corvallis Knights coaching staff led by Brooke Knight will coach the South Division. For more details, please click here.
————–
Some news from elsewhere in the West Coast League:
The Victoria HarbourCats will play at least 60 games this summer, more, if the team makes the playoffs for the fourth time in five summers. Of those 60 games, 32 will be played at Wilson's Group Stadium at Royal Athletic Park.

The HarbourCats are excited to announce an additional five home games, to go with 27 regular season dates in the West Coast League, and another game slated for Nanaimo. Please click here for more details, from Our Sports Central.

Ohio native Brandon Monty will be the play-by-by broadcaster and director of media relations for the Walla Walla Sweets for the 2020 season. Currently a senior at Ohio University, Monty spent last summer as the play-by-play broadcaster of the Mat-Su Miners of the Alaska Baseball League. Please click here for more details, from Ballpark Biz.
 ————–
That's all for today. See you soon!