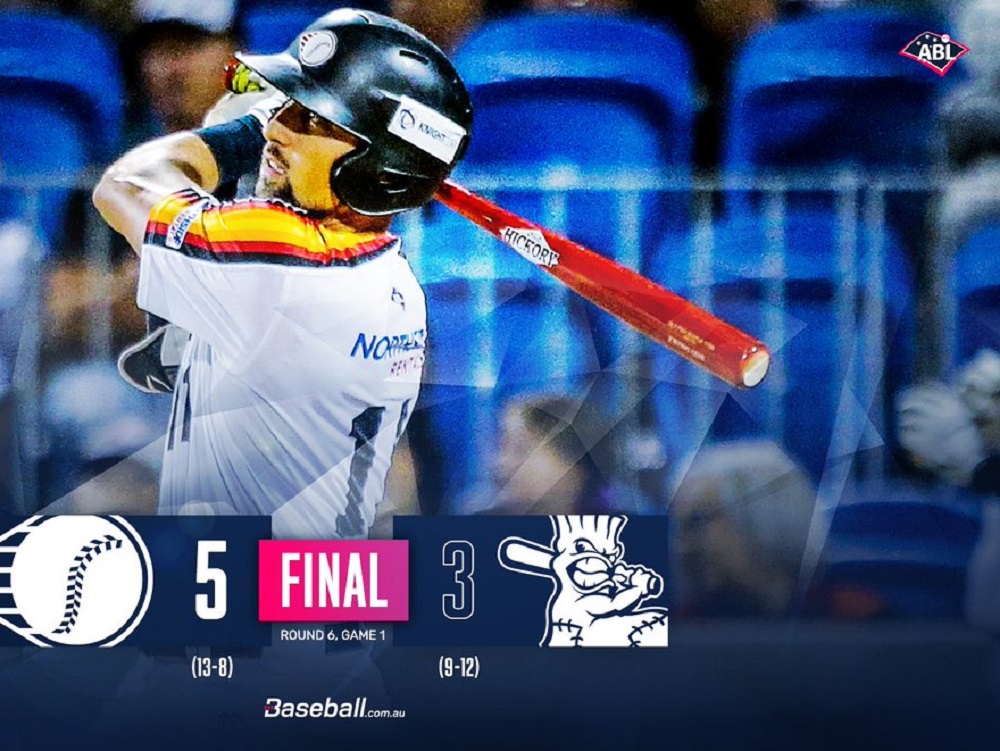 Knights, Perth Heat Connection Stronger Than Ever
It's about 9,200 miles between the West Coast of Oregon and the West Coast of Australia.
However, that impressive distance hasn't prevented the Corvallis Knights of the West Coast League from establishing a close relationship with the Perth Heat of the Australian Baseball League over the years.
The Heat's current manager is longtime Knights' skipper Brooke Knight, who has led Perth to second place in the ABL's Southwest Division at the midway point of the 2019-2020 season. A six-time champion in the WCL, he directed the Heat to the ABL crown – known as the Claxton Shield – in 2011 and 2012.
Aloha Knights alum Kevin Hooker (1991-1992, 1994), who played with Knight at Crescent Valley High School, on the Richey's Market American Legion team and at Oregon State, is a Heat assistant coach.
And former Knights' standouts Jordan Qsar (pictured), Jorge Perez and Trevor Frank are on this year's edition of the Heat, who hosted (and split with) Brisbane this past weekend in their first series of the new calendar year.
"It is such a privilege to reconnect with some former players in Perth," Knight said. "All outstanding athletes between the lines, but more importantly, really fantastic people.
"Sometimes I have to shake myself as to how fortunate I am to get a chance to guide these young men. Pursing another championship with these guys is really special, and our home-grown Australians are full of great personalities as well."
An outfielder from Pepperdine who was the Knights' 2017 MVP, Qsar leads the Heat with a .347 average, seven homers and 21 RBIs, and in slugging percentage (.488), on-base percentage (.622) and OPS (1.130).
"Qsar is seeing the ball really well," Knight said. "He is either in the 3- or 4-hole for us regularly."
Qsar is second in the ABL in homers, tied for fourth in RBIs, and is sixth in batting average. Former major leaguer Delmon Young leads the league in all three categories.
He will start his third year in the Tampa Bay organization in February. He played at Bowling Green in the Midwest League in 2019.
A right-handed pitcher from Grand Canyon, Perez (2012-2013, 2015) has appeared in seven games and is 1-0, 5.00, with a save and seven strikeouts in seven appearances. The former Grand Canyon University ace has finished four games.
Perez had a 0.00 ERA through his first six appearances but was roughed up for four runs in 1.2 innings on Sunday in a 10-4 loss to Brisbane in the finale of a three-game series.
Another right-hander, from UC Riverside, Frank (2012) made his season debut on Dec. 30 and pitched two scoreless innings in a 10-3 victory over Sydney, with four strikeouts. He then allowed just a run in five innings and got the win in a start against Brisbane on Jan. 4.
He played six years in the Cleveland, San Diego and Seattle organizations, twice reaching triple-A. He played at Arkansas and San Antonio in the double-A Texas League and at Tacoma in the triple-A Pacific Coast League in 2019.
"It's pretty neat" to have all three on the team, Knight said. "They all played in the same game in Sydney" on Dec. 30.  Frank gave us a few quality innings, Perez closed and got the save.
Several other Knights' luminaries have played at Perth in the past. Catcher Alex Burg, the MVP of the 2008 WCL champions, was a star on the Heat's 2012 title team.
Pitcher/outfielder Dylan Jones (2009-2010), the Knights 2010 MVP, has played for the Heat, as did former Linn-Benton/Gonzaga lefty Liam Baron (2008-2o09), a Perth native.
The Knights are four-time defending WCL champions. They open the 2020 season on the road at the Humboldt Crabs, May 29-31 and open at home June 2 with their ninth annual Weyerhaeuser Science, Engineering & Art Day game at Goss Stadium vs. the Portland Sea Dogs. The team's WCL opener is June 5 at Yakima Valley and WCL home opener June 12 against longtime rival Bend.