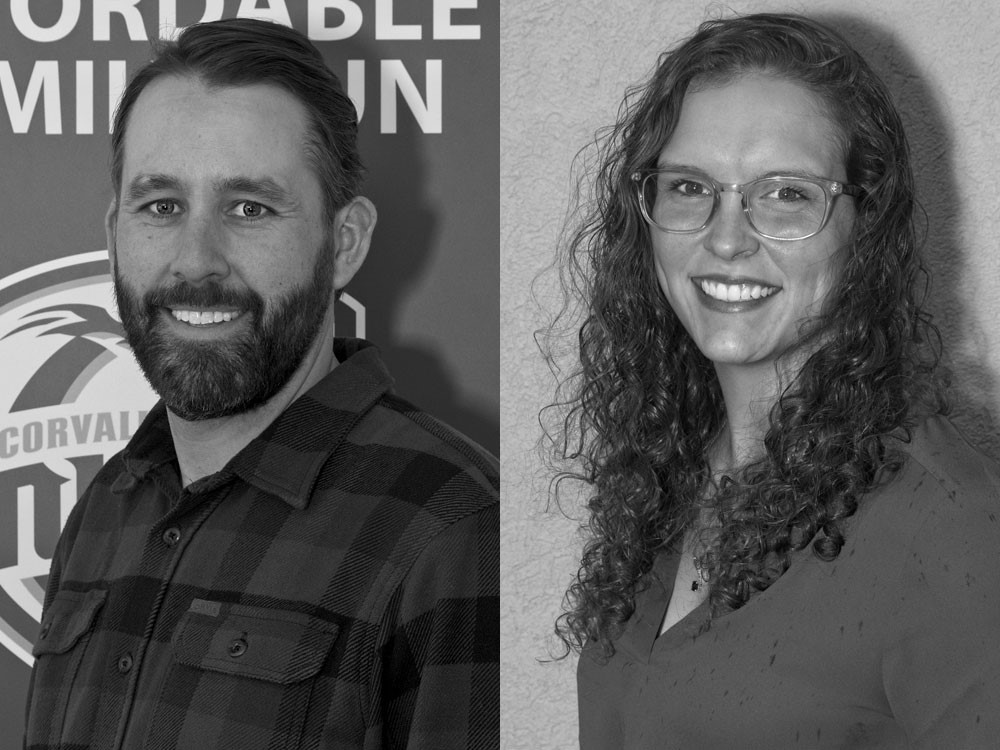 Knights Baseball Club Adds Gits, Hoechlin to Front Office
The Corvallis Knights have bolstered their front-office batting order for the upcoming West Coast League season.
Sarah Hoechlin, our 2019 Staff Member of the Year, began her new job as the Promotions and Game Day Operations Coordinator on Jan. 1. She is an Oregon State University graduate from Springfield, Oregon. Sarah graduated from Thurston High School in 2015 (Valedictorian) and also attended Clark College from 2015-2017 where she played softball as a catcher.
Former Knights' pitcher and Knights Baseball Club board member Mike Gits (2000-2001) has been named the team's first Partner Relationship Manager and also started his Knights' management career on Jan. 1, 2020. He is a Portland State graduate and lives in SE Portland.
Hoechlin will oversee promotions, game day operations and group and partnership sales. She will also coordinate ticket and intern support, community events, donations and sponsor activation.
"I'm very excited to join such a fantastic organization and to work with great people," Hoechlin said. "I had a wonderful experience in 2019 and look forward to a great 2020."
A mathematics major/statistics minor at OSU, Hoechlin served as the OSU softball team's head student manager as an undergrad. She also interned with the Knights in 2019, primarily in promotions.
"Sarah is a team player and has a hungry attitude to complete tasks in a timely fashion and with great attention to detail," Knights President/General Manager Bre Miller said. "She was always the first person to ask what else she could help with and really made this past season more efficient for everyone involved."
Gits will foster strong business relationships with key customers and vendors; and work with other Corvallis Knights staff to provide excellent service to all partners as well as assist with group and ticket sales efforts and strategic customer marketing. Mike will play a key part in generating new business by identifying opportunities and supporting the team's service and sales plans.
Gits will also be responsible for supporting and growing community events in which Knights Baseball Club has partnered, such as the Oregon All-Star Series and Northwest Baseball Coaches Association convention in Portland. The Oregon All-Star Series showcases the top 6A & 5A senior high school players in the state at Goss Stadium each third weekend in June, and the NWBCA is an annual convention held each January that brings together regional high school and college coaches to share, learn and network.
"I am really excited to be part of the Knights front office staff," Gits said. "I played for the Aloha Knights for two years and was on the Knights Baseball Club Board of Directors for the last five years. I am looking forward to helping make a very successful brand even better."
Following a successful high school career playing for Mike Clopton at Wilson High School, Gits pitched at Oregon State from 1997-1999 for Pat Casey and then finished his career at Western Oregon in 2000-2001. He graduated from PSU in 2001 with a liberal arts degree. He then worked for Nike for 14 years, the last 10 in sports marketing for Major League Baseball.
He and his wife, Lindsay, have a daughter, Addie (9) and a son, Clutch (7).
"I'm very excited to have my children grow up around baseball and the Knights," he said. "I can see nothing but positives for them" to have the Knights' players serve as role models.
The Corvallis Knights open the 2020 season on June 2 with their ninth annual Weyerhaeuser Science, Engineering & Art Day game at Goss Stadium. The team's WCL opener is June 5 at Yakima Valley; their WCL home opener is June 12 against longtime rival Bend. Corvallis starts the season on the road versus their old friends the Humboldt Crabs in a three-game series at Arcata Baseball Park, May 29-31.