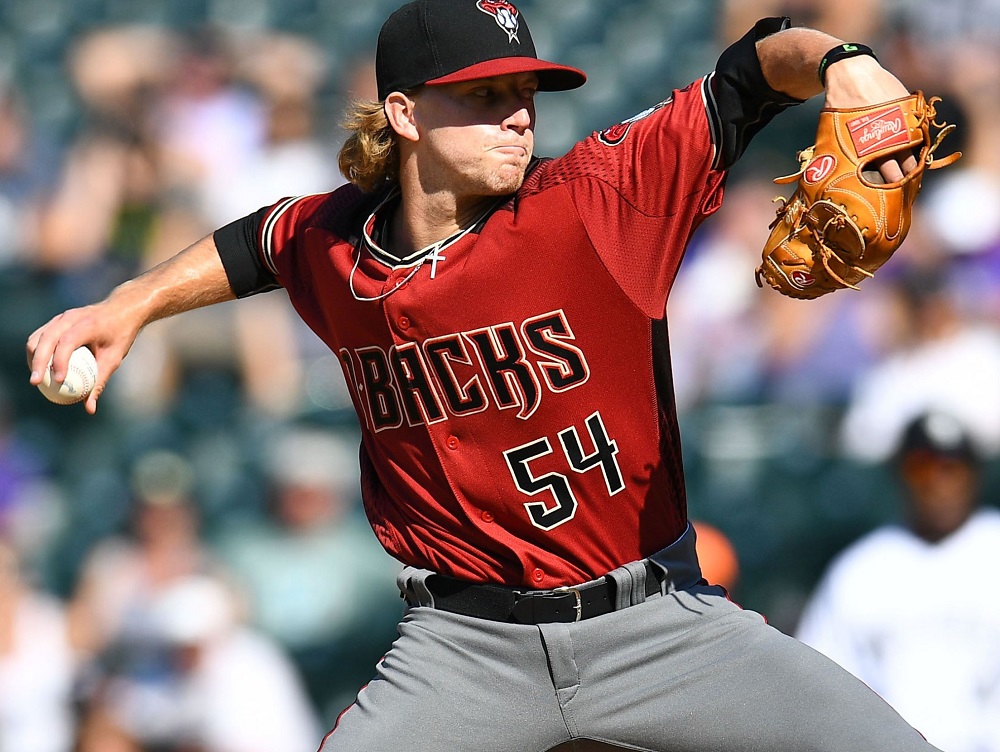 Brooks Hatch Blog: Diamondbacks DFA Alum Jimmie Sherfy
Happy Wednesday, everyone, from the world-wide headquarters (WWHQ) of the Corvallis Knights, your 2016, 2017, 2018 and 2019 West Coast League champions!
————–
Alum Jimmie Sherfy (2011, pictured above), a right-handed pitcher from the University of Oregon, was designated for assignment to the triple-A Reno Aces by the Arizona Diamondbacks. His spot on the 40-man roster will go to fellow righty Hector Rondon, whose signed a one-year deal with the team.
The 28-year-old Sherfy had an excellent 1.00 ERA and a 26-12 K/BB ratio through his first 27 MLB innings from 2017-18. However, he dropped to a 5.89 ERA in 2019 and he walked 21 batters in 35 innings at Reno, with 49 strikeouts.
However, the 92 mph he averaged on his fastball was far and away the lowest mark of his career; he'd averaged 94 mph in 2017 and 93.4 mph in 2018. He  missed a month of action in Triple-A with what was called an "upper body" injury.
Sherfy did return to health for the final six weeks of the season, but a September showing in which he was hammered for 11 runs on 12 hits (four homers) in 8.2  innings didn't leave a good impression to end the year.
Arizona has a week to trade, release or place him on outright waivers. He is out of minor league options, so he'll have to break camp with any club that acquires him or else be designated for assignment once again.
————–
Ex-Knights Jordan Qsar (2017), Jorge Perez (2012-13, 2015) and Trevor Frank (2012) are playing for coach Brooke Knight and the Perth Heat in the Australian Baseball League in 2019-20.
Qsar is hitting .327 in 32 games, with eight doubles, seven homers and 21 RBIs.
Perez is 1-0, 5.56 in nine games, with two saves and nine strikeouts in 11.1 innings.
Frank is 2-0, 0.75 in three games, with a save and 15 strikeouts in 12 innings.
————–
We have bolstered our front-office batting order for the upcoming West Coast League season.
Sarah Hoechlin, our 2019 Staff Member of the Year, began her new job as the Promotions and Game Day Operations Coordinator on Jan. 1. She is an Oregon State University graduate from Springfield, Ore. Sarah graduated from Thurston High School in 2015 as class valedictorian and then attended Clark College from 2015-2017, where she played catcher on the softball team.
Former Knights' pitcher and Knights Baseball Club board member Mike Gits (2000-2001) has been named the team's first Partner Relationship Manager. A Portland State graduate who lives in SE Portland, he also started his Knights' management career on Jan. 1.
For more details, please click here.
————–
Our 2020 schedule has now been finalized. We will open the home season against the Portland Sea Dogs on June 2 on Weyerhaeuser Science, Engineering and Art Day. For the complete home schedule, please click here. For the complete schedule, please click here.
The Knights set a franchise record for total attendance in 2019 by drawing 59,357 fans to Goss Stadium in 36 regular-season and playoff games. We averaged 1,721 fans per regular-season game, and 1,071 fans for the four playoff games.
Thanks to the best fans in the West Coast League.
The WCL All-Star Game is scheduled for July 20 at Paul Thomas Sr. Field in Wenatchee. New AppleSox head coach Ian Sanderson and staff will coach the North Division's team and the 2019 West Coast League champion Corvallis Knights coaching staff led by Brooke Knight will coach the South Division. For more details, please click here.
————–
Some news from elsewhere in the West Coast League:
You can read Part 1 of a series on the history of baseball in WCL franchise cities on the WCL's website by clicking here. Up first, the North Division.
Branson Trube will join the Wenatchee AppleSox as an infield and analytics assistant. Trube is originally from Meridian, Idaho. He joins Nick Brooks, hired in November, as the two assistants on head coach Ian Sanderson's coaching staff. Please click here for more details, from Our Sports Central.
————–
That's all for today. See you soon!