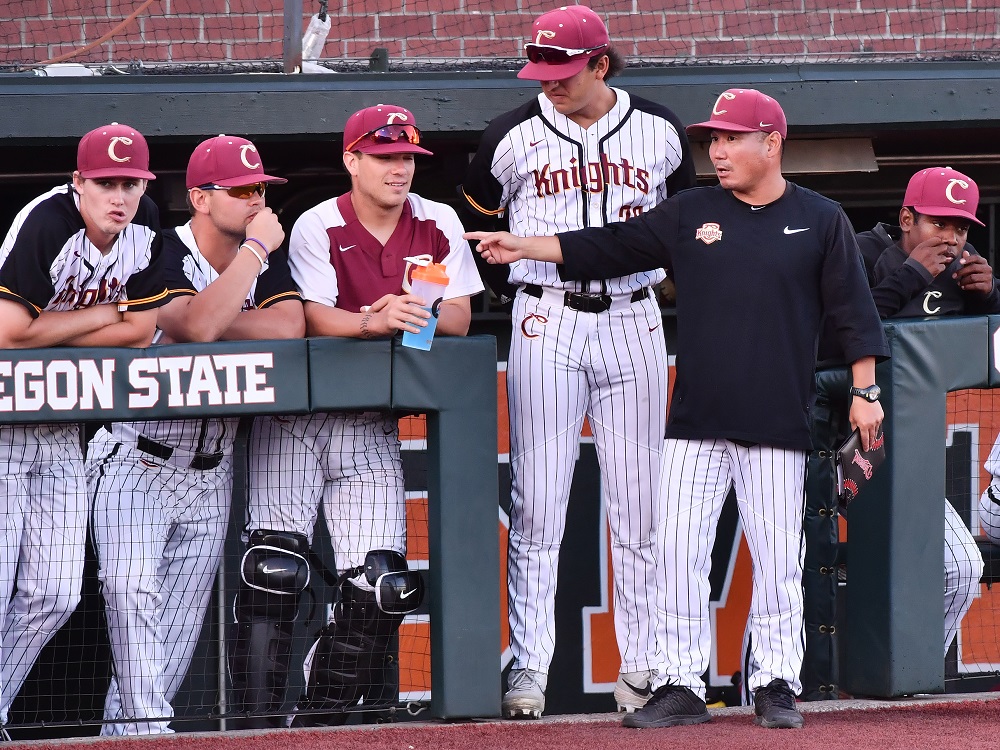 Core of Knights Championship Coaching Staff Returns for 2020
The Corvallis Knights have assembled a top-flight coaching staff to lead their quest for a fifth consecutive West Coast League championship.
New pitching coach Jacob Kopra has joined longtime field manager Brooke Knight, third-year associate head coach Ed Knaggs and fourth-year assistant Youngjin Yoon (pictured) on the team's leadership team. Kopra succeeds former pitching coach Kellen Camus, who retired from coaching after three summers with the team.
"We are thrilled to add Jacob to our coaching staff for the 2020 campaign," Knight said. "These shoes will not be easy to fill after a very talented Kellen Camus and Connor Lambert," the pitching coach from 2011 until midway through the 2017 season, when he became the pitching coach at Portland.
"The recommendations leave no doubt that Jacob will be outstanding."
He joins a staff steeped with continuity and accomplishment.
Knight, who began his Corvallis Knights managing career in 2008 and who is currently coaching for the Perth Heat in the Australian Baseball League, earned his sixth WCL Coach of the Year award in 2020. The Corvallis native directed the Knights to their seventh championship last summer (2008, 2011, 2013, 2016, 2017, 2018, 2019). He is the winningest coach in WCL history, has never posted a losing record and has never missed advancing to the WCL postseason.
Knaggs was the head coach of the WCL's Wenatchee AppleSox from 2001-14 and posted a winning record every season. He led Wenatchee to five WCL championships (2005, 2006, 2009, 2010, 2012) and two runner-up finishes (2008, 2013).
He also won five division championships and earned WCL Coach of the Year honors four times at Wenatchee before retiring after the 2014 season. He coached 771 total games and was 300-172 (.636) in WCL regular-season contests. Wenatchee also won the 2003 Pacific International League title; that circuit was the precursor to the current WCL, which was formed in 2005.
A veteran of 10 seasons with the Lotti Lions in South Korea's equivalent of Major League Baseball, Yoon has worked in the United States since 2009, mentored by former RCC head coach Dennis Rogers, a longtime supporter of the Knights. Yoon currently assists at RCC, a junior college program in Southern California that has sent such standouts as Chris Stewart, Tommy Hanson, Richie Jimenez, Marques Johnson and many others to Corvallis over the years.
A former pitcher in the Los Angeles Angels' minor-league organization, Kopra has served as Corban University's pitching coach for the past three seasons. This will be his first position in the West Coast League. He has previously coached in the Oregon Collegiate Baseball League.
"Jacob's former teammates believe he is unique in his presentation and delivery and we can't wait to see what he can offer our troops," Knight said. "It is going to be another memorable summer with him on board."
Kopra is a Gresham native and starred at Barlow High School before enrolling at Corban, where he was a teammate of former Knights' standout Marc Gallegos. A four-year letterman, Kopra earned NAIA second-team All-American and Cascade Conference Pitcher of the Year honors as a senior in 2014.
He then signed with the Angels as a free agent and pitched in the Arizona Rookie League, the Pioneer League, the Midwest League and the California League in 2014 and 2015 before being released in March, 2016.
The Knights are four-time defending WCL champions. They open the 2020 season at Goss Stadium on June 2 with the ninth annual Science, Engineering & Art Day game at Goss Stadium. Their WCL opener is June 5 at Yakima Valley; their WCL home opener is June 12 against Bend.