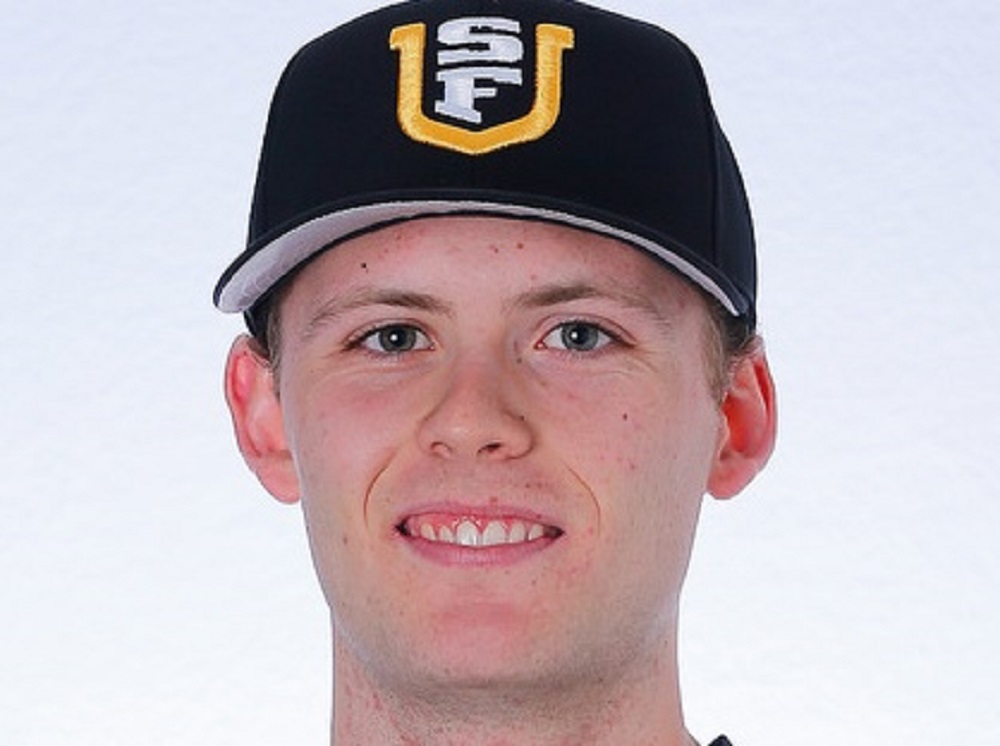 Bourassa Shuts Down Sweets in Opener of Doubleheader Split
WALLA WALLA, Wash. – The Knights concluded a five-game road swing on Sunday by splitting a pair of one-run games in a West Coast League doubleheader at Borleske Stadium.
Corvallis won the opener 2-1, but fell in the nightcap 10-9. Corvallis (3-5, 2-3 WCL) went 2-3 on the trip, which also included stops in Kelowna, B.C., and Bellingham.
In the opener, San Francisco right-hander Landen Bourassa (pictured, above) struck out five, allowed four hits and an unearned run in 6.2 innings to earn the victory. Reliever Eli Morse (Portland) got the final out for the save, stranding the tying run at third base.
Corvallis tallied twice in the third inning to snap a 19-inning scoreless streak when Utah-bound Crescent Valley grad Briley Knight tripled and scored on a double by Chad Stevens (Portland). Stevens advanced to third on a groundout and crossed on a base hit by Cam Haskell (Arizona).
Corvallis took an early lead in the nightcap on a first-inning, two-run homer by Cody Hawken (Portland). But the Sweets answered with five runs in the bottom half to take a 5-2 lead and the continued to add on against several Corvallis relievers.
The Knights scored five times in the sixth inning to draw within 9-8 and had the tying run at third base in the seventh inning but could not come through.
Knight doubled twice, singled and had an RBI for the Knights. He finished the twin bill with three extra-base hits. Portland-bound Trace Tammaro doubled and singled; Haskell and Chandler Anderson (Utah) drove in two and Hawken had three RBIs.
The Knights will start the home portion of their WCL schedule at 7:15 p.m. Tuesday with the opener of a three-game series against the Wenatchee AppleSox at Goss Stadium. St. Martin's lefty Austin Shoup (1-0, 3.00) is the scheduled starter on Samaritan Health Service Opening Fireworks Night.
It's the first of a seven-game homestand that also features three games against the Cowlitz Black Bears (Friday-Sunday) and a single nonleague matchup with the Gresham GreyWolves on June 18.