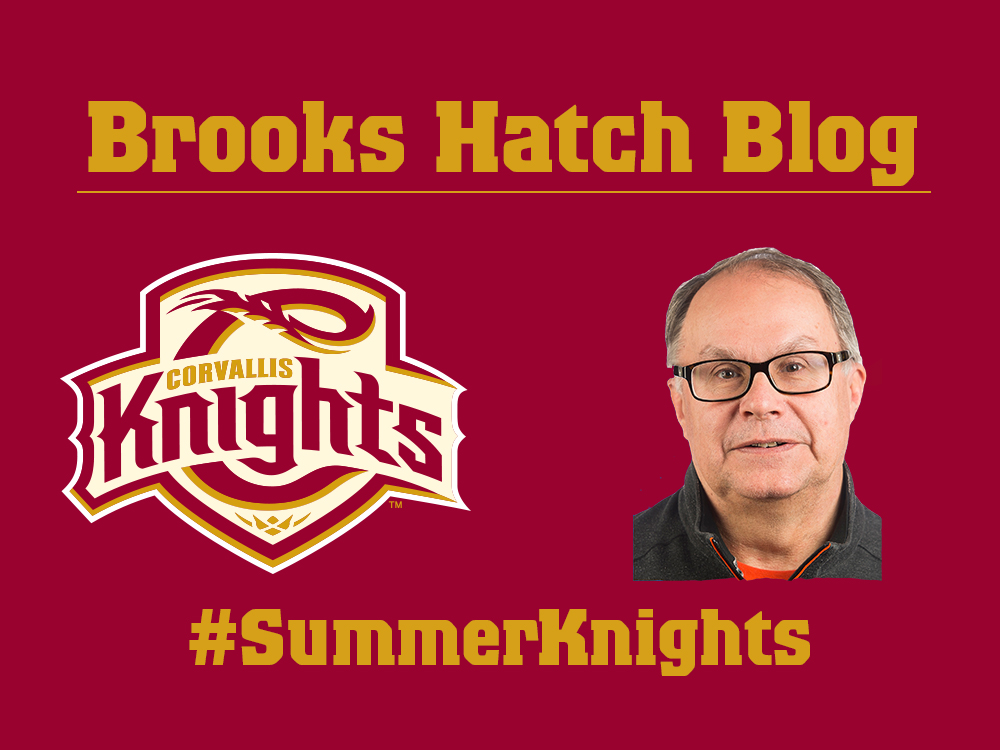 Brooks Hatch Blog: OSU signee Philip Joins Team for Opening Night
Happy Tuesday, everyone, from the world-wide headquarters (WWHQ) of the Corvallis Knights, your 2016-2017 West Coast League champions!
It's opening night at Goss Stadium. For a preview of the 2018 Knights, please click here.
————–
We open the home portion of our West Coast League season tonight when we host longtime rival Wenatchee in a 7:15 p.m. showdown at Goss Stadium. It's Samaritan Health Services Opening Fireworks Night, so be sure you don't miss the show!
The Knights (3-5, 2-3 WCL), who completed a five-game WCL-opening road trip at Walla Walla on June 10, will be bolstered by the addition of future Oregon State shortstop Beau Philip to the roster.
A 6-foot-1, 185-pounder, Philip starred at San Joaquin Delta College in Stockton, Calif., the past two seasons. He will be a junior at OSU this fall, with two seasons of eligibility.
Philip hit .354 in 52 games for the Mustangs in 2018, with 18 doubles, four triples, 10 homers and 47 RBIs. He stole 30 bases in 32 attempts and earned Northern California JC all-state and Big 8 all-conference honors.
As a freshman, he hit .322 with nine doubles, three triples, three homers, 43 RBI and 18 stolen bases. He was named all-Big 8 Conference and all-Nor-Cal.
Philip is a native of El Dorado Hills, Calif., and was an all-league selection at Oak Ridge High School as a senior.
Welcome to the Knights, Beau!
————–
Tonight's game begins a seven-game homestand for the Knights. They will host Wenatchee on Wednesday and Thursday and Cowlitz on Friday through Sunday in WCL action, and the Gresham GreyWolves in a nonleague game on Monday.
Wednesday is Grad Night, presented by Linn-Benton Community College; present your student ID and get a free GA ticket.
Thursday is Corvallis Chamber Business After Hours and Magnet Schedule Giveaway Night. The first 1,000 fans receive a Knights' schedule magnet.
Friday is Linn Benton Tractor Country Cowbell Night, presented by 99.9 KRKT. The first 250 fans receive a cowbell. It's also Fred Meyer Family Night; four reserved seats, four hot dogs, four soft drinks and four popcorns are available for only $44.
Saturday is Big League Chew Youth Sports Night, presented by Pape. The first 250 fans receive a pouch of Big League Chew and a sheet of Knights trading cards. Children 18 and under wearing their team's youth jersey will be admitted free.
Sunday is Snap Fitness Father's Day. Play catch with dad on the field after the game.
Monday is Oregon Forestry and Mini Wooden Bat Giveaway Night, presented by Starker Forests. The first 250 fans receive a free mini bat; it's also our Knights Day Camp for Kids day.
See you at Goss!
————–
Tonight marks the debut of KnightsTV. We have partnered with Go LIVE  Broadcast to live stream Knights home games (plus playoffs) this season.
KnightsTV presented by NW Invest, featuring streaming video broadcasts originating from Goss Stadium, will be available through Go LIVE's video portal by clicking here.
KnightsLights presented by Andersonblues will also be posted to Facebook and social media after games. Please click here for more details.
————–
Our 2018 season and single-game tickets are now on sale! For more details or to order your tickets online, please click here. Tickets may also be purchased by calling us at 541-752-5656 or by visiting our office at 4th Street and Jefferson Avenue in downtown Corvallis. See you at the ballpark in 2018!
We also have three fireworks nights and tons of other promotions planned for this summer. Our entire promotional schedule is also available, by clicking here.
————–
Reno (AAA Pacific Coast, Diamondbacks) reliever Jimmie Sherfy (2011) pitched two scoreless innings, had two strikeouts and got the victory in a 7-6 win at Memphis on Monday night to earn Corvallis Knights Minor League Player of the Day honors. He played at Oregon.
Honorable mention goes to:
Quad Cities (A Midwest, Astros) first baseman Roman Garcia (2016) was 2-for-3 in a 1-0 loss to Peoria. He played at San Diego.
————–
The West Coast League's Moss Adams Player of the Week and Pitcher of the Week for June 4-10, as announced by league commissioner Rob Neyer, are Southeastern Louisiana senior-to-be first baseman Kyle Schimpf of the Port Angeles Lefties and future Central Washington pitcher Hunter French of the Yakima Valley Pippins. Click here for more details.
————–
That's all for today. Have a great week, Go Beavers, and we will see you here on Friday and at the ballpark all week long.