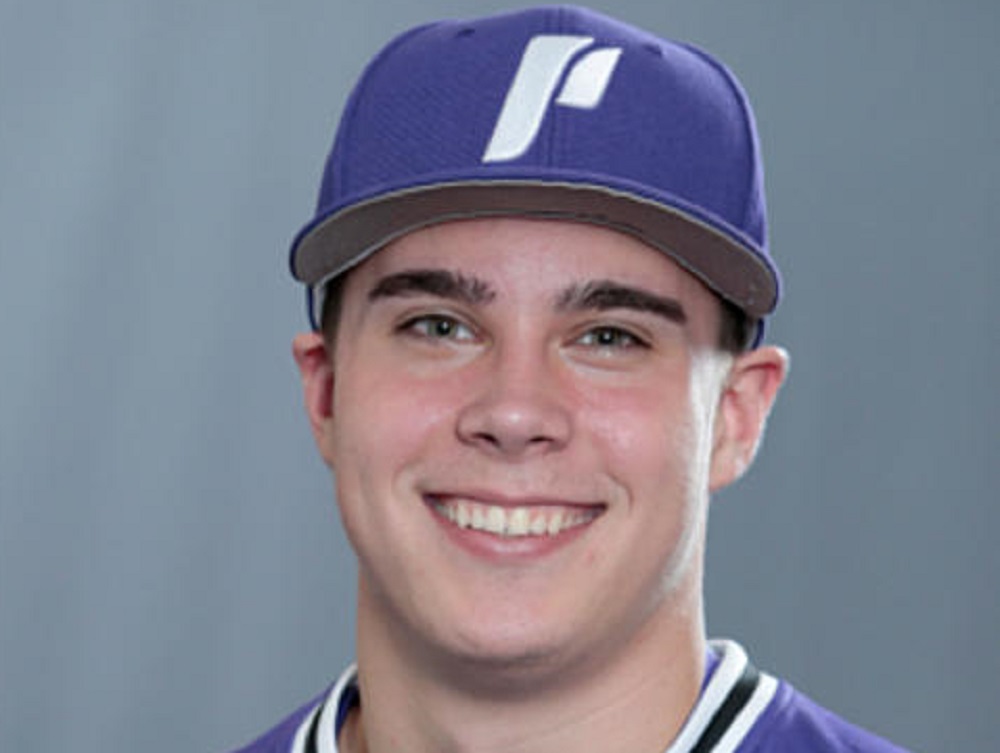 Brooks Hatch Blog: Portland OF Cody Hawken Returns to Knights
Happy Friday, everyone, from the world-wide headquarters (WWHQ) of the Corvallis Knights, your 2016-2017 West Coast League champions!
————–
We have signed outfielder Cody Hawken (pictured, above), a member of our 2016 WCL title team, for the rest of the season. He is a rising senior at Portland who was all-West Coast Conference in 2018 after hitting .316, with 10 homers and 36 RBIs, for the Pilots.
Hawken hit .247 in 50 games with the Knights in 2016, with two homers and 19 RBIs. The 6-foot-3, 230-pounder is a native of Vancouver, Wash., and played at Union High School.
Welcome back, Cody!
————–
The Knights open a three-game weekend series at Walla Walla at 7:05 p.m. Friday. Lefty Cason Cunningham (Linfield) is our projected starter, opposed by Arizona State righty Darius Vines.
The series continues at 6:35 p.m. Saturday and concludes at 4:35 p.m. Sunday. We then open the home portion of the WCL schedule at 7:15 p.m. Tuesday, hosting Wenatchee on Samaritan Health Services Opening Fireworks Night.
————–
Eight more current or former Knights were selected in the final 30 rounds of the MLB draft on Wednesday, bringing our 2018 total to 10. Please click here for a rundown of Wednesday's draft activities.
A total of 72 WCL alums were picked. Please click here for a complete list.
————–
Eight former/current Knights earned honorable-mention Pac-12 all-academic honors on Thursday.
The honored players are Steven Kwan (2015), Zak Taylor (2016-18), Nick Madrigal (2015), Tyler Malone (2017), Kyle Nobach (2016) and Adley Rutschman (2016) of Oregon State; Washington State's Ryan Walker (2015), and current Knights' outfielder Chandler Anderson of Utah.
To be eligible for selection to the academic team, a student-athlete must have a minimum 3.0 overall grade-point average, be a starter or significant contributor, and have completed at least one year in residence at their current school.
Congrats to all the honorees!
————–
Our 2018 season and single-game tickets are now on sale! For more details or to order your tickets online, please click here. Tickets may also be purchased by calling us at 541-752-5656 or by visiting our office at 4th Street and Jefferson Avenue in downtown Corvallis. See you at the ballpark in 2018!
We also have three fireworks nights and tons of other promotions planned for this summer. Our entire promotional schedule is also available, by clicking here.
————–
Jacksonville (AA Southern, Marlins) pitcher Ben (Wetzler) Holmes (2011) allowed two hits and had one strikeout in two scoreless innings in a 5-2 loss to Birmingham on Thursday night to earn Corvallis Knights Minor League Player of the Day honors. The former Oregon State lefty was recently promoted to double-A from single-A Jupiter.
Honorable mention goes to:
Norfolk (AAA International, Orioles) catcher Andrew Susac (2009) hit a three-run homer in a 7-4 win over Columbus. He played at Oregon State.
Delmarva (A South Atlantic, Orioles) pitcher Cameron Bishop (2015-16) allowed three runs and had five strikeouts in six innings of a 6-3 win over Greensboro. The former UC Irvine lefty got the win to improve to 5-3.
————–
That's all for today. Have a great weekend, Go Beavers, and we will see you here, and at the ballpark, on Tuesday.