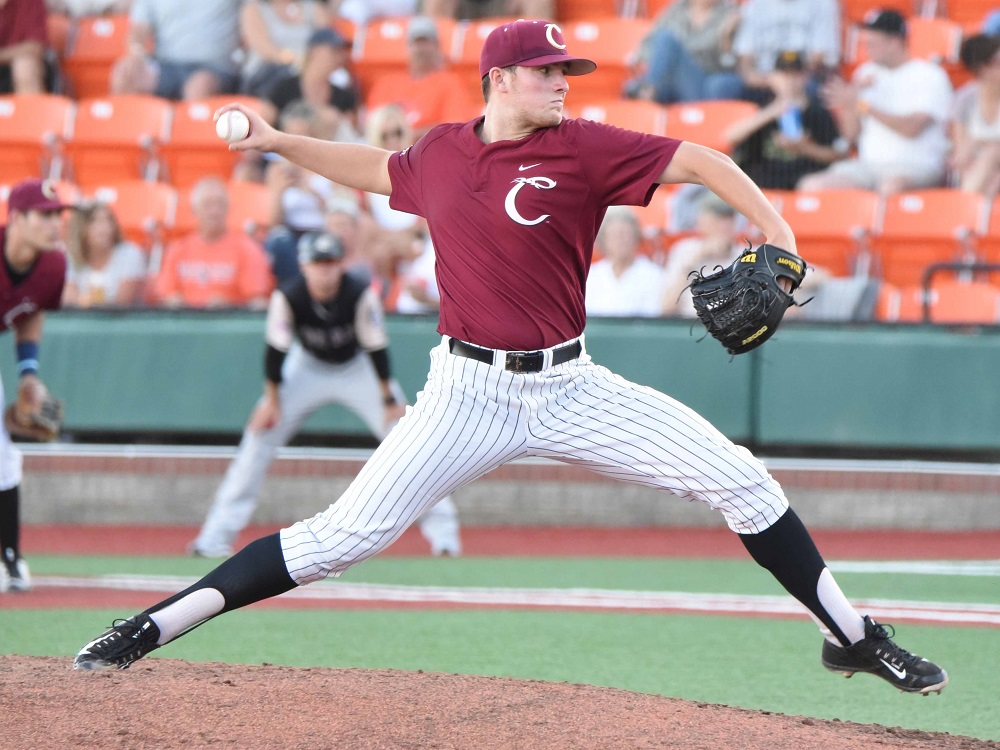 Eleven Knights Selected in 2018 MLB June Draft
Eleven Corvallis Knights, ten alums and one current player, were selected this past June 4-6 in the Major League Baseball draft, which concluded yesterday after the 40th round.
Oregon State all everything infielder Nick Madrigal (2015) was selected by the Chicago White Sox on Monday as the fourth overall pick, the earliest-ever pick of a former Knight or WCL player. Madrigal was the Knights 2015 MVP, as well as a first-team all-WCL selection. He set the league record that summer with 40 stolen bases.
Grand Canyon University right-handed pitcher Jake Wong (2016, pictured) went to San Francisco in the third round as the 80th overall selection. He earned a West Coast League Championship Series win at Bellingham for the Knights 2016 championship club tossing six shutout innings at the Bells.
OSU outfielder Steven Kwan (2016) was drafted by Cleveland in the fifth round as the 163rd overall pick.
Middle infielder Clay Fisher (2015) of UC Santa Barbara went to Baltimore in the 12th round as the 355th overall choice.
UC Riverside right-handed pitcher Trenton Toplikar (2017) went to San Francisco in the 16th round as the 466th overall selection. He earned honorable-mention all-WCL honors last season and was the Knights post-season pitching star, leading Corvallis to a back-to-back West Coast League title.
UCR teammate Hazahel Quijada (2016-17), a left-handed pitcher, was picked by San Diego in the 17th round as the 501st overall pick. He was honorable-mention all-WCL in 2016 and 2017 and was No. 10 on Perfect Game's 2016 WCL prospect list.
Outfielder/pitcher Jordan Qsar (2017) of Pepperdine, the Knights 2017 MVP and a first-team all-WCL choice, went to Tampa Bay in the 25th round as the 750th pick. He was ranked No. 1 by Perfect Game and No. 2 by Baseball America on their 2017 WCL prospect lists.
San Francisco selected right-handed pitcher Ryan Walker (2015) of Washington State in the 31st round with the 916th pick. He was ranked No. 7 by Baseball America and No. 11 by Perfect Game on their 2015 WCL prospect lists.
Dixie State right-handed pitcher Tanner Howell (2016-17) went to Minnesota in the 35th round as the 1,054th pick.
UC Irvine infielder Cole Kreuter (2015-16) was selected by St. Louis in the 36th round as the 1,083rd choice.
Current Knights catcher Cole Hamilton of Linn-Benton Community College went to Washington in the 23rd round as the 701st pick.