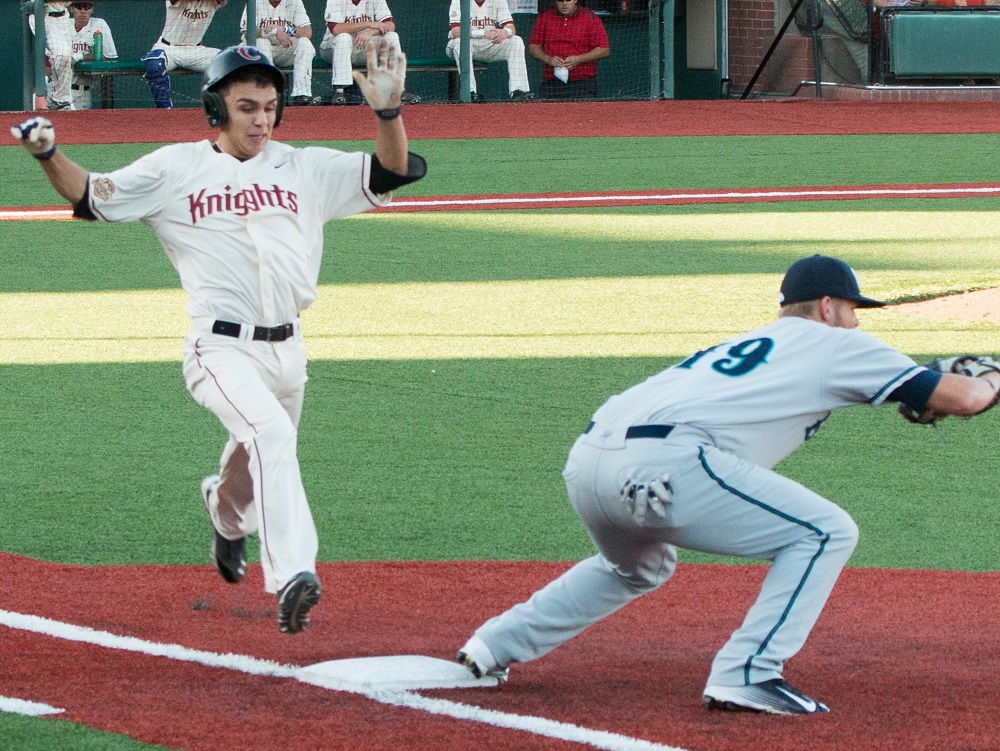 White Sox Select Knights Alum Nick Madrigal of OSU in First Round; 4th Overall Pick
Former Corvallis Knights standout Nick Madrigal was selected by the Chicago White Sox as the fourth pick of the 2018 Major League Baseball draft on Monday.
The Oregon State junior second baseman is now the highest-draft player in Knights and West Coast League history.
Madrigal played shortstop, second base and center field for the Knights in 2015 following his senior year at Elk Grove High School in Elk Grove, Calif. He hit .296 in 46 games, with no homers, 20 RBIs and a West Coast League-record 40 stolen bases.
He was named the Knights top prospect, earned first-team all-WCL honors, and was ranked as the league's No. 5 pro prospect by Baseball America and the No. 8 prospect by Perfect Game.
Before Monday, former Oregon pitcher Tyler Anderson (2009) was the only other Knights' alum to be drafted in the first round, as he was selected by Colorado as the 20th pick in 2011. Seattle outfielder Mitch Haniger was a supplemental first-round selection in 2012 as the 38th overall selection following his junior year at Cal Poly.
"It's definitely a special moment, not only for myself but for my family, my hometown, my teammates. I can't thank all of them enough," Madrigal told MLB Network on Monday.
He is hitting .406, with three homers and 32 RBIs, heading into this weekend's NCAA Super Regional against Minnesota at Goss Stadium. He was named the MVP of the recent Corvallis Regional, where the Beavers eliminated 2017 NCAA runner-up LSU to advance to the Super Regionals.
Madrigal has only five strikeouts in 105 at-bats this season. He fanned just eight times in 186 at-bats with the Knights.
"I've always hit toward the top of the order, and if you're going to hit at the top of the order you're not supposed to strike out much," he told MLB Network. "In batting practice I work on hitting different pitches, making contact.
"If you put the ball in play, good things can happen and that's part of my game. I focus on pitches in the [strike] zone I can handle.
"On defense, if you're going to play in the middle of the infield, you're supposed to make routine plays, turn the double play. That's my game."
Knights broadcaster Mike Parker first watched Madrigal play in 2015 as a 17-year-old. He also has seen the 5-foot-8, 160-pounder in action for the past three seasons as OSU's play-by-play announcer.
"We won't see a guy like Nick again," Parker told the Sacramento Bee newspaper. "I'm starting to miss him already. Genuine class and humility is what I think when it comes to Nick Madrigal."
Madrigal is one of the most decorated players in OSU history. He was named a third-team All-American by Baseball America and a first-team Pacific-12 Conference all-star and made the all-defensive team in 2018 as a junior, despite missing 26 games with a wrist injury.
Madrigal was a first-team All-American, the Pac-12 Player of the Year, Pac-12 Defensive Player of the Year, and first-team all-Pac-12 as a sophomore in 2017. He also made the College World Series all-tournament team and was a semifinalist for the Golden Spikes Award.
He was a freshman All-American, a first-team Pac-12 selection and the Pac-12 Freshman of the Year in 2016.
OSU coach Pat Casey described Madrigal as an "unbelievable" player.
"He's going to be a big leaguer in a short period of time," Casey added. "He's going to play the game for a long time.
"His instincts are off the charts. I give him a ton of freedom because he's a thoroughbred and you've got to turn him loose. Whoever drafts him will get an absolute jewel of a player.
"If you had a blueprint of a baseball player, Nick's picture would be there. That's all you'd need – Nick."
Slot money for the fourth overall pick is approximately $6,400,000. Madrigal was previously drafted by Cleveland in the 17th round in 2015, but did not sign.
"I think he's magical," said MLB Network analyst Harold Reynolds, a Corvallis native and former longtime second baseman with the Seattle Mariners. "He can hit the ball to all fields and he handles the bat.
"He can play some short, but I think he'll end up at second base. I love his aptitude to the game, always knowing what's ahead. He makes teammates better."
MLB Network analyst Carlos Pena said Madrigal is "the real deal" who has been "tearing up the collegiate ranks,"
"He reminds me a lot of Dustin Pedroia," an ex-Arizona State standout now starring for the Boston Red Sox, Pena added.
"I love the fact he's ready to swing the bat and he's good defensively. He will be very exciting to watch as he develops into the player we know he can become."
He will begin his pro career when the Beavers conclude their season, and when he reaches an agreement with the White Sox. He most likely will start with the White Sox' affiliate team in Winston-Salem (N.C.) in the advanced-A Carolina League, or with Kannapolis (N.C.) in the low-A South Atlantic League.
Please click here for more on Madrigal, from the Chicago Tribune.
More former Knights will be selected on Tuesday in rounds 3-10 and on Wednesday in rounds 11-40.