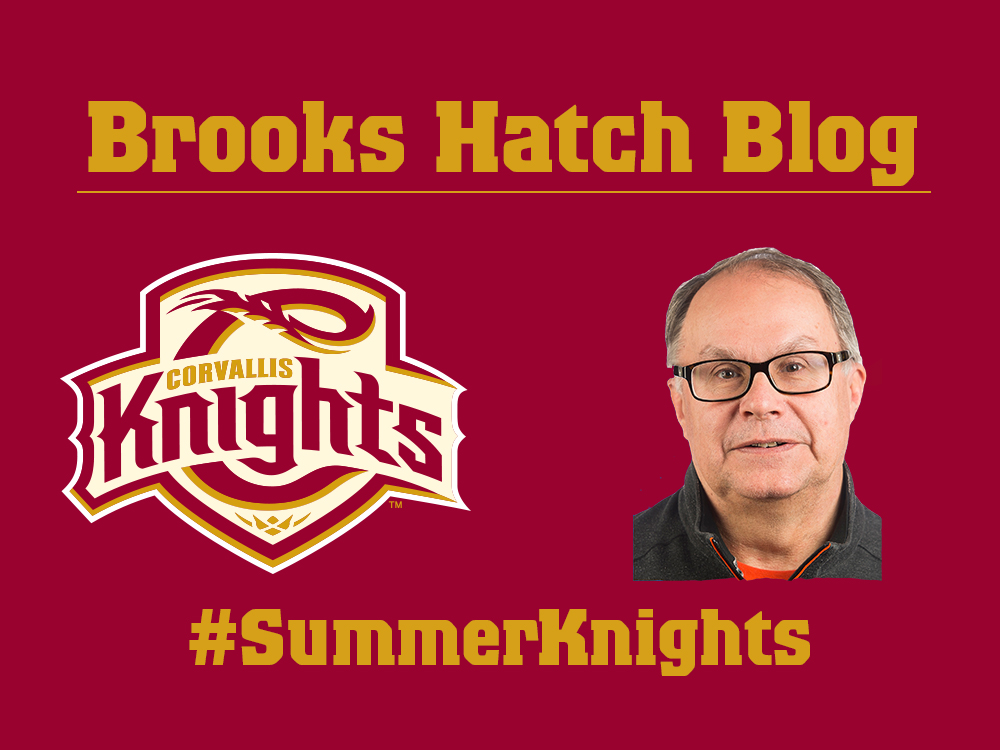 Brooks Hatch Blog: Olsson makes big contributions in first two games
Happy Friday, everyone, from the world-wide headquarters (WWHQ) of the Corvallis Knights, your 2016-2017 West Coast League champions!
————–
Catcher Sam Olsson of San Jose State joined us on Wednesday and had three hits in his first game, a 12-3 victory over Wenatchee. He added an RBI and threw out the potential go-ahead run at third base to end the eighth inning on Thursday.
He is a 6-foot-1, 213-pound sophomore from Sheldon High School in Eugene. Olsson hit .239 (11-46) in 22 games as a freshman, with no homers and three RBIs. He added a sacrifice fly and picked off a runner at third base to end the eighth inning in a 5-3 win on Thursday.
Olsson was a four-time letter winner in baseball and football at Sheldon. He was a four-time Southwest Conference all-star in baseball and earned 6A all-state honors as a senior.
Welcome to the team, Sam!
More players are scheduled to join us over the weekend. We'll update you on that on Tuesday.
————–
Our seven-game homestand continues tonight with Linn Benton Tractor Country Cowbell Night, presented by 99.9 KRKT. The first 250 fans receive a cowbell. It's also Fred Meyer Family Night; four reserved seats, four hot dogs, four soft drinks and four popcorns are available for only $44.
Saturday is Big League Chew Youth Sports Night, presented by Pape. The first 250 fans receive a pouch of Big League Chew and a sheet of Knights trading cards. Children 18 and under wearing their team's youth jersey will be admitted free.
Sunday is Snap Fitness Father's Day. Play catch with dad on the field after the game.
Monday is Oregon Forestry and Mini Wooden Bat Giveaway Night, presented by Starker Forests. The first 250 fans receive a free mini bat; it's also our Knights Day Camp for Kids day.
Thursday night's crowd of 847 pushed attendance to 7,570 for four dates. That's 890 more fans than last season through a corresponding number of openings.
See you at Goss!
————–
Alums Adley Rutschman (2016) of Oregon State and Jordan Qsar (2017) of Pepperdine earned second-team honors and alum Nick Madrigal (2015) was a third-team choice on Perfect Game's All-American team.
Rutschman is hitting .386, with seven homers and 70 RBIs and Madrigal is hitting .397 with three homers and 32 RBIs heading into the College World Series. Qsar hit .271 with 13 homers and 63 RBIs. Please click here for the entire team.
Rutschman and Madrigal earned first-team all-West Region honors from the American Baseball Coaches Association. Qsar was a second-team choice. Click here for more on that story.
Also, incoming pitchers Brendan Beck and Jacob Palisch of Stanford earned Perfect Game Freshman All-American honors. Beck was a first-team choice; Palisch was a second-team selection.
Beck was 8-0, 2.43, with 38 strikeouts in 66.2 innings. Palisch was 4-1, 1.71 in 47 innings, with 36 strikeouts. Please click here for the entire team.
Congrats to both players!
————–
Remember, we have partnered with Go LIVE  Broadcast to live stream Knights home games (plus playoffs) this season.
KnightsTV presented by NW Invest, featuring streaming video broadcasts originating from Goss Stadium, will be available through Go LIVE's video portal by clicking here.
We also have two more fireworks nights and tons of other promotions planned for this summer. Our entire promotional schedule is also available, by clicking here.
————–
Delmarva (A South Atlantic, Orioles) pitcher Cameron Bishop (2015-16) threw a seven-inning complete game and allowed just three hits in a 6-1 win over Kannapolis in Game 1 of a doubleheader on Thursday to earn Corvallis Knights Minor League Player of the Day honors. He struck out three and improved to 6-3. Cam played at UC Irvine.
Honorable mention goes to:
South Bend (A Midwest, Cubs) second baseman Christian Donahue (2015) was 2-for-5 with a double and a run in a 2-0 win over Dayton. He played at Oregon State.
————–
That's all for today. Have a great weekend, Go Beavers, and we will see you at the ballpark this weekend and back here on Tuesday.