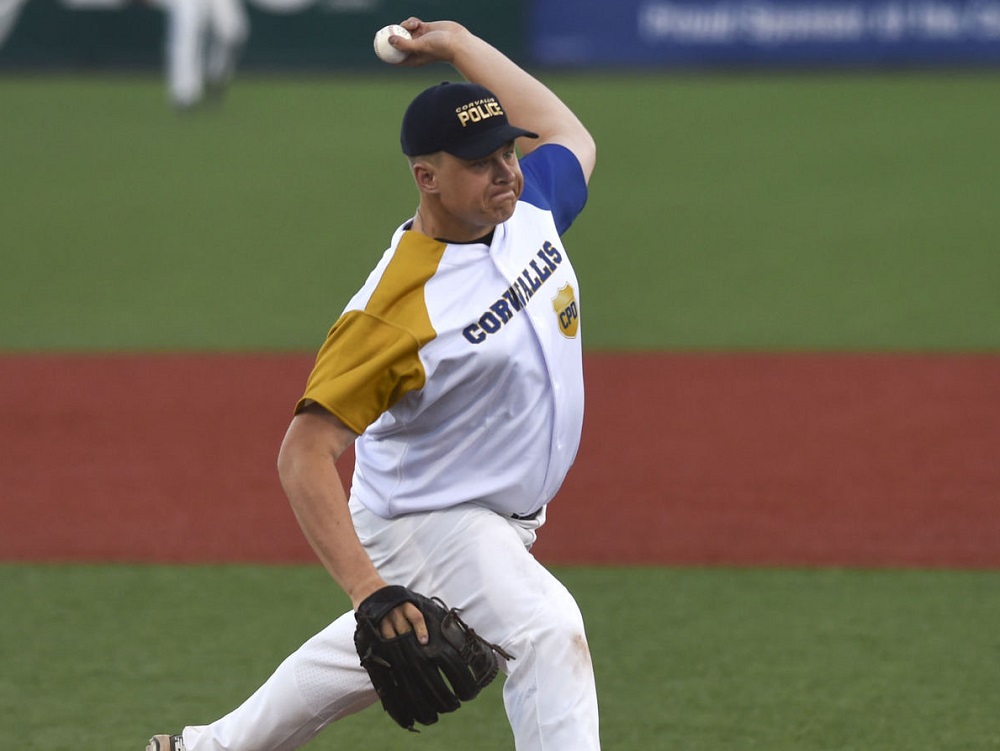 Corvallis Knights Aiming at Three-Peat in 2018
Corvallis is set to open its West Coast League home schedule this Tuesday at OSU's Goss Stadium vs. longtime rival the Wenatchee AppleSox after starting the year on the road with single games at Kelowna, at Bellingham and a three-game series at Walla Walla, June 6-10.
The 2018 team hopes to follow in the footsteps of the club's 2016 and 2017 editions that delivered the Knights first back-to-back West Coast League titles.
While last year was the summer of the long ball, Knights championships have been anchored in pitching, all five featuring stellar staffs (2008, 2011, 2013, 2016 and 2017).
Once again, pitching is expected to be a strength in 2018.
Two-time WCL champion and honorable mention all-WCL pitcher Jacob Fricke of Western Oregon (pictured) returns with fellow senior-to-be southpaw Cason Cunningham of Linfield College, who pitched for the 2017 champion Knights and appeared in the WCL All-Star Game at Yakima County Stadium.
Fricke earned a complete-game win in Western Oregon's GNAC championship finale, while Cunningham was a workhorse at Linfield making 13 starts and logging 60 innings while striking out 90 and going 7-4 for the NCAA DIII Wildcats.
"Fricke and Cunningham are both steady and ultra-competitive," said Corvallis Knights skipper Brooke Knight. "We're thrilled they are back and we have great trust in both young men."
They both are slated as starters for the Knights. Joining them in the rotation will be right-handed seniors-to-be from University of San Francisco, Landen Bourassa and Daniel Slominski. Bourassa went 8-4 with a 3.02 ERA over 14 starts for the Dons this past spring; Slominski went 3-2 with a 4.45 ERA over 18 appearances, 4 starts and 32.1 innings while striking out 28 and walking 9.
The starting staff will likely also include returnees sophomore-to-be Kolby Somers of University of Oregon, who was a Sunday starter in the Pac-12, and junior-to-be Connor Redmond of Cal Poly, who started for the Knights last summer.
Returnee right-hander Louis Crow, who pitched the past two springs at University of San Diego and past two summers for the Knights, and sophomore-to-be righty Abbott Haffar of UC Riverside will vie for spot starts.
The bullpen should be deep with Portland Pilots ace Eli Morse, Stanford starter Brendan Beck, Stanford reliever Jacob Palisch and WCC Freshman of the Year Chandler Cooper of Pepperdine – all four freshmen this past spring – giving coach Knight formidable options during the latter parts of games.
Morse went 3-7 with a 3.62 ERA with 14 appearances and 13 starts; Beck went 8-0 with a 2.43 ERA with 17 appearances and 12 starts; Palisch made 26 relief appearances, went 4-1, posted a 1.72 ERA and recorded 4 saves; and Chandler went 6-3 with a 3.99 ERA over 16 appearances and 12 starts.
The closer role could fall to University of Portland righty Connor Knutson, a junior-to-be. He recorded 8 saves for the Pilots this past spring while going 4-2 with a 2.75 ERA over 22 appearances and 36 innings pitched. Returnee Trevor Wells, who capped a stellar career at Linn-Benton CC this past spring, and two-way player Cameron Haskell, a senior-to-be at University of Arizona, could also emerge as a Knights closer.
Returnee Miles Glazier of UC Irvine, a redshirt sophomore, and senior-to-be Aaron Shoup of St. Martin's add left-handed depth with incoming UCLA frosh right-hander Dennis Boatman rounding out the bullpen.
"I'm excited about our pitching staff," said Knight. "We think we have a chance to be pretty good on the mound, and our coaches will do a great job developing these guys and making sure we keep them healthy and fresh."
The team's catching duties will be handled by Washington Nationals 23rd round draft pick Cole Hamilton of Linn-Benton CC, returnee Zak Taylor of Oregon State and incoming Utah frosh Briley Knight.
Taylor, returning for his third summer with the Knights, is the starting first baseman for  the Omaha-bound Beavers. The senior-to-be caught and played first and third for Corvallis last summer.
Knight, who led Crescent Valley High School to the 5A Oregon title game this past spring, can also play infield and outfield.
"We are fortunate to have Zak Taylor back," said Knight. "He's versatile, a leader and he continues to improve as a hitter. We're expecting big things out of Zak."
First base will be manned by University of Portland incoming frosh Trace Tammaro. The left-handed hitting slugger led De La Salle High School to a North Coast Section Division I baseball title in California earlier this month. Left-handed hitting Cameron Haskell of Arizona will also see time at first base as well as on the mound and outfield.
The middle infield will be anchored by returnee shortstop Chad Stevens of Portland and Beau Philip, an incoming junior at Oregon State who starred last spring at San Joaquin Delta College. Stevens started all 53 games at shortstop for the Pilots and hit .251 over 195 at bats; Philip hit .354 with 30 stolen bases, 18 doubles, 10 homers and 47 RBIs.
Zach Weller of Cal State Fullerton and Brendan Beck of Stanford (who will also pitch) will compete for starts at second and third base.
The outfield will feature corner men, seniors-to-be Cody Hawken of University of Portland and Chandler Anderson of Utah. Hawken played for the 2016 champion Knights and this spring earned 2018 first-team all-WCC honors as the right-handed hitting slugger blasted 10 homers and hit .316 with 36 RBIs.
Anderson, who hit .244 with 12 doubles and 21 RBIs over 181 at bats for the Utes, can also play center field, which should be patrolled by sophomore-to-be Cole Cabrera of Cal Poly San Luis Obispo.
Returnee redshirt frosh Elliott Willy of Oregon State hopes to repeat his impressive 2017 summer where he hit .320 with 4 home runs and 20 RBIs. He can play all three outfield positions.
Senior-to-be Austin Feist of St. Martin's rounds out the outfield. The right-handed hitter from Burns, Oregon hit .320 with 6 homers and 30 RBIs this past spring for the Saints.
"We might not hit for power like we did last summer, but we will be aggressive on the bases and I think we'll end up being really strong up-the-middle on defense and feature one of the league's top pitching staffs," said Knight. "We're excited to make another run at things and hopefully be playing for something special for our fans in the post-season."
Several 10-day contract players are competing for spots on the roster including senior-to-be infielder Corey Conklin of Eastern Kentucky, senior-to-be second baseman Alec Cook of Linfield, junior-to-be pitcher Jordan McDaniel of Linn-Benton CC, sophomore-to-be first baseman James Anderson of Western Oregon and sophomore-to-be catcher Austin Baek of George Fox.
The Knights coaching staff is made up of Knight, returnees Youngjin Yoon (Linn-Benton CC) and Kellen Camus (Central Washington) and newcomer former Wenatchee AppleSox head coach Ed Knaggs. This is Knaggs first season with Corvallis. The four-time WCL Coach of the Year will act as the team's associate head coach.
Gates open at 6 pm and first pitch is 7:15 pm on Samaritan Health Services Opening Fireworks Night this Tuesday, June 12th at OSU's Goss Stadium. To purchase tickets, click here.