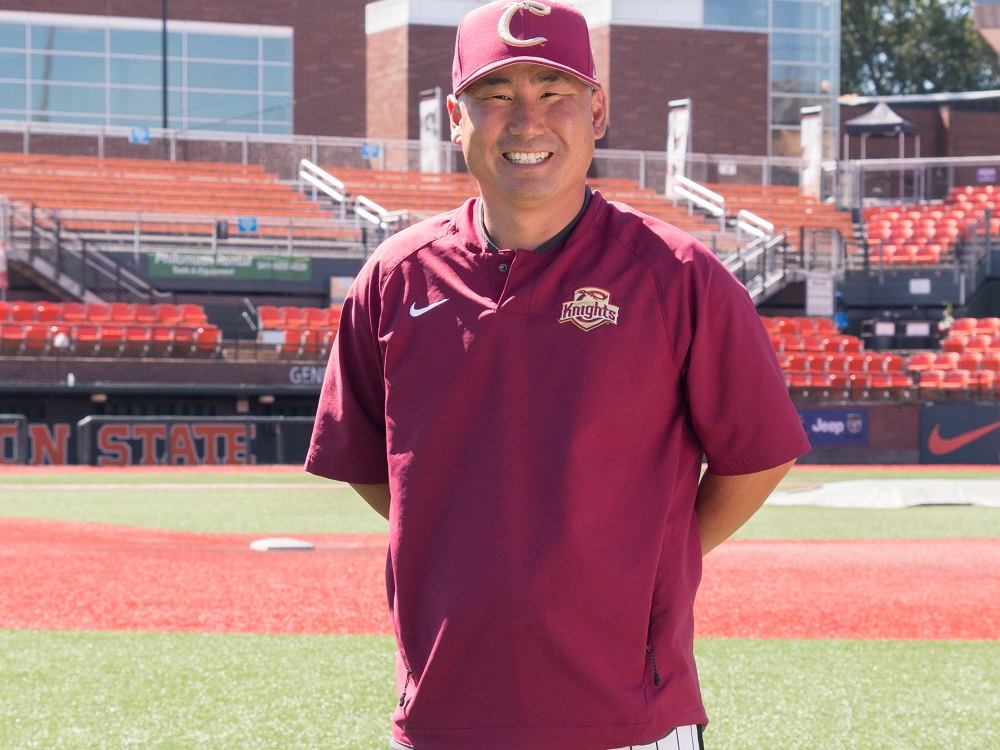 Bushnell Adds Knights Assistant Youngjin Yoon to Baseball Coaching Staff
Corvallis, Oregon, Thursday, February 11 – Bushnell head baseball coach Tommy Richards announced this past Tuesday the hiring of Youngjin Yoon as the Beacons pitching coach.
Bushnell University announced it was bringing back baseball after a 50 plus year hiatus on January 12, 2021. Bushnell will compete in the NAIA's Cascade Conference, which includes traditional power Lewis-Clark State College as well as College of Idaho, Oregon Tech, Corban, University of British Columbia and Eastern Oregon.
The Bushnell Beacons inaugural spring season is set for 2022, with the club assembling and training starting this September.
"While Yoony is our pitching coach, I have a feeling he will deeply impact the entire operation with his infectious personality," said Tommy Richards.
"Looking at Yoon, it's like a biomechanics stud. Mental game master…check. Strength & conditioning guru…check. Those are huge pieces not to mention his pitching expertise, but the culture and energy pieces are probably what resonates the most with me. Time to get sticky."
Yoon has spent the past four seasons as an assistant coach for the Corvallis Knights. With the return of baseball, he is planning on a fifth year this summer. During his time in Corvallis, the Knights have captured four consecutive West Coast League titles and were named the Perfect Game Summer Collegiate Team of the Year in 2019.
"It's hard to put in words how much Yoon has impacted and means to the Knights program," said Knights Baseball Club CEO Dan Segel. "He elevates and is a master skill developer. Our development program is extraordinary thanks to Yoon, and coach Knight and coach Knaggs. They are committed to collaboration, making it about the players and caring for each other. It's about to get sticky down in Eugene, at Bushnell. We're so excited for Yoony, Tommy and Bushnell."
Affectionately and appropriately nicknamed Master Yoon, the native of Busan, South Korea has coaching experience professionally with the Lotte Giants of the Korean Baseball Organization, at Cal State Bakersfield (NCAA DI) and at Linn-Benton CC and Riverside City College (two top junior college baseball programs).
Yoon's degrees in Exercise Science along with his Master's Degree in Sports Performance at Michigan State have served him well in working with both professional and collegiate players.
His college coaching career started at Riverside CC under the tutelage of ABCA Hall of Fame skipper Dennis Rogers.
"During Yoon's time at Riverside City College as pitching coach his impact on players was evident daily. He'll bring an abundance of knowledge and spirited energy to the Bushnell program," said former RCC head coach Dennis Rogers. "Yoon's unique ability to communicate, listen and inspire draws the best out of each individual person. His spirit is infectious. He is the best of the best."
Dennis connected Yoon with the Knights in 2016. Corvallis has worked with Dennis Rogers since 2001, when he and first-year assistant coach Andrew Checketts (a former Knight and current UC Santa Barbara skipper) placed catcher Chris Stewart (former big leaguer), shortstop Eddie Cornejo (current Cal State Northridge assistant coach) and pitcher Mike Swindell (former Mets farmhand) with the club. Over the years, Dennis placed his top players with the Knights including the late Tommy Hanson who was a star pitcher for the Atlanta Braves. He also sent best-of-breed coaches to the team like Yoon, Andy Rojo and Ryan Wing.