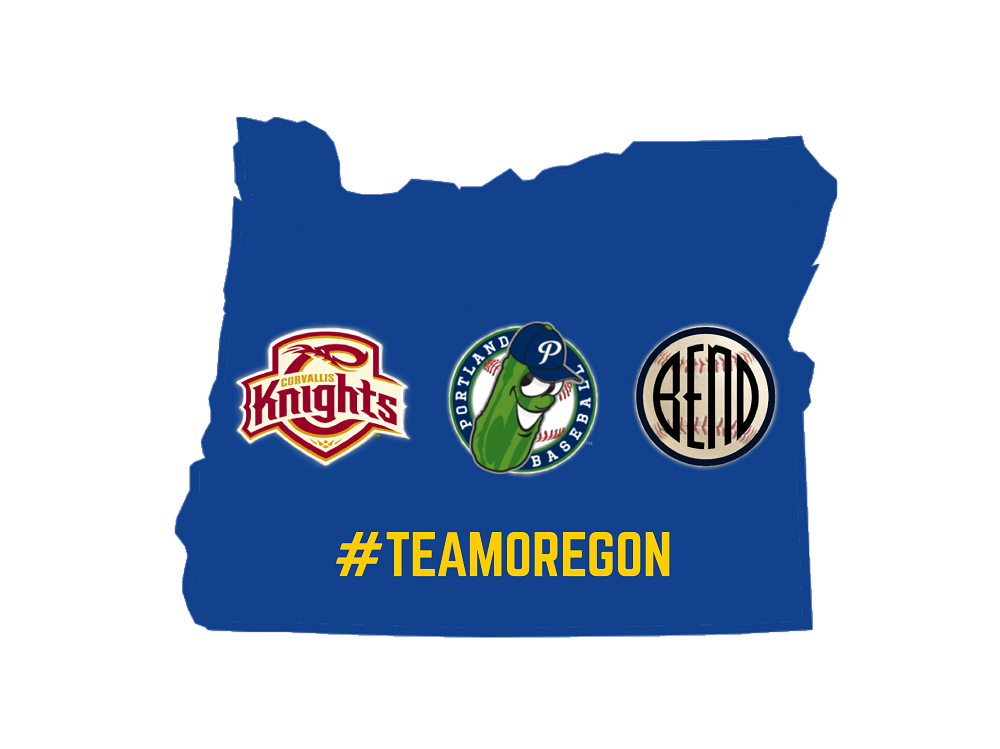 Team Oregon Alliance Unveiled; Bend, Corvallis, & Portland Eager and Well-Prepared to Host Outdoor Events
Corvallis, Ore., February 15 – Today the Bend Elks, Corvallis Knights, and Portland Pickles of the West Coast League – one of North America's premier summer collegiate baseball leagues – announced the TEAM OREGON alliance, with all three teams uniting to prepare for a healthy, safety-conscious 2021 schedule of outdoor summer events.
This group of civic institutions is committed to working with state and local health authorities to be utterly prepared to open their ballparks safely. Team Oregon (#TeamOregon) will adhere to those authorities' guidelines and regulations, pursuant to existing health conditions and safety protocols at the time of their events.
While Bend and Corvallis did not host games last summer, the Portland Pickles successfully managed an entire season in a single location, hosting 60 games with as many as 100 guests per contest, with precisely zero reported COVID-related issues among fans or staff.
"The Pickles are extremely grateful for our opportunity to play in 2020," said Pickles president Alan Miller, "and we look forward to both integrating and advancing the safety measures we put into place so carefully last season."
With their practical experience in COVID management, the Pickles are pleased to share their accumulated knowledge and protocols (see addendum below).
Portland hosts Pickles games at Walker Stadium in Multnomah County, while Bend plays their home contests at historic Vince Genna Stadium in Deschutes County, and Corvallis at Oregon State University's Goss Stadium in Benton County.
"We feel that we're ready for summer 2021, and are in regular contact with our partners at OSU," said Corvallis president/GM Bre Miller. "The University is well-versed in health protocols and has done a great job keeping their athletes and staff healthy. We appreciate their support, we'll lean on them for advice, and of course we'll meet all OHA and Benton County guidelines and protocols at the time of competition."
All three teams offer their communities affordable, wholesome summer entertainment from June through August, while also employing over 200 full- and part-time employees, stimulating their local economies, and serving as unique community attractions.
"Our communities count on us," said Bend owner Kelsie Hirko. "We're a safe, comfortable, and family-friendly gathering place, and we hire a lot of part-time employees in the summer, along with contractors as well. We also attract visitors to our city and generate substantial business for all our vendors."
Team Oregon is eager to celebrate the return of baseball and community gatherings in 2021, all safely outdoors, while helping their clubs, employees, and partners get back to business.
In 2019, the combined attendance of the WCL's three Oregon teams was 159,894. The Corvallis Knights were named North America's Summer Collegiate Team of the Year by the influential Perfect Game website.
ADDENDUM
Portland Pickles Health & Safety Lessons from the Summer of 2020
Over July and August of 2020, the West Coast League's Portland Pickles hosted four independent summer collegiate baseball teams (including the Pickles) at North Marion High School (Marion County). They played more than 60 games with as many as 100 guests per contest. With that in mind, the Pickles are pleased to share below our accumulated lessons, with hopes they will help other teams and sports return to play in the safest and healthiest way possible, if COVID-19 safety and health measures remain in place.
Masks Work: All our staff wore appropriate face coverings 100% of the time during 100% of our games. With over 50 staff working on site during each event, we ended the summer with zero staff or guest COVID cases.
Social Distancing: Requiring social distancing in seating areas created a safe and better viewing experience for most fans. Being able to stretch or have more room was looked upon favorably by guests.
Fans Wearing Masks: Constant verbal reminders worked well, and we complemented our verbal communications with mobile signage and staff and interns pointing to our mask messaging to further reinforce desired guest behaviors.
Cash-Free Environment: To limit the amount of physical contact, we did not accept cash. Most guests did not have an issue with this policy. Not taking cash also allowed concessions lines to move faster.
Digital Tickets: Utilizing digital tickets was key to eliminating ticket-takers' and ushers' shared touches with guests. Scanning ticket codes on customers' smart phones worked very well.
Temperature Checks: Every person that entered the facility was required to undergo a quick, contact-free temperature check. Very few guests registered a temperature higher than 99 degrees, and those were usually resolved by sitting in the shade and waiting 15 minutes. No guests, staff, coaches, or players were allowed inside the stadium with a temperature higher than 99.
Transportation: If players, coaches, staff, or guests from different households planned on traveling together to a game, we encouraged everyone to wear masks while inside their vehicle. We regularly communicated this protocol in messaging to fans and players.
Eating & Drinking: If guests are not actively eating or drinking, they need to wear face coverings. Some guests did not wear a mask when they merely had food or beverage in hand. We verbally reminded them (via both PAAs and staff) to mask up when they were not actively eating or drinking.
QR Codes for Menus and Waivers: QR codes were quickly adopted by fans. Guests had no issues scanning waivers and menus with their smart phones. Every guest was required to electronically accept our COVID waiver.
Physical Barricades Were Effective in Concessions and Merchandise Areas: As much as people got used to our floor-level signage addressing distancing/spacing, there was the occasionally tendency for guests to violate required spacing. So, the physical barricades we added helped address these issues.
Staff Training: Getting health and safety buy-in from all staff was critical. We demanded that all staff follow proper protocols, and we established real consequences for non-compliance. Further, we regularly reviewed protocols and procedures with staff members during pre-event meetings.