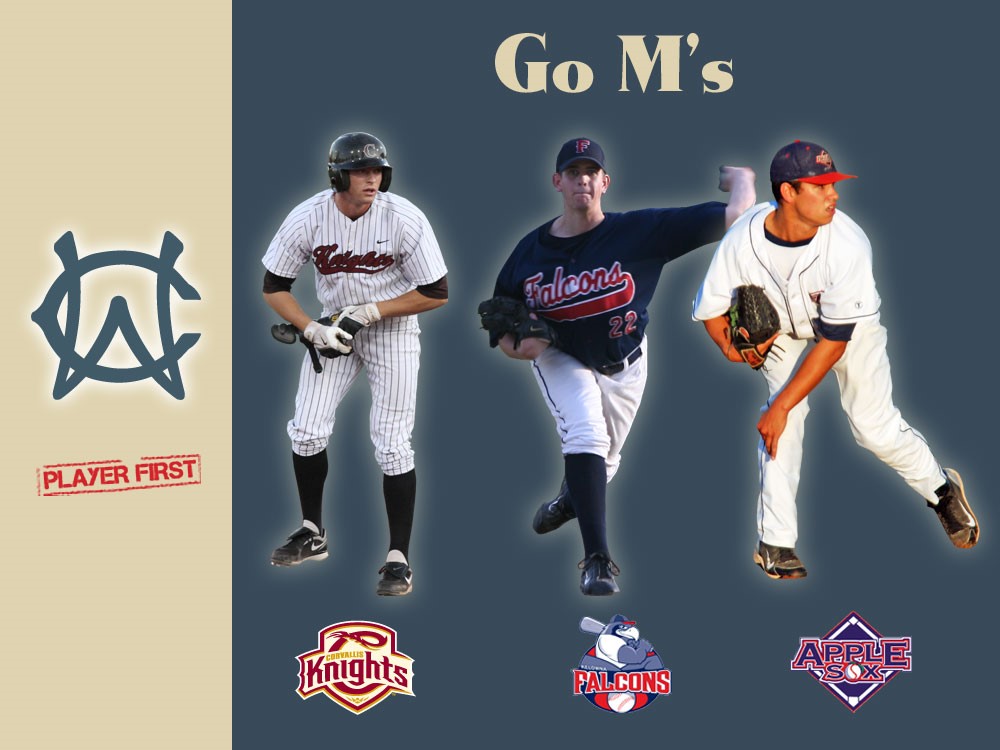 Knights Go Way Back with Kelowna; The Big Maple Soared as Falcon
Corvallis, Ore., Monday, March 1 – The Corvallis Knights have been fortunate to have longstanding rivalries and friendships with all its founding members, including its Canadian partner in Kelowna, British Columbia. The Kelowna Falcons have featured a long list of big leaguers over the years, including slugger Chris Davis of the Baltimore Orioles and the newest Seattle Mariner – The Big Maple, James Paxton.
Paxton is back in the Pacific Northwest and joins former WCLers Mitch Haniger of the Knights and Marco Gonzales of Wenatchee to bolster an already talented Mariners club. All three are fan favorites with Paxton, a Canadian from Ladner, BC, enjoying his own following – The Maple Grove.
The energy levels at T-Mobile Park are sure to amp up when Mr. Paxton takes the mound. A power southpaw, Paxton returns to Seattle after a two-year stint with the New York Yankees. He shined with Seattle from 2013-2018, his best season with the M's being 2017 when he went 12-5 with a 2.98 ERA. The lefty flame-thrower threw a 99-pitch no-hitter at Toronto in 2018.
James Paxton pitched in the West Coast League in 2007. He made 11 starts with the Falcons and went 3-5 with a 2.94 ERA. He tossed two complete games, logged 70.1 innings and struck out 62.
The left-hander made the first of his two starts vs. Corvallis at Elks Stadium on July 21 where he was masterful, tossing 7 shutout innings while allowing only 2 hits and striking out 9 to earn the win in Kelowna's 5-0 home whitewashing of the Knights.
Earlier in the summer, James had a start at OSU's Goss Stadium on July 10, which was the Knights first year in Corvallis. On that night, the rising sophomore at University of Kentucky only allowed 3 hits and two earned runs over 6 innings, but got the loss as the Corvallis Knights prevailed 7-3.
The Big Maple also pitched two times against Wenatchee, founding partners of the Knights and Falcons. In a no decision at Elks Stadium on July 5, he twirled 7 innings and allowed only two hits and one earned run while striking out 6. The Falcons would win the contest 3-2 with future University Washington pitching coach Elliott Cribby taking the hard-luck loss for the Sox.
Paxton took a tough walk-off loss at Paul Thomas Sr. Stadium on August 4. He went the distance, logging 8.2 innings while striking out 6. The AppleSox touched up James for 11 hits, with Curtis Van Wyck delivering the game-winning walk-off double before an ecstatic Wenatchee crowd of 906.
"It's exciting to see James back so close to home. He's a BC guy with an incredible family who will no doubt get more of a chance to see him pitch live once fans are allowed back in the stands," said Kelowna GM Mark Nonis. "When James was here in 2007 you could tell there was something special about him.  He was our workhorse that summer and is still one of our all-time strikeout leaders. Our whole organization is very proud of him and proud to say he was once a Falcon pitching right here in Kelowna at Elks Stadium."
The upstart Moses Lake Pirates would capture the West Coast League title that summer, sweeping the Knights in the WCL Championship Series (WCLCS).
The Falcons, led by GM Mark Nonis, have made regular appearances in the post-season, including WCLCS matches with Bend and Corvallis in 2015 and 2018, respectively, and a three-year playoff run from 2008-2010 in the WCL Divisional Series.
"Mark's been bringing top prospects to Kelowna since 2005 and has put together some very talented teams over the years," said Knights Baseball Club CEO Dan Segel.
"The Kelowna operation is a family affair and the Falcons are a West Coast League treasure," said Segel. "We very much appreciate all that Mark and his dad Dan have done for the league and their communities."
The Big Maple will join former Wenatchee ace Marco Gonzales as the anchors of the M's rotation.
Seattle is looking to snap a 19-year post-season drought in 2021. We know for sure our three #WCLGrown M's will do everything in their power to lead the Mariners back to the playoffs.
It's great to see James Paxton back where it all started.
Spring training officially got underway this past weekend, and Seattle opened up with a 5-4 win over San Diego yesterday. The Mariners train and compete at the Peoria Sports Complex in Arizona.
To read more about Mitch Haniger & Marco Gonzales and the Knights and AppleSox tradition, click here.