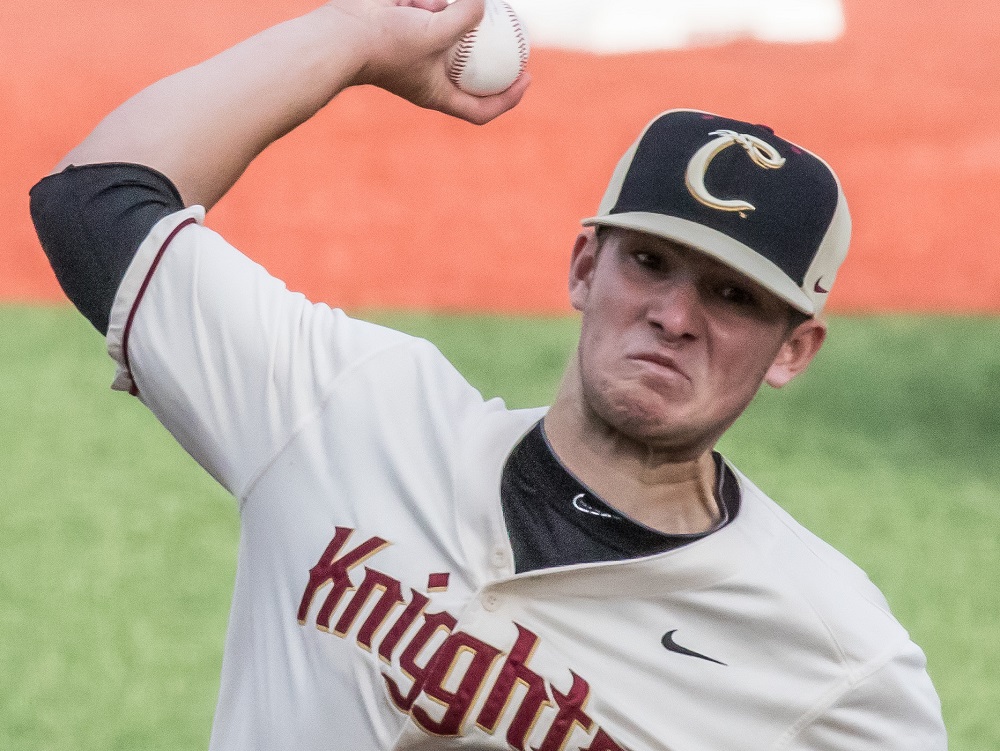 Player Development is Best in the West Coast League; It Came First with Jake Wong
Corvallis, Ore., Monday, March 29 – Summer collegiate baseball has many merits, with the West Coast League distinguishing itself with unparalleled player and fan experiences out west, to incredible summer weather, to gorgeous geography, to its unique ballparks. But what makes the league extraordinary is its commitment to player development.
Two founding partners – Bellingham and Corvallis – have put players first since the league's inception in 2005.
In 2016, the two teams met for a second time in the West Coast League Championship Series (WCLCS). It was a rematch of the 2014 WCLCS where the Bells edged the Knights 2 games to 1.
On a warm August 13th evening at Joe Martin Field, the 2016 WCLCS opening night starters were Spencer Howard of Cal Poly and Jake Wong of Grand Canyon University (pictured), two rising sophomore pitchers.
Our story of player development is tied to that match-up of aces, two future stars with supporting casts of fellow prospects that included 23 players that would go on to play affiliated professional baseball including the first overall pick in the 2019 MLB Draft – Adley Rutschman of Oregon State.
Of the 23 pros, Bellingham's Howard is the first to have reached the big leagues, as he debuted in 2020 with the Philadelphia Phillies. He will not be the last.
One former Bell that might join him in the major leagues is Bellingham native Austin Shenton of the Seattle Mariners. The hometown kid, who grew up rooting for the Bells and going to games at Joe Martin, was developed in familiar surroundings and inspired by his summer coaches and teammates.
The summer of 2016 was eye-opening for the sweet-swinging left-handed batter, which ultimately led to a second season with the Bells in 2017. And migraine headaches for opposing pitchers trying to get him out (we will get to that later).
But back to that WCLCS opener at Joe Martin. It showcased two fully blossomed arms, and both were electric. Howard and Wong did not disappoint as they both filled up the strike zone and only allowed one earned run (combined) over 11 2/3 innings pitched. Neither walked a batter. Wong struck out 3 over six innings while Howard doubled that, striking out 6 over 5.2 innings pitched.
Both teams could only muster 4 hits apiece, with the Knights prevailing 4-0.
So, how did this all start? We know Austin Shenton was a fan of the Bells and grew up going to games as a kid. But how did Howard and Wong get here, to a place where both pitchers were groomed to be Friday night starters for their respective collegiate programs?
Well, for Howard, it started in 2015 when Cal Poly head baseball coach Larry Lee placed Howard with the Bells for his first summer in Bellingham. He headed north following a redshirt spring, packaged with highly touted hurler Justin Calomeni who had pitched in Corvallis the previous season. More on Wong later.
Mustangs' head coach Larry Lee trusts his WCL development partners and has been placing student-athletes in the league since it was established in 2005. "The West Coast League has been very instrumental to our success at Cal Poly," says the Big West's most winning coach.
From there, Howard, who came to Cal Poly as a walk-on from Templeton, California and to Bellingham as a project, was entrusted to longtime Bells' assistant coach Jim Clem.
"What stood out most about Spencer was his athleticism, quick arm and enthusiasm to pitch," said coach Clem. "We worked on refining his mechanics, the timing of it all, plus developing secondary pitches and calming himself mentally as his motor ran fast. By the end of that first summer, it started to come together for Spencer, and he became an exceptional reliever, often dominating hitters."
Jim's work was most evident during the summer of 2016, as he took the athletic, unrefined Howard and helped him mechanically and mentally, which translated over time in the young pitcher's gains in confidence, improvements in secondary stuff and increases in velocity.
"I was so grateful when Cal Poly said yes to Spencer returning and to starting. I felt like we could help further develop his curveball and change-up, pitches he needed to become a starter," said Clem. "That summer, we spent more time talking about how to slow the game down, breathing, preparing between starts. He really worked at it and improved every start with his confidence growing and his stuff getting better. He made hitters uncomfortable, and many just could not catch up to his fastball which seemed even faster with his confidence in his curveball and change-up. I just cannot say enough about how much fun Spencer was to spend time with. His teammates loved him; we all did."
Spencer made 21 appearances for Cal Poly his redshirt freshman spring of 2016, going 3-1 with a 2.95 ERA. Progress was in action, and he kept improving that summer, where he made 7 regular-season appearances and five starts for Bellingham before his playoff pairing with Jake Wong. That regular season, Howard tossed 27 innings and only walked 4 while striking out 31 and posting a 1.33 ERA.
It was a culmination of a two-year development stint with coach Clem that paid off in the spring of 2017 as Spencer emerged as the Mustangs ace.
"A big part of Spencer's development as a pitcher were his summers spent in Bellingham. He was able to get the necessary outings needed to go from a recruited walk-on to 2nd round draft pick. Coach Clem had a big impact on Spencer's overall maturation during those years," said Cal Poly skipper Larry Lee.
Howard put up incredible numbers his final spring at Cal Poly. The redshirt sophomore right-hander went 8-1 over 17 appearances and 12 starts, posted a team-low 2.05 ERA and struck out 97 over 87.2 innings pitched.
He was no longer a project and that was clear come the 2017 MLB June Draft as he was 45th overall pick, selected in the 2nd round by the Philadelphia Phillies.
"My time with the Bells were some of my favorite baseball experiences ever," said Phillies pitcher Spencer Howard. "Bellingham had an all-star coaching staff each year I was there. Development wise, it was the closest thing I got to a pro ball schedule during college. Looking back at it now, I have nothing but positive memories on and off the field. I am forever grateful to all the families who let us players in their homes. I wish I could have been in college for ten years just to be more of a Bell."
Shenton's experience was similar in that he was also a two-year Bell and his first season with the hometown summer collegiate club was a springboard to special things ahead.
After being drafted in the 34th round of the 2016 MLB Draft out of Bellingham High School by the Cleveland Indians, Austin struggled some in 2016; hitting .280 with only five extra-base hits for his beloved Bells. But he grew as a player, using that summer to emulate the work ethic of his teammates. Bellingham's player first approach led to better weight training and nutrition and he continued that at Bellevue College in the spring of 2017 under head baseball coach Mark Yoshino.
Come summer 2017, the all-NWAC infielder was ready to wow Bells' fans. He did just that, while terrorizing WCL pitching and hitting a league-leading .409 with 15 doubles, 4 homers and 47 RBIs. Shenton's .409 batting average still stands as the West Coast League's top single-season mark.
Austin would parlay his big 2017 summer to outstanding spring seasons at Florida International where he earned second-team all-Conference USA honors in 2018 and 2019. He was also named a 2019 pre-season all-American by Baseball America and was the Cape Cod League's post-season MVP in 2018.
"Playing in Bellingham was one of the best baseball experiences of my life simply because there's nothing like playing in front of family and friends against high level competition. It was special, and it started with Stephanie and Nick in the front office to the coaching staff who all did an amazing job making it a memorable summer," said Shenton. "We had an amazing team that eventually turned into a big family of ball players and coaches alike from various backgrounds all aligned, to develop and play in the big leagues. That's what made the WCL a fun league to be apart of; the opportunity to continue the dream."
Bellingham's finest would sign with the Seattle Mariners after being picked in the 5th round of the 2019 MLB Draft. He was part of the M's 60-man roster in 2020 and is considered a top prospect in the organization. While Austin can play outfield and infield, his best shot with the M's appears to be at third base.
Howard and Shenton were loaded with potential when they came to Bellingham. Both took full advantage of their opportunities with the Bells. It is safe to say both found themselves as Bells, Howard learning his craft and building faith; Shenton getting comfortable with being uncomfortable, oddly enough at home where he would gain the understanding and confidence it would take to play at the highest of levels.
But back yet again to that WCLCS opener at Joe Martin Field. Not only did Howard grade high in terms of performance and progression with the Bells, his opposition on the mound that night was putting an exclamation point on a breakout summer.
Jake Wong of the Knights threw an absolute gem that evening, spotting his lower 90s fastball, pounding the zone with strike after strike with superstar Corvallis assistant coach Youngjin Yoon, the team's master skills developer, chirping "compete, compete" from the visiting dugout on what seemed like every pitch.
Under the summer tutelage of now University of Portland pitching coach Connor Lambert, Wong made 12 regular-season appearances and 5 starts, logged 37.2 innings, went 3-2, registered a save and posted an impressive 2.62 ERA. He was stellar in his one post-season start, earning a win that was critical to the Knights capturing the 2016 WCL title as Corvallis beat Bellingham in what was a thrilling series, two games to one.
"What Jake and I talked about most was related to his commitment to changing his body," said former Corvallis Knights pitching coach Connor Lambert. "I like to think he created new routines and good habits that summer. He definitely was eager to get better and welcomed structure and accountability."
Wong's summer was a bridge from a nice freshman season to being the ace of the Antelopes staff in the spring of 2017. For his college career, the right-hander from Chandler, Arizona went 16-9 with a 3.59 ERA over 35 starts. He was selected in the 3rd round of the 2018 MLB Draft by the San Francisco Giants, GCU's highest draft pick since Tim Salmon of the Angels in 1989.
"My summer in Corvallis was nothing short of memorable," said Jake Wong. "Having the ability to compete in meaningful games during the summer was crucial for my development. As a member of the Knights, I was able to mature and return to Grand Canyon as both a better individual and better pitcher."
Jake was placed by Knights alumnus Rich Dorman, who was the pitching coach at the time with Grand Canyon. Dorman is now the pitching coach at Oregon State of the Pac-12 conference.
"After a growth summer in Corvallis, Jake came back in the fall ready to compete to be our Friday night starter. He returned sharp, fit, confident, and motivated," said Rich Dorman.
All three ball players – Howard, Shenton & Wong – were WCL grown and furthered their development thanks to best-of-breed summer coaches, unique summer experiences and summer structure that promoted getting better, both mentally and physically.
While Howard is poised to earn a spot in the Phillies starting rotation and show-off his best-in-class fastball in 2021 (he made six starts last year for Philly), don't be surprised to see Shenton and Wong in big league uniforms in the not so distant future. They are all exciting prospects, just to name a few from those 2016 Bellingham Bells and Corvallis Knights teams.
As a whole, the West Coast League features a long list of prospects that are on full display at top college programs and in the professional ranks. You just never know who you will see one day at a WCL ballpark, and soon thereafter on television doing their thing.
It is the best!
Because development comes first in the West Coast League.
BELLS & KNIGHTS 2016 PROSPECTS
Bellingham – Spencer Howard* (2nd rounder, Cal Poly), Chase Strumpf* (2nd rounder, UCLA), Austin Shenton* (5th rounder, Florida International), David Banuelos* (5th rounder, Long Beach State), Jared Horn (7th rounder, Cal, voluntarily retired), Jon Olsen* (12th rounder, UCLA), Joey Matulovich* (20th rounder, Cal), Hunter Howarth* (22nd rounder, Chico State), Gio Lopez (23rd rounder, Missouri, released), Gunnar Schubert (28th rounder, Gonzaga, released), Sam Hellinger (39th rounder, Gonzaga, released), Nick Silva (40th rounder, Maine) and Tyler Palm* (NDF, Oakland).
Corvallis – Adley Rutschman* (1st rounder, Oregon State), Jake Wong* (3rd rounder, Grand Canyon), Nick Kahle* (4th rounder, Washington), Steven Kwan* (5th rounder, Oregon State), Ryley Widell* (7th rounder, Washington State), Hazahel Quijada* (17th rounder, UC Riverside), Roman Garcia (19th rounder, San Diego, released), Cameron Bishop* (26th rounder, UC Irvine), Tanner Howell (35th rounder, Dixie State, released) and Cole Kreuter (36th rounder, UC Irvine, released).
*active in affiliated professional baseball