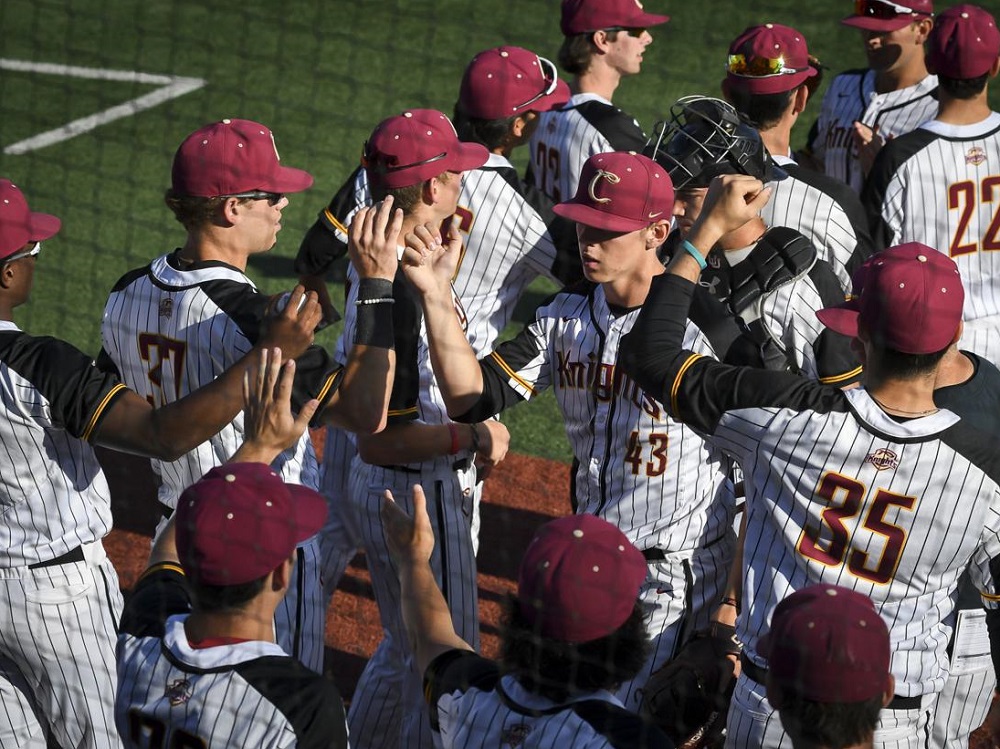 Corvallis Knights Unveil Revised 2021 Schedule
Corvallis, Ore., Tuesday, March 30 – With the West Coast League's recent decision to adopt separate 2021 schedules for U.S. teams and Canadian teams to eliminate regular-season international travel, the Corvallis Knights released its revised 2021 season schedule this afternoon. The new schedule features the same number of home dates, 33 games at OSU's Goss Stadium, and Opening Night is still Friday, June 18.
The Knights will now welcome the Cowlitz Black Bears on Opening Night at Goss Stadium.
For the first time since 2010, the WCL regular-season schedule will be 48 games, a six-game reduction from the league's usual 54-game slate.
As part of the hometown team's updated schedule, Corvallis will be hosting former Knights' assistant coach Max Gordon's Driveline Baseball club on Tuesday, July 13 and Wednesday, July 14. The July 14th game will be a businessperson's special starting at 12:05 pm. Max played outfield at Oregon State from 2011-2013. Gordon currently works at Driveline Baseball and will be managing their summer team.
The Knights also added an exhibition game at North Marion High School set for Sunday, July 25 at 6:05 pm. Corvallis will be matched up against the Willamette Wild Bills of the Wild Wild West League who are coached by Knights' alumnus and former Beaver Ryan Gorton. Ryan caught and pitched at OSU from 2009-2012 and is currently an assistant coach at Linn-Benton CC. This is a goodwill game being put on by the Knights' good friend in baseball North Marion head baseball coach Randy Brack.
Also, Corvallis has added a non-league home game with longtime WCL rival Cowlitz for Thursday, July 15. The Knights will visit David Story Field the night prior on Wednesday, July 14 to play the Black Bears in the first of two exhibition contests.
For more info on the West Coast League's new U.S. 2021 schedule, click here.
Below are the Corvallis Knights home dates for this upcoming summer.
HOME SCHEDULE:
June 18-20, vs. Cowlitz Black Bears*
June 21, vs. NW Star Nighthawks
June 25-27, vs. Wenatchee AppleSox*
June 28, vs. Portland Gherkins
July 2-3, vs. Ridgefield Raptors*
July 5, vs. Cascade Collegiate League All-Stars
July 6-8, vs. Bellingham Bells*
July 13-14, vs. Driveline Baseball
July 15, vs. Cowlitz Black Bears
July 16-18, vs. Portland Pickles*
July 23-24, vs. Medford Rogues
July 27-29, vs. Walla Walla Sweets*
August 2, vs. NW Star Nighthawks
August 3-5, vs. Yakima Valley Pippins*
August 6, vs. Ridgefield Raptors*
August 10-12, vs. Bend Elks*
AWAY SCHEDULE:
June 4-6, at Yakima Valley Pippins*
June 7-9, at Port Angeles Lefties*
June 15-17, at Walla Walla Sweets*
June 22-24, at Portland Pickles*
June 29-30, July 1, at Bend Elks*
July 4, at Ridgefield Raptors*
July 9-11, at Wenatchee AppleSox*
July 14, at Cowlitz Black Bears
July 25, at Willamette Wild Bills at North Marion HS
July 30-31, Aug 1, at Bellingham Bells*
Aug 7-8, at Ridgefield Raptors*
*West Coast League games
For more info on ticket packages for the 2021 Corvallis Knights season, please click here. Seats might be limited, so make sure to order your tickets now before they are going, going, gone.