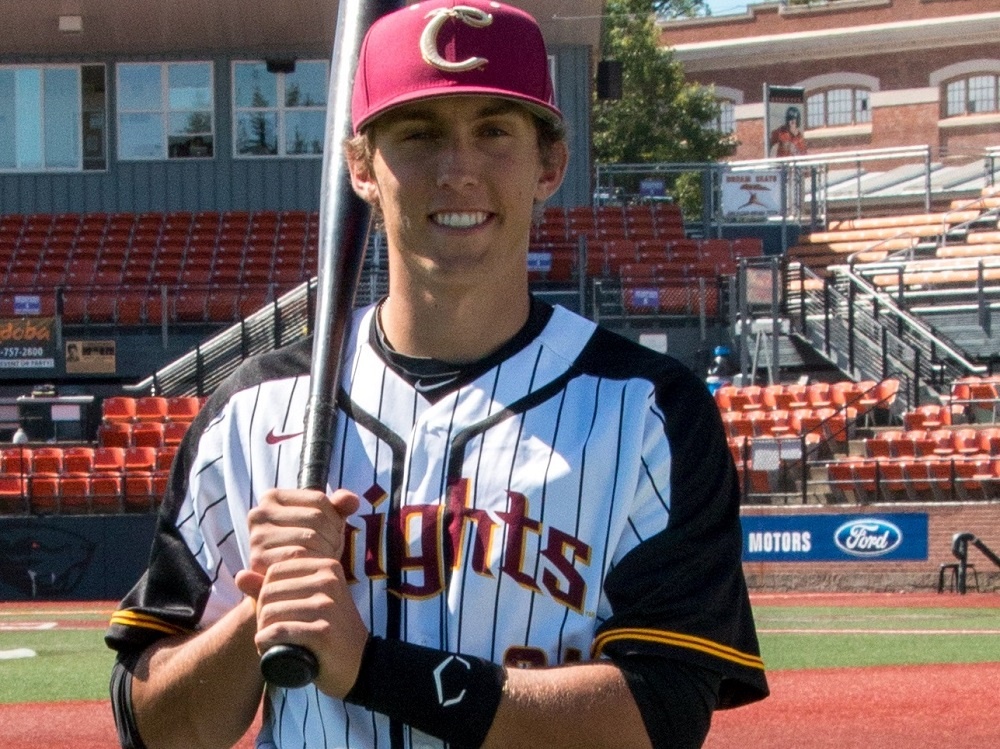 Willy, Qsar Drive in Two Runs Each in Loss to Falcons
CORVALLIS, Ore. –  Left fielder Elliot Willy (pictured, above) doubled, singled, walked and scored once in a 14-7 loss to Kelowna.
A redshirt freshman-to-be at Oregon State, Willy's two-run single in the first inning gave the Knights (28-12 all, 24-12 WCL, 7-2 WCL second half) an early 3-0 advantage in the rubber game of a series matching the West Coast League's North and South first-half division champions.
However, the Falcons (19-17 all, 2-7 second half) battered Knights' pitching for five runs in the second and fifth innings, and 19 hits overall. Barring a rematch in the WCL Championship Series, they will be the only games between the longtime rivals this season, as the Knights do not travel to Kelowna.
Willy went 2-for-3 and raised his average 53 points to .280. He has three doubles, a homer and nine RBIs in just 25 at-bats.
Third baseman Jordan Qsar (Pepperdine) set a franchise record with his 10th homer, a two-run, opposite-field shot to left field in the seventh inning. The old record was nine by Kevin Kline (Dixie State) in 2014.
All of Qsar's homers have come in WCL action; Kline hit eight in the regular season and one in the playoffs. The Knights lead the WCL with 32 homers. Qsar is second in the WCL with 35 RBIs.
Second baseman Matt Kelly (Portland) hit his fourth homer for the Knights. Shortstop Chad Stevens (Portland) added an RBI double.
The Knights are idle on Thursday, their first day off since June 6. They resume WCL play on Friday with a three-game series at Port Angeles.