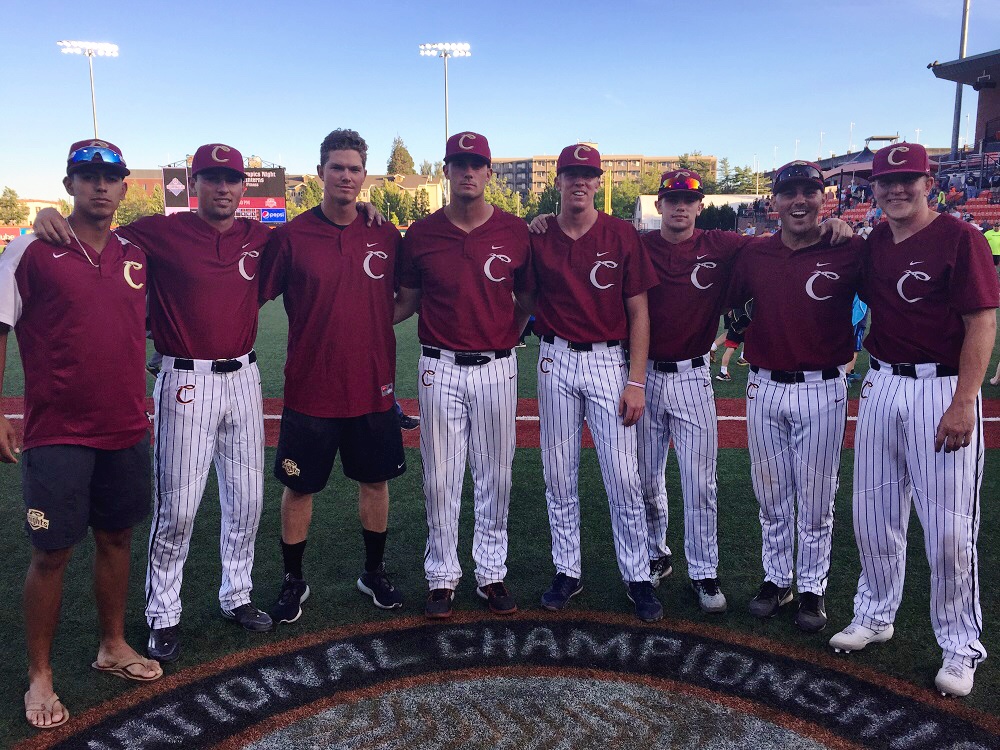 Eight Corvallis Knights Named to WCL South All-Star Team
Slugging outfielder Jordan Qsar of Pepperdine leads a group of eight Corvallis Knights (pictured, l-r, are Louis Crow, Jordan Qsar, Chase Kaplan, Dakota Donovan, Tanner Howell, Matt Kelly, Cason Cunningham and Zak Taylor) who were named to the South Division roster for the 2017 West Coast League All-Star Game, WCL president Brian Sloan announced Monday.
The league's midsummer classic is set for Tuesday, July 18, at Yakima County Stadium in Yakima, Wash., hosted by the Yakima Valley Pippins. The teams will be a mix of players posting all-star-level statistics, and those expected to be high draft picks or standouts as their skills mature.
The teams were selected with input from Major League Baseball scouts and votes by WCL head coaches.
The honored Knights are Qsar (Pepperdine); catcher/first baseman Zak Taylor (Oregon State); infielder Matt Kelly (Portland); starting pitchers Louis Crow (San Diego) and Cason Cunningham (Linfield), and relievers Dakota Donovan (OSU), Tanner Howell (Dixie State) and Chase Kaplan (Kansas).
It's the second all-star honor for Kaplan, a left-handed closer who was also selected in 2016. The rising senior left-hander closed out last year's South win.
"It's a tremendous honor for these players to be included in the best of the best of the West Coast League," Knights manager Brooke Knight said. "They all are deserving and will be great representatives for our team."
A rising senior at Pepperdine, Qsar leads the WCL in homers (9) and is tied for second in RBIs (30). He is batting .310 (35-113) in 30 games and has 12 doubles and a .655 slugging percentage.
Taylor is entering his junior year at OSU. He did not join the team until June 25 because of the College World Series, but is among the team leaders in average (.319), with one homer and 11 RBIs.
Kelly has played third base, shortstop and second base and is batting .313 (35-112) in 30 games, with three homers, 23 RBIs and nine steals in 10 attempts. He will be a junior at Portland in 2017-18.
Kelly and Qsar are tied for the team lead with 35 hits each. Qsar had drawn a team-leading 18 walks.
Kaplan leads the Knights with five saves and is 1-0, 2.02 in 10 appearances. He has 16 strikeouts and only one walk in 13.1 innings.
A senior-to-be left-hander at Linfield, Cunningham is 1-0, 1.68 in six appearances. He has 27 strikeouts in 21.1 innings and has held opponents to a .192 batting average.
A rising sophomore at San Diego, Crow is 0-1, 4.90 in five appearances, with one save and 25 strikeouts in 18.1 innings. He had a career-high 10 strikeouts in 4.1 innings in his last start on July 3, a no-decision against Bend.
Donovan will be a redshirt freshman for the Beavers in 2017-18. He is 1-0, 1.17 in five appearances, with a save and 12 strikeouts in 7.2 innings. He has allowed just two hits and has held opponents to an .080 batting average.
Howell is a second-year Knight who will be a senior at Dixie State. He is 1-0, 1.58 in 10 appearances, with 21 strikeouts and only four walks in 17 innings.
The eight Knights – the most represented club in the All-Star Game – will be joined on the South team by players from Yakima Valley, Bend, Gresham and Cowlitz. The North squad will feature players from Victoria, Wenatchee, Walla Walla, Bellingham, Port Angeles and Kelowna.
The game starts at 7:05 p.m. Tickets are $10 for stadium select (reserved) seats, $8 for stadium view (bleacher-back) seats and $7 for general admission.
The South defeated the North 4-0 in the 2016 game at Cowlitz. Corvallis outfielder Kyle Nobach (Oregon State) earned MVP honors and Knights pitcher Cameron Bishop (UC Irvine) was named as the top professional prospect.
To check out the complete WCL All-Star Game rosters, click here.