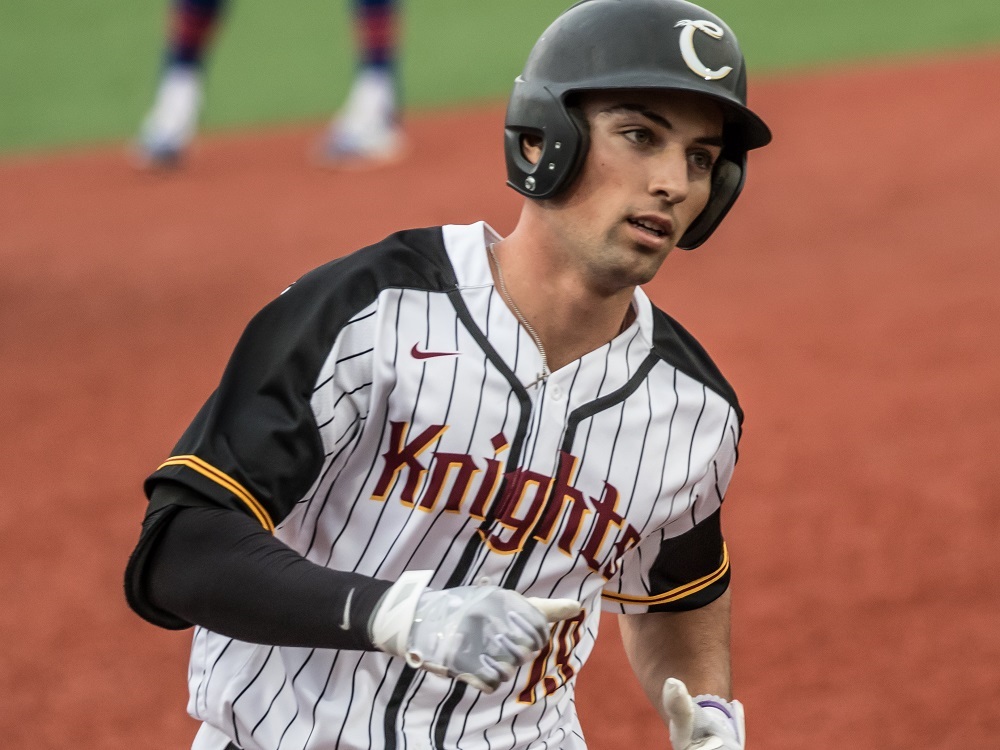 Qsar Tops WCL All-Star Game Home Derby Field
West Coast League home run leader Jordan Qsar of the Corvallis Knights will lead a group of 10 contestants in this year's All-Star Game Home Run Derby.
The competition is set for 6:30 p.m. tonight at Yakima County Stadium, home of the host Yakima Valley Pippins. It is the precursor to the annual WCL All-Star Game, presented by Target Zero, scheduled for 7:05 p.m. Tuesday.
A senior-to-be at Pepperdine, Qsar has smacked a franchise-record 11 homers, breaking Kevin Kline's old mark of nine, set in 2014. Qsar's latest round-tripper came in a 6-5, 10-inning win at Port Angeles on July 14. He ranks second in the WCL with 41 RBIs after driving in six runs in a weekend sweep at Port Angeles.
Qsar will be joined by Lucas Denney (Yakima Valley); Nick Nyquist (Walla Walla); Evan Johnson (Wenatchee); Taylor Wright (Kelowna); Chase Illig (Bellingham); Ian Nowak (Port Angeles); Hunter Vansau (Victoria); Collin Runge (Bend), and Devlin Granberg (Cowlitz).
Wright, a freshman-to-be at Maryland, is second in the WCL's home-run race with nine. A rising senior at Northern Colorado, Johnson leads the league with 44 RBIs.
The Home Run Derby will feature three rounds. In the first round, each batter will receive 10 "free pitches" to attempt to hit home runs, and then receive 10 "strikes" to pad his home run total. A "strike" will be a hit ball or a called strike if the batter takes the pitch.
The top three batters will advance to the second round, with the same parameters as the first round. The championship round will feature the top two scorers from the first two rounds.
The top three finishers each will receive trophy bats provided by DeVo Bats.
Tuesday's All-Star Game matches players from the North Division (Wenatchee, Victoria, Kelowna, Port Angeles, Walla Walla, Bellingham) against stars from the South Division (Corvallis, Yakima Valley, Bend, Cowlitz, Gresham).
Qsar is one of eight Knights selected to the South team. Also chosen were reliever Chase Kaplan (Kansas), a returnee from 2016; relievers Dakota Donovan (Oregon State) and Tanner Howell (Dixie State); starting pitchers Louis Crow (San Diego) and Cason Cunningham (Linfield); catcher Zak Taylor (OSU) and infielder Matt Kelly (Portland).
There was one roster change on Saturday. Pitcher Travis Kuhn (San Diego) of the Victoria HarbourCats was added to the North team.
The Knights will resume WCL action on Wednesday with the opener of a three-game series at Walla Walla. Their next home game is a July 25 nonconference tilt with the Salem Capitols of the Oregon Collegiate Baseball League.