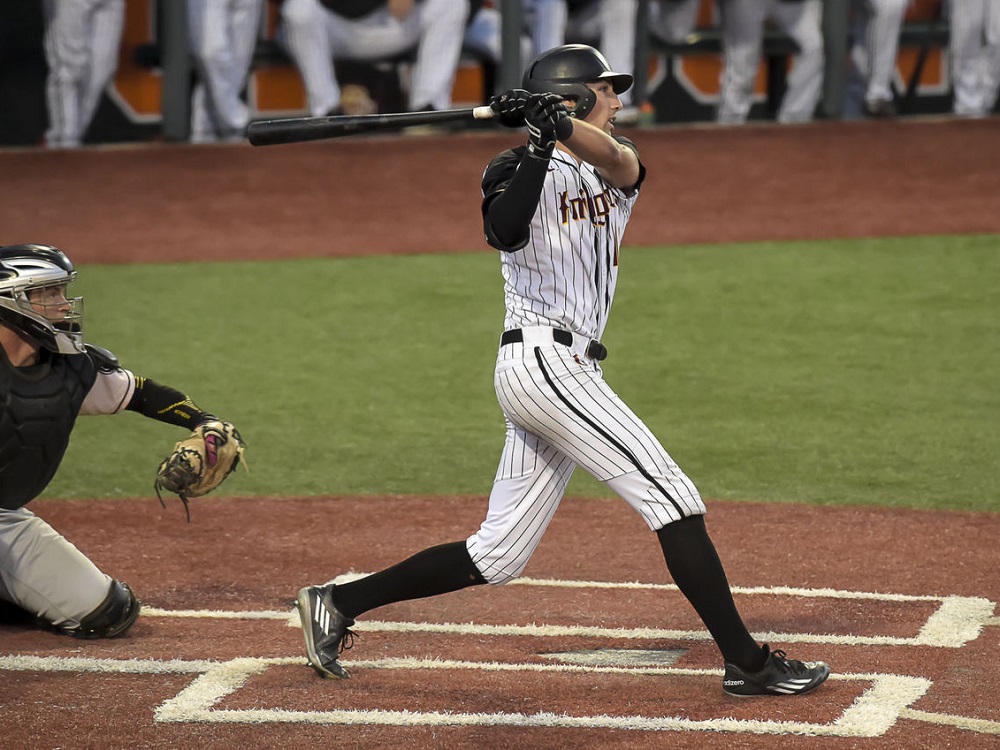 Jordan Qsar Falls Just Short at All-Star Game Home Run Derby
YAKIMA, Wash. – West Coast League home run leader Jordan Qsar of the Knights did not advance to the final two rounds of the West Coast League All-Star Game Home Run Derby. Bellingham's Chase Illig won the title.
The WCL pacesetter with 11 round-trippers, the senior-to-be at Pepperdine hit seven homers in the first round but fell just short of making the top three (and ties) in the 10-player competition, and was eliminated. Illig won the first round with 11 homers; Hunter Vansau of Victoria, Nick Nyquist of Walla Walla and Taylor Wright of Kelowna all hit nine and advanced to the second round.
Illig hit seven homers, Vansau and Wright six each to advance to the finals. The championship round was stopped after Illig (West Virginia) hit his third HR, as Vansau (Mississippi State) and Wright (Maryland) had two each in the final round.
Evan Johnson of the Wenatche AppleSox (Northern Colorado) hit eight homers in the opening round. Lucas Denney of the Yakima Valley Pippins (Seattle U), Devlin Granberg of the Cowlitz Black Bears (Dallas Baptist) and Ian Nowak of the Port Angeles Lefties (UC Riverside) each hit five; Jack Pauly of the Bend Elks (Northern Colorado) hit one.
The annual WCL All-Star Game is scheduled for 7:05 p.m. Tuesday, and will be broadcast on KEJO-AM 1240. It matches players from the North Division (Wenatchee, Victoria, Kelowna, Port Angeles, Walla Walla, Bellingham) against stars from the South Division (Corvallis, Yakima Valley, Bend, Cowlitz, Gresham).
Port Angeles right-hander Nick Bonniksen will start for the North, opposed by Yakima Valley closer Connor White for the South. Bonniksen played at Mesa CC in 2017 and will attend Dixie State this year; White played at Columbia Basin College and is transferring to Portland.
Bonniksen is 4-0 with a 3.08 ERA in eight games. White has six saves in 14 games and has a 1.97 ERA with 18 strikeouts in only 13.2 innings.
Qsar is one of eight Knights selected to the South team. Also chosen were reliever Chase Kaplan (Kansas), a returnee from 2016; relievers Dakota Donovan (Oregon State) and Tanner Howell (Dixie State); starting pitchers Louis Crow (San Diego) and Cason Cunningham (Linfield); catcher/first baseman Zak Taylor (OSU) and infielder Matt Kelly (Portland).
The Knights resume WCL action on Wednesday with the opener of a three-game series at Walla Walla. Their next home game is a July 25 nonconference tilt with the Salem Capitols of the Oregon Collegiate Baseball League.