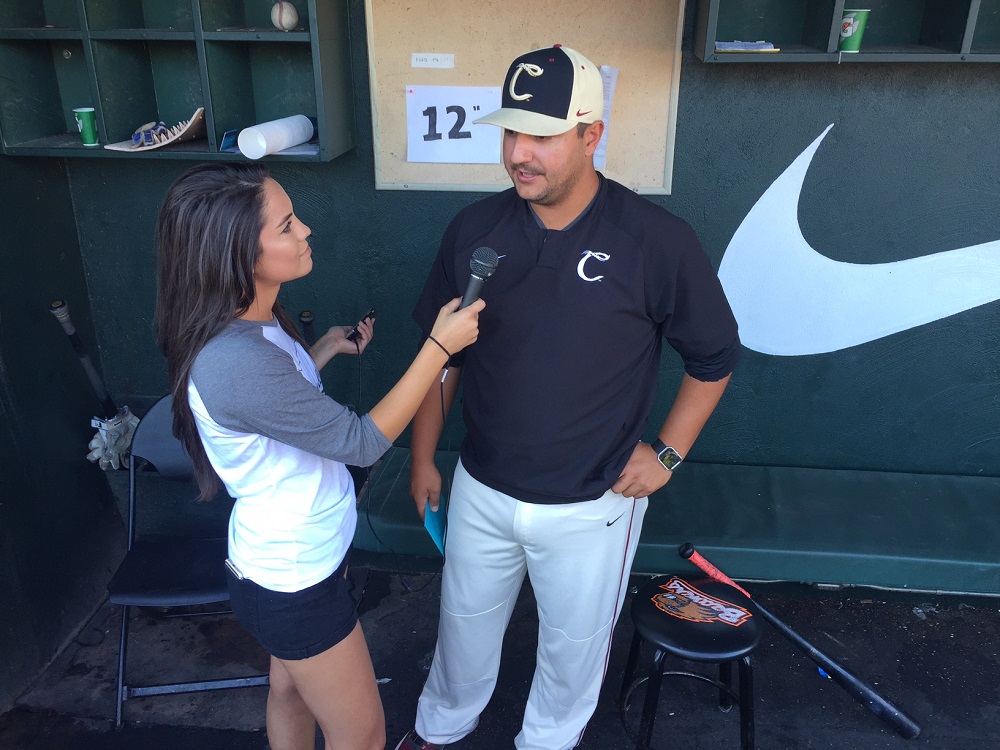 Former Knights Assistant Connor Lambert New Pitching Coach at Portland
Corvallis Knights associate head coach/pitching coach Connor Lambert left the team last Thursday to begin work for his new employer – University of Portland.
Lambert (pictured being interviewed by Lydia Parker at his final Knights game this season) was recently hired as the pitching coach of the Portland Pilots of the West Coast Conference. He replaces Gregg Swenson who left the Pilots following the spring season to work for the Gresham GreyWolves of the West Coast League as the team's general manager.
Connor's first day on The Bluff was yesterday. He is part of Knights alum Geoff Loomis' coaching staff that also includes Jake Valentine and David Tufo.
Loomis begins his third season at the Pilots helm in 2017-2018.
"We're thrilled for both Connor and Geoff, as we think this is a perfect fit," said Knights Baseball Club CEO Dan Segel. "Connor will do a great job, and make the Pilots better."
Lambert will be joined in the fall by five Pilots that he's got to know well this summer; junior infielder and WCL All-Star Matt Kelly, freshman shortstop Chad Stevens, sophomore outfielder Henry Cheney, senior lefty Jordan Horak and junior pitcher Cameron Richman.
All five Pilots were key contributors to the Knights first-half South title, and continue to develop under Knights head coach Brooke Knight.
Lambert spent seven seasons with the Corvallis Knights. He joined the team as its pitching coach in 2011, and was part of three WCL championship clubs (2011, 2013, 2016). His staffs consistently led the league in team ERA. Connor was named the team's associate head coach in 2016.
Prior to working at University of Portland, Lambert was a volunteer at Washington State, an assistant at Tacoma CC and director of baseball operations at University of Utah.