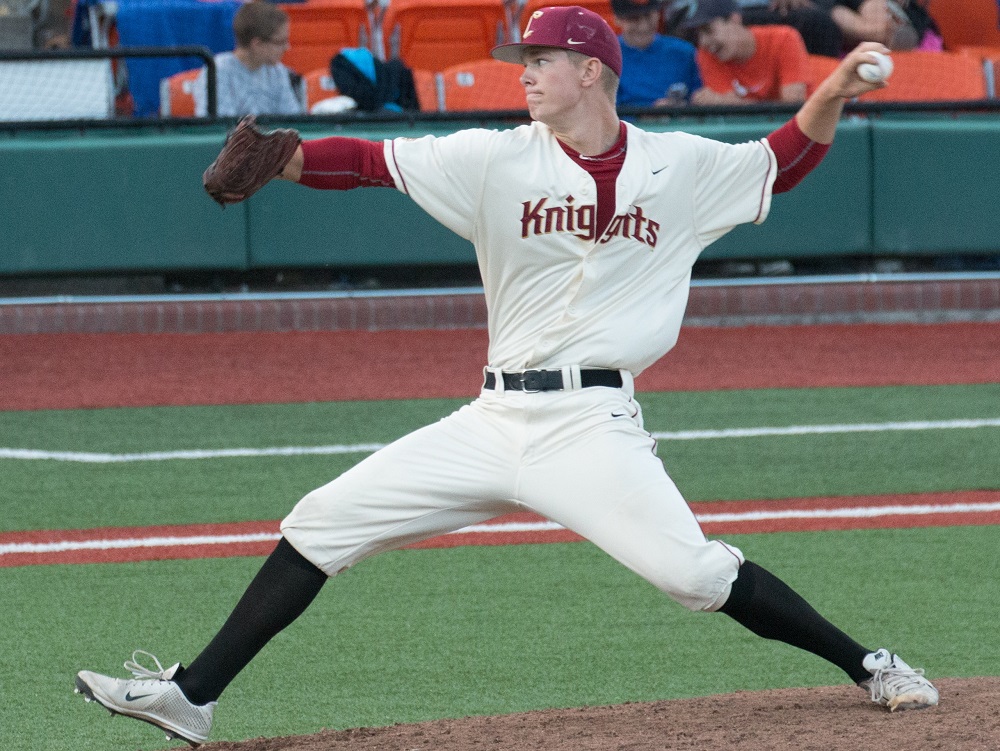 Knights Pitchers Shut Down North in 5-2 Victory for South All-Stars
YAKIMA, Wash. –  Corvallis pitchers combined for 10 strikeouts in six innings to help the South Division defeat the North 5-2  in the West Coast League All-Star Game.
Lefty Chase Kaplan (pictured, above) closed the game for the second year in a row with a hitless ninth inning to power the South team to its fourth consecutive win in the midsummer classic. Last summer the rising senior at Kansas finished a 4-0 win at Cowlitz with a scoreless ninth inning.
Kaplan was the sixth Knights' pitcher in the game, held before a crowd of 2,010 at Yakima County Stadium. Cowlitz outfielder Devlin Granberg hit two homers and drove in three runs to lead the South offensively and earn MVP honors.
Cason Cunningham (Linfield) struck out two in a perfect second inning and was credited with the victory. Louis Crow (San Diego) gave up a run on two walks and a base hit in the third inning.
Tanner Howell (Dixie State) struck out two in a scoreless sixth inning. Dakota Donovan (Oregon State) struck out three but gave up a run in the seventh inning, and Jordan Qsar (Pepperdine) fanned one in a perfect eighth inning.
Catcher Zak Taylor (OSU) was 1-for-3; Qsar and Matt Kelly (Portland) were each 0-for-2.
The South featured players from Corvallis, Yakima Valley, Bend, Gresham and Cowlitz. The North players came from Victoria, Bellingham, Kelowna, Port Angeles, Walla Walla and Wenatchee.
The Knights (30-13 all, 26-13 WCL, 9-3 WCL second half) resume WCL action at Walla Walla at 7:05 p.m. Wednesday in the opener of a three-game series. Their six-game road trip concludes at Yakima Valley on July 22-24.
The Knights next home game is July 25, a nonconference tilt with the Salem Capitols of the Oregon Collegiate Baseball League.