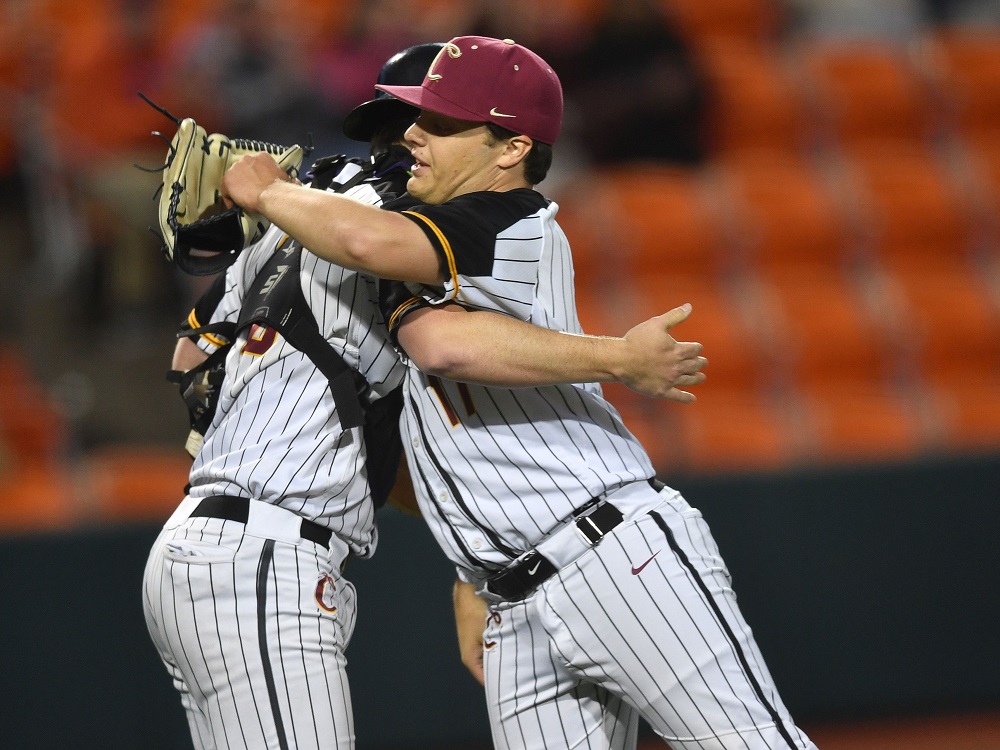 Wiese shuts down Riverhawks, Knights win inaugural series 2-1
Thursday, July 14, Edmonton, Alberta – Corvallis reliever Sean Wiese returned to form and recorded his fourth save of the season in a 7-4 victory over Edmonton at Re/Max Field.
A former George Fox star who will play at Hawaii in 2023, Wiese (pictured, above) allowed one hit and no runs over the final 2.2 innings. He struck out two and helped the Knights win the rubber game of their initial series against the first-year Riverhawks.
Wiese entered the game in the seventh with the bases loaded, one out, and the Knights clinging to a 5-4 lead. He ended that threat by inducing an inning-ending 6-4-3 double play on his third pitch.
He stranded the tying run in the eighth after hitting a batter with two outs. Edmonton got a one-out single in the ninth but he closed out the game with another double play, this one a 3-6-3 gem started and finished by Kiko Romero.
Wiese started the season allowing no runs over 17 innings in his first eight appearances. However, he was roughed up for four total runs over 2.2 innings in his last two outings before rediscovering his mojo against the Riverhawks.
Corvallis broke open a scoreless game by scoring three times with two outs in the fourth. Romero (Arizona in 2023) walked and scored on Zander Darby's (UCSB) triple. Darby scored on an error on a grounder by Temo Becerra (Stanford); Becerra came home when Briley Knight (Portland) followed with a double.
A grand slam in the fifth put the Riverhawks ahead 4-3, but the Knights responded with two runs in the sixth to surge ahead 5-4. Darby's single and Knight's double put runners on third and second; Darby tied the game on Logan Johnstone's (Gonzaga) RBI groundout and Knight crossed on a fielder's choice by Tyler Quinn (Pacific U) for a 5-4 advantage.
Corvallis took advantage of some defenses lapses and added two runs on one hit in the ninth for two insurance runs and the final 7-4 score.
Knight had two doubles, an RBI and a run scored. Darby was 2-for-5 with two runs, an RBI and two stolen bases.
The Knights (21-12 all, 21-11 WCL, 3-3 second half) clinched their 15th consecutive postseason berth on July 7 by winning the South Division's first-half championship by two games over Ridgefield. They will be the No. 1 seed in the South Division playoffs.
The playoffs begin on Aug. 9 with the best-of-3 opening round. Corvallis will open the home portion of the postseason with Game 2 on Aug. 10. If necessary, Game 3 will be at Goss Stadium on Aug. 11.
The Knights play at Wenatchee on Friday, Saturday and Sunday. They conclude a 10-day road trip with a makeup game at Portland on Monday.
Their next home series following the road trip is July 19-21 against Cowlitz.