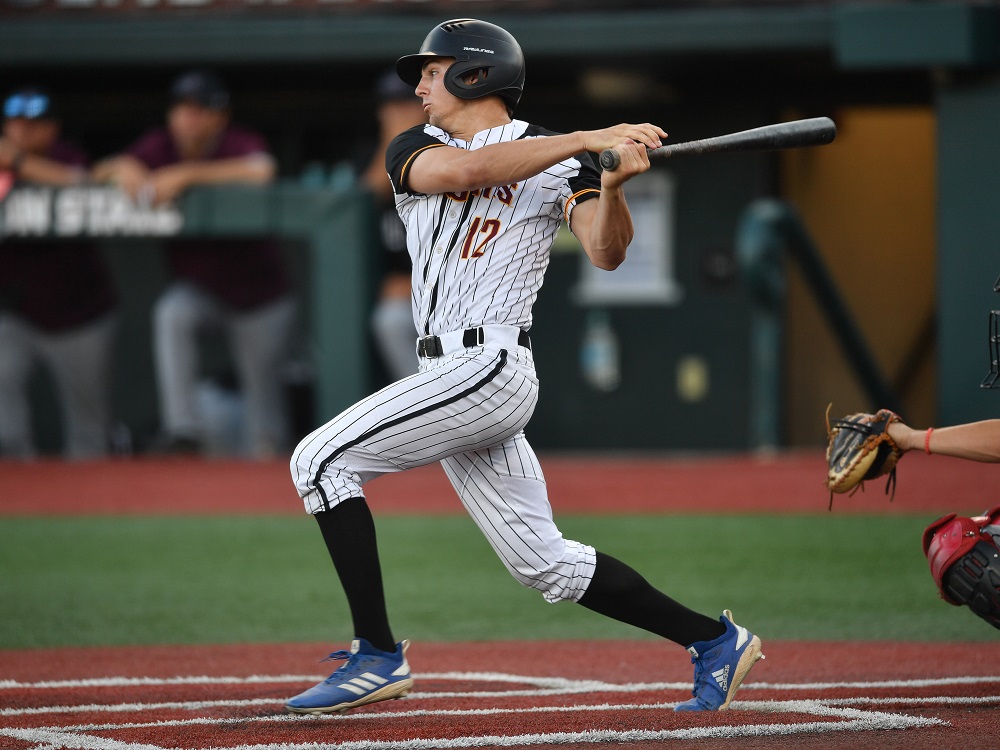 Pippins take game one of the WCLCS, top Knights 4-1
Tuesday, August 17, Yakima, Wash. – In the first ever meeting between the Knights and Yakima Valley Pippins in the West Coast League Championship Series, the Pippins prevailed 4-1.
Crescent Valley High School product Taylor Holder of Oregon banged out three hits for the Pippins, including two doubles. He scored the game's first run in the 7th after doubling to lead off the inning and also delivered a RBI double in the Pippins three-run eighth inning.
Pippins catcher Michael Carpentier, Jr. blasted a lead-off game-winning homer in the 8th off Corvallis reliever Chase Walter of Cal Poly.
Yakima Valley starter Peyton Stumpo of Nevada-Reno tossed 7 scoreless innings for the Pippins.
The Knights tied the game 1-1 in the top of the 8th on a two-out RBI single by Nick Vogt of UC Santa Barbara (pictured). He scored second baseman Travis Bazzana who had doubled with two outs.
Corvallis starting pitcher Sam Stuhr, an Oregon State commit, tossed 4.1 innings of scoreless ball. He was relieved by Brett Gillis of Portland who allowed one run over 2.2 innings pitched while striking out 6. Walter pitched the 8th and took the loss.
Kiko Romero of Central Arizona, the WCL Player of the Week for August 9-15, collected two hits, including a triple.
The Pippins look to capture their first WCL crown this Thursday at Goss Stadium. Corvallis hopes to force a decisive third game, which would be played Friday night at Goss if the Knights win on Thursday, August 19. First pitches at Goss Stadium are set for 6:35 pm.