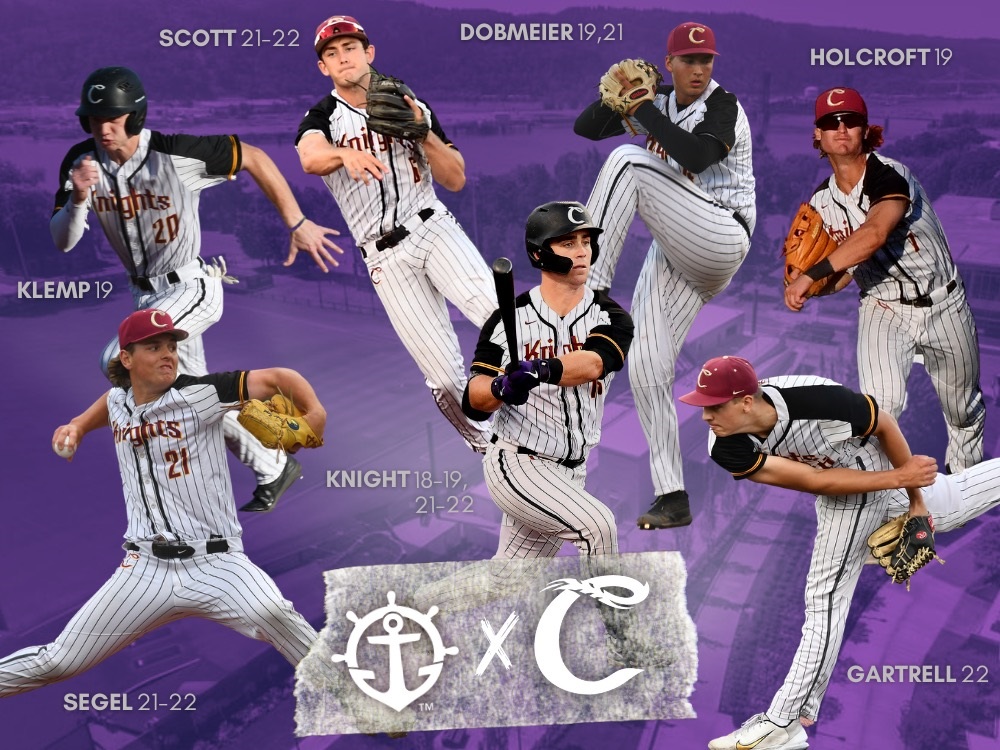 Corvallis Knights Alumni Help Pilots Stun Texas A&M
Wednesday, March 1, Corvallis, Ore. – A group of former Corvallis Knights that play at the University of Portland had a huge role in the biggest upset of the fledgling college baseball season this past weekend.
Alumni Spencer Scott (2021-2022), Briley Knight (2018-2019, 2021-2022), Nich Klemp (2019), Jake Holcroft (2019), Kaden Segel (2021-2022), Jacob Dobmeier (2019, 2021) and Joey Gartrell (2022) all played key roles in leading the unranked Pilots to a series victory over No. 5 Texas A&M at Olsen Field at Blue Bell Park in College Stadion, Texas, on Feb. 24-26.
Portland won the first two games 10-3 and 4-1 and was in position to sweep until the Aggies rallied for three runs in the last of the ninth to win the finale, 5-4. It was the Pilots first win over an SEC opponent and its first series win against an SEC club; the Aggies were the highest-ranked team Portland has ever defeated.
In addition to the players, five members of the Pilots coaching staff have Knights connections, and two members of the Knights organization have sons on the team.
University of Portland skipper Geoff Loomis (1996-1998, 2000), assistant coach Trey Watt (2007), volunteer assistant Eli Morse (2018) and graduate assistant Matt Kelly (2016-2017) all played for the Knights. Associate head coach Connor Lambert was the Knights' pitching coach from 2011-2017 and Loomis managed the Aloha Knights from 2000-2004, capturing the NBC World Series title in 2004.
Corvallis Knights head coach Brooke Knight and Knights Baseball Club CEO Dan Segel each have sons on the club. They were in College Station to watch a series Segel described as "electric."
"It was a special and memorable weekend for so many who traveled to the great state of Texas," coach Knight said. "Watching so many former Knights tackle the Aggies with such conviction and confidence was so rewarding.
"The Portland coaching staff prepared to win, and that feeling resonated with the players.  The foundation has now been built for what could be a very promising 2023 campaign."
Scott was named co-WCC Player of the Week. He was stellar at shortstop and hit .500 with a double, three RBIs and a .615 on-base percentage. He drove in the winning run in the Feb. 25 game.
Also:
Left fielder Briley Knight, the 2019 West Coast League MVP, went 4-for-11 (.364) with a double and three RBIs.
Catcher Nich Klemp went 5-for-13 (.385) with a double and three RBIs, and joined Knight in standing out defensively.
Pitcher Joey Gartrell started the series opener and turned in a quality start, allowing only three hits and one earned run over 4.1 innings, with five strikeouts.
Pitcher Kaden Segel got the 1.2-inning save in the series opener. He entered with a runner on and one out in the eighth, with the Pilots up 3-2, and got a fly out and strikeout to end the inning. He also pitched a scoreless seventh inning for a hold in the finale.
Pitcher Jacob Dobmeier was stellar in relief in Saturday's 4-1 win. He earned the victory with 3.1 innings of one-hit, scoreless relief, with one strikeout.
Center fielder Jake Holcroft, the 2019 West Coast League batting champion, was solid defensively and hit balls hard and had a single and double in the series.
"It was thrilling to see a longtime partner like the Pilots and the coaches and players have this type of success," Dan Segel said. "Portland took down a Goliath in a hostile environment.
"Coach Knight and I were both there to witness Portland's extraordinary play and were proud of our alumni and our sons. It was an experience of a lifetime."
The Pilots (5-2) host Utah Valley State in their home opener this Friday, the first of four encounters in what will be a 12-game homestand at Joe Etzel Field.