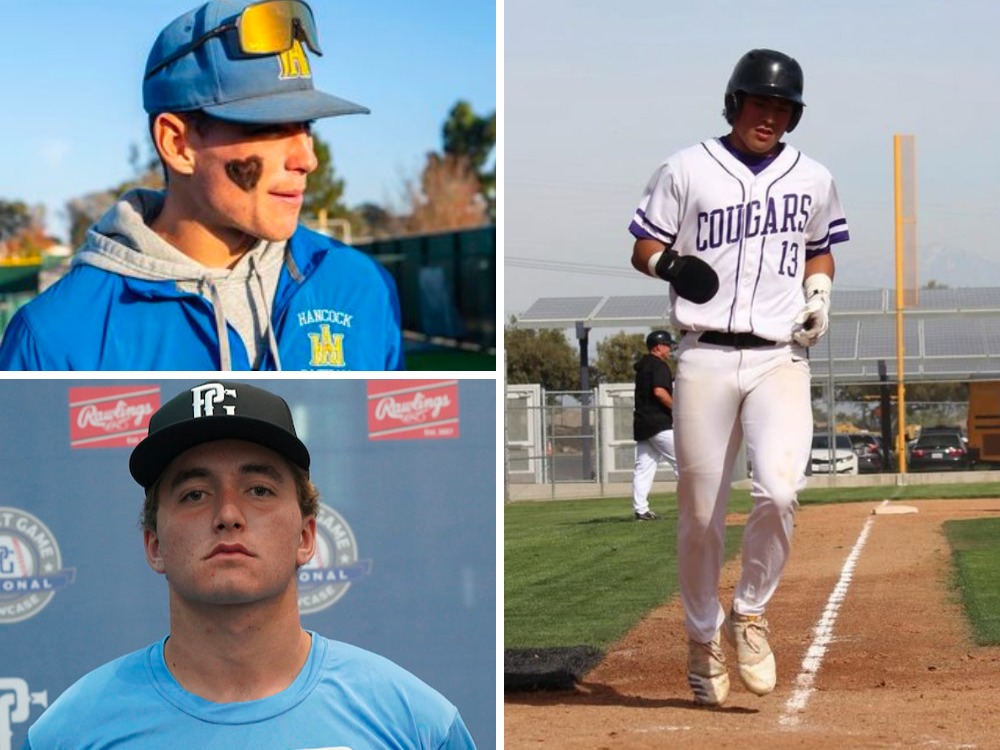 Cal Poly trio joining 2023 Knights
Wednesday, March 1, Corvallis, Ore. – Three current or future Mustangs from Cal Poly will run with the Corvallis Knights this summer, coach Brooke Knight announced Wednesday.
They are sophomore lefty pitcher Luke Kovach, freshman third baseman Tate Shimao and incoming freshman catcher Luke Scherrer.
Kovach is a 6-foot-1, 175-pound liberal arts major from Allan Hancock College who graduated from Cabrillo High School in Lompoc, Calif. He will join the Cal Poly program next season; he is 1-0 with a 3.65 ERA in five appearances at AHC this spring, with 41 strikeouts in 24.2 innings.
Kovach was all-conference as a freshman in 2022, when he went 2-2, 3.20 in 16 games, with six saves and 63 strikeouts in 45 innings.
"I attended the youth camps and baseball games at Cal Poly while growing up and it has always been a dream school of mine ever since," Kovach said. "[Cal Poly] is close to home, so I will have the chance to play in front of my home crowd.
"I'm also super excited about the fact that my whole family is going to have the opportunity to still watch me play for another two years."
He is a Miami Marlins fan who enjoys his work at a local pizza restaurant when not playing baseball. His favorite movie is X-Men Origins – Wolverine, his favorite movie is Prison Break and his favorite books are the Hunger Games series.
A 6-foot, 190-pound sophomore from Honolulu, Shimao attended Ranch Cucamonga High School in California as a senior after attending Iolani High in Honolulu for three seasons. He is hitting .259 in six games this season, with no homers and five RBIs heading into Cal Poly's four-game series with Oregon State that begins on Thursday.
Shimao originally committed to Hawaii, then USC, before landing at Cal Poly following coaching changes at his first two selections. He hit .429 in his lone year at RCHS, with five doubles, two triples, four home runs and 15 RBIs. He was a CIF-Southern Section Division II and Inland Empire first-team all-star.
He played for the Alaska Goldpanners of the Alaska Baseball League in 2022 and  hit .367 with seven doubles, three triples, two homers, 29 RBIs and 16 steals in 18 attempts in a 30-game season.
His favorite MLB team is the New York Yankees. He enjoys going to the beach in his spare time and his media favorites are Moneyball (movie) and Cobra Kai (TV show).
Scherrer will join Cal Poly for the 2023-24 academic year following his graduation from Yucaipa High School in Yucaipa, Calif. He is 6-2, 210 pounds.
"Cal Poly felt like home from the first moment I stepped on campus," he said. "The area reminds me of Yucaipa, just closer to the beach. The high-level academics were also a reason. I really liked the history of the baseball program, along with the direction it's headed in."
Scherrer hit .443 as a junior in 2022, with 12 doubles, three home runs and 27 RBIs. He was first-team All-Citrus Belt League and All-CIF-Southern Section Division I, and was named to the all-tournament team at the National High School Invitational in North Carolina.
As a sophomore, he hit .391 with four doubles, two triples, three home runs and 23 RBIs, and earned Citrus Belt League first-team all-star honors. Prep Baseball Report ranks Scherrer 56th in the nation, 12th in the state and the No. 1 catcher in California.
He is a Los Angeles Dodgers fan who enjoys fishing in his spare time. He enjoys Moneyball (movie), Yellowstone (TV show) and The Great Gatsby (book).
Corvallis opens the 2023 season on May 25 with the annual Science, Engineering & Art Day at Goss Stadium, presented by Paventy & Brown Orthodontics.
The Knights begin their quest for a seventh-straight WCL championship against the host Ridgefield Raptors on June 2. Their home opener is set for June 15 against the Bend Elks.