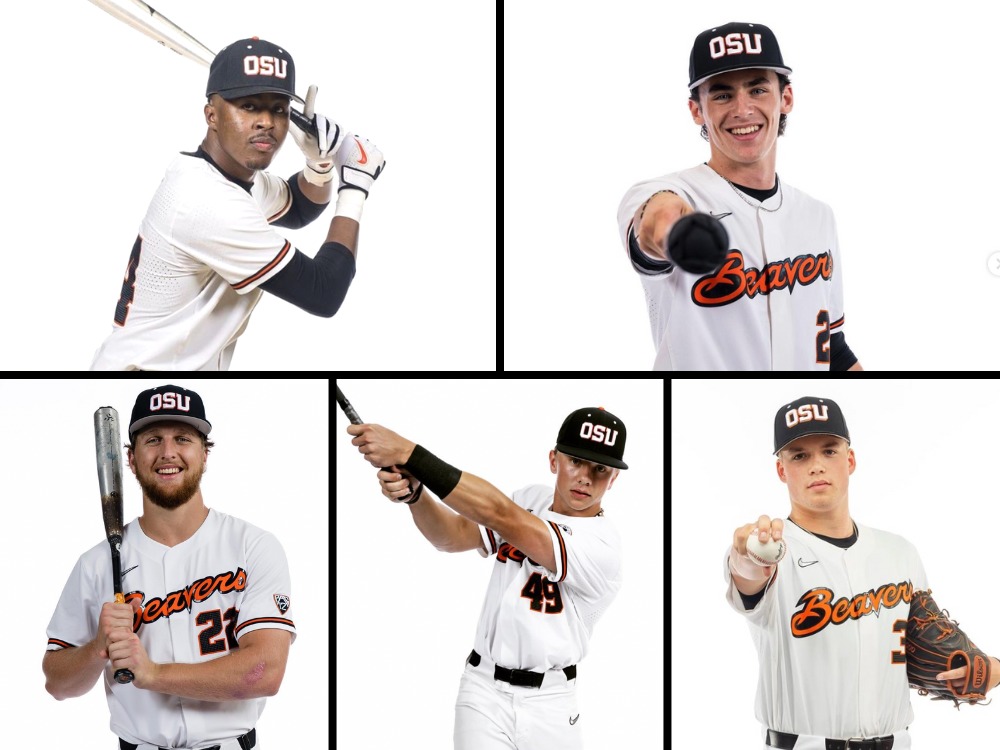 Five current/future Beavers set to shine at Goss this summer
Thursday, March 2, Corvallis, Ore. – Five players will be in familiar surroundings this summer when they hit the field for the Corvallis Knights of the West Coast League.
Oregon State junior pitcher Sam Stuhr, sophomore outfielder Tyree Reed, freshman corner infielder Jacob Krieg, freshman outfielder Easton Talt and incoming freshman infielder Levi Jones will be the latest Beavers/Knights, head coach Brooke Knight announced Thursday.
A 6-foot-1, 200-pounder from Madison High in Portland, Stuhr played for the Knights in 2021 following his freshman year at Lower Columbia College. He was 1-0 with a 2.53 ERA in seven games for the WCL champions, with a save and 18 strikeouts in 21.1 innings.
He did not pitch at OSU in 2022 but spent the summer with the Okotoks Dawgs in the Western Canada Baseball League, where he went 0-0, 5.91 in 13 games, with 22 strikeouts in 21.1 innings for the WCBL champion Dawgs.
Stuhr had a solid freshman season at LCC in 2021, going 2-0 in six games with a 2.36 ERA and 32 strikeouts in 26.2 innings. A member of the Oregon team that also featured former Knights and current Portland Pilots Spencer Scott and Kaden Segel at the 2015 Little League World Series, Sam is a fan of the Los Angeles Dodgers and also likes The Dark Knight (movie), The Office (TV show) and The Mental Game of Baseball (book).
Reed is a 6-3, 200-pound lefty-lefty from American Canyon High in Vallejo, Calif. He was ticketed to play for the Knights in 2022 but missed the summer with a knee  injury, one which also prevented him from playing with the Beavers in 2022 and 2023.
"I've been battling injuries since June, 2020, and playing this summer with the Knights will be my first time playing baseball in college after having two back-to-back knee surgeries," he said. "I am so excited to get back on the field and help us win another WCL championship!
"I am so passionate about the game of baseball and it brings me so much joy. I can't wait to ball out with the boys and make countless memories!"
Reed was a Perfect Game and Under Armour All-American and a three-time USA Baseball participant while in high school. He was also all-league and his league's MVP, and hit .462 as a junior and .481 as a sophomore.
His favorites are The Sandlot (movie), SportsCenter (TV show) and The Power of the Subconscious Mind (book). He likes the New York Yankees, hanging out with close friends and laughing in his free time.
Jones is a 6-1, 185-pound left-handed hitting third baseman who is a senior at Jesuit High in Portland. A second-team 6A all-state and all-Metro League selection in 2022, he will join the Beavers in the 2023-24 academic year.
He is a two-year letterman at Jesuit; his freshman season was cancelled by the Covid-19 pandemic. He hit .400 as a junior, with nine doubles, seven home runs, 33 RBIs and 10 stolen bases. As a sophomore, he had five homers, one double, 10 RBIs and four steals.
"Levi's an in-state, left-handed hitting presence who [can] impact the lineup early on," OSU coach Mitch Canham said. "We are encouraged by Levi's development in all aspects of his game, especially his dedication to defensive play."
He is a Boston Red Sox fan who enjoys hiking, travel, writing and his friends when not playing baseball. His entertainment favorites are Whiplash (movie), Parks & Recreation (TV show) and The Alchemist (movie).
Krieg (pronounced Craig) is a 6-5, 250-pound corner infielder who has made an immediate impact at OSU. He is hitting .571 in three games this season, with eight RBIs and a .714 on-base percentage.
A native of Antioch, Calif., and prospective business major at OSU, he starred at Clayton Valley Charter School. He hit .339 as a senior, with four doubles, one home run, 14 RBIs and five steals in 24 games. As a junior, he hit .367, with a homer and five doubles.
He is a San Francisco Giants fans who likes to hit the gym in his spare time. His entertainment favorites are The Other Guys (movie), Breaking Bad (TV show) and the Curious George series (books).
Talt is a 5-10, 180-pound outfielder who can also catch. A graduate of Sunrise Mountain High School in Peoria, Ariz., he now calls Everett, Wash., home. He has played in four games this season for the Beavers.
He earned first-team all-state, all-West Valley Conference and was the Region Player of the Year at Sunrise Mountain. He hit .390 as a senior, with 10 doubles, five triples, three homers, 29 RBIs and 22 steals.
As a junior, Talt hit .414, with 27 runs, four doubles, seven triples, two home runs, 19 RBIs and 11 steals.
He enjoys spikeball, basketball and hanging out with friends in his spare time, and is a Boston Red Sox fan. His entertainment favorites are Talladega Nights (movie), Outer Banks (TV show) and A Series of Unfortunate Events (book).
Corvallis opens the 2023 season on May 25 with the annual Science, Engineering & Art Day at Goss Stadium, presented by Paventy & Brown Orthodontics.
The Knights begin their quest for a seventh-straight WCL championship against the host Ridgefield Raptors on June 2. Their home opener is set for June 15 against the Bend Elks.