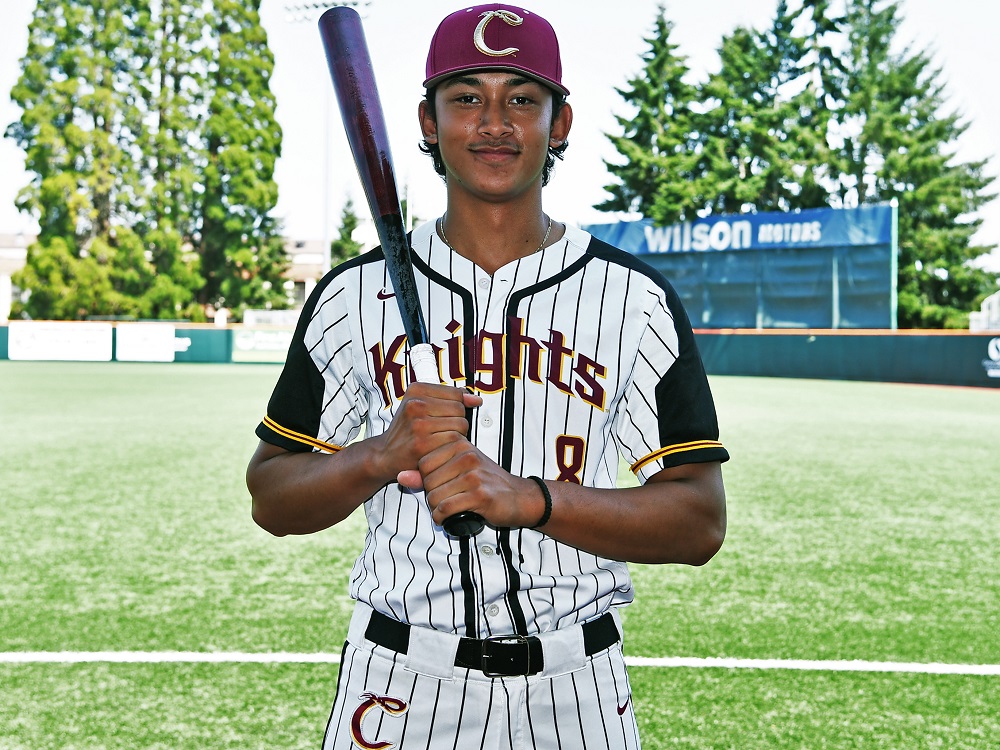 Nankil's Three Base Hits Power Knights Over Driveline Baseball
Tuesday, July 13, Corvallis, Ore. – The Knights scored seven times in the sixth inning to break a 2-2 tie and rolled to a 9-2 victory over Driveline Baseball before a Goss Stadium crowd of 1,394, the third-highest of the summer.
Kiko Romero (Central Arizona JC) had a homer and an RBI single to start and finish the scoring in the uprising. Cal State Fullerton's Nate Nankil (pictured, above) added a two-run triple, one of two three-baggers on his 3-for-4 night. He also scored twice.
Nankil said he had been "struggling" but got straightened out by making adjustments in the batting cage.
"I worked on getting side the ball, and on just having have fun because at the end of the day it's a game and you have to have fun."
The Knights have played every day except once since June 14, and will play two games on Wednesday. Nankil credited assistant coach Youngjin Yoon with helping keep the team motivated and playing hard every time.
"Yoonie is one of the best mental coaches," he said. "He tells us it's a grind, that you have to have a strong mind and keep grinding. Just keep the same mindset, and hopefully get the same results."
Tanner Smith (Oregon State) had an RBI double, Jake Hoskins (LBCC) an RBI single and Kyler Stancato (Washington State) a run-scoring groundout in the big inning. It enabled the Knights (23-7 WCL, 5-1 second half, 26-8 overall) to stretch their winning streak to four straight games.
Chase Walter (Cal Poly) was credited with the win for throwing three scoreless innings. Austin Hallman (George Fox) struck out three in two scoreless innings and Ethan Ross (San Jose State) finished up with a perfect ninth.
The Driveline club is based in Kent, Wash., and is coached by former Oregon State outfielder Max Gordon. The series with the Entitlers concludes with a seven-inning game at noon on Wednesday.
The Knights then head to Longview, Wash., after the game to face the Cowlitz Black Bears in a nonleague affair on Wednesday night. Cowlitz reciprocates with a trip to Goss Stadium on Thursday for another nonleague game, starting at 6:35 p.m.
The Knights host the Portland Pickles in a West Coast League series this weekend. Corvallis swept a road series from the Pickles on June 22-24.