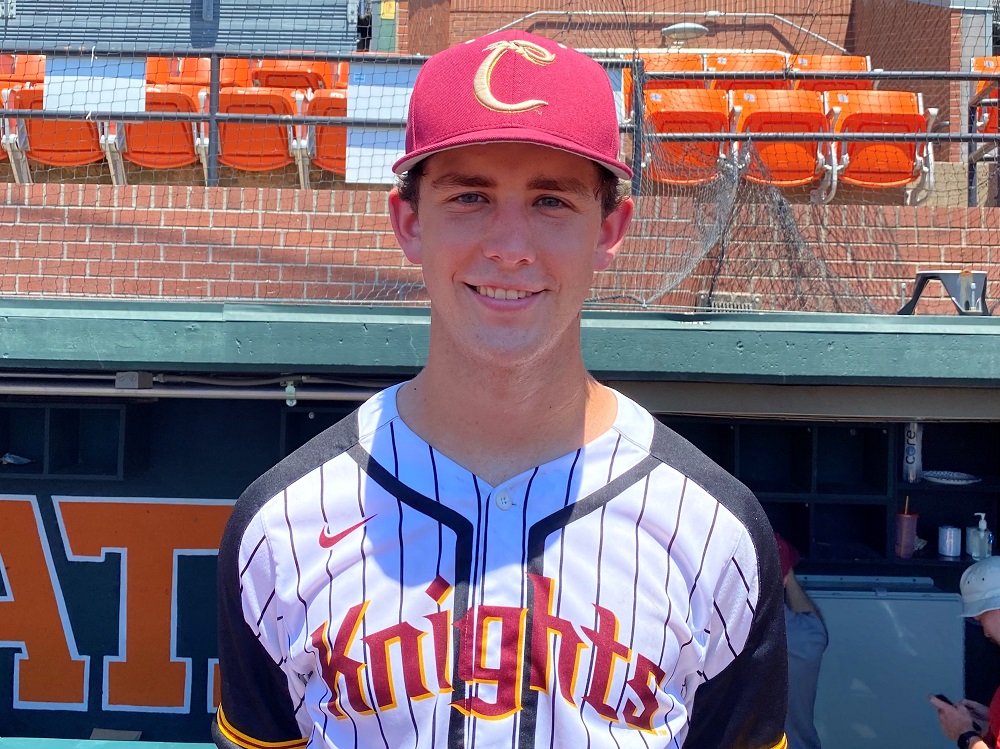 Future Pilot Scott Leads Knights to Nonleague Sweep of Driveline
Wednesday, July 14, Corvallis, Ore. – The Knights completed a sweep of their two-game series with Driveline Baseball with a 9-1 victory before a matinee crowd of 1,058 at Goss Stadium.
Future University of Portland infielder Spencer Scott (pictured above), the 2021 Portland Interscholastic League Player of the Year at Grant High School, had two hits, two RBIs and a run scored. He also started an around-the-horn DP to help quash a budding fourth-inning Driveline rally.
Center fielder Nick Vogt (UC Santa Barbara) was 3-for-4 with a run and a stolen base to complement Scott. The Knights had 10 hits and outscored Driveline 18-3 in the series.
Lefty Drew Dowd (Stanford) spaced four hits over four innings, with four strikeouts, for the win. Jake Vargas (Cal State Fullerton) and Sean Wiese (George Fox) combined to blank the Entitlers on one hit over the final three innings.
The sweep enabled the Knights (23-7 WCL, 5-1 second half, 27-8 overall) to stretch their winning streak to five straight games in all competition.
Immediately after the game the Knights headed to Longview, Wash., to face the Cowlitz Black Bears in a nonleague affair. Cowlitz reciprocates with a trip to Goss Stadium on Thursday for another nonleague game, starting at 6:35 p.m.
The Knights host the Portland Pickles in a West Coast League series this weekend. Corvallis swept a road series from the Pickles on June 22-24.