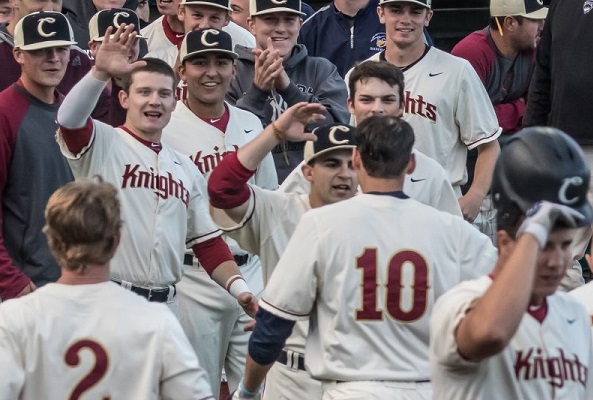 Knights Tip Port Angeles 4-3 in 11-Inning Home Opener
CORVALLIS, Ore. – Shortstop Matt Kelly scored on a throwing error in the 11th inning to give the Knights a 4-3 victory over Port Angeles West Coast League home opener.
Shortstop Matt Kelly (Portland) led off the 11th with a single and was sacrificed to second. Kevin Watson, Jr. (Beaverton HS) walked, and Kelly scored when the Port Angeles catcher threw the ball into center field on a double steal when the Lefties failed to cover second base.
An opening-night record crowd of 1,645 at Goss Stadium saw the Knights (9-2 all, 8-2 all) win their third game in a row in the first-ever matchup between the teams. The Lefties (5-8 WCL) relocated to Port Angeles in the offseason after playing in Kitsap, Wash., for the past 12 seasons.
The old opening-night standard of 1,540 was set in 2015 against Bellingham.
Relievers Trevor Wells of Linn-Benton CC (3), Tanner Howell of Dixie State (2) and Chase Kaplan of Kansas (1) combined to shut down the Lefties over the final six innings. They allowed just two hits; Kaplan got the win after throwing a scoreless 11th inning.
First baseman Dillan Shrum (Nevada) doubled, singled and had a sacrifice fly for Corvallis. Watson, who was selected by Arizona earlier in the day in the 18th round of the MLB draft, drilled an RBI single in his first at-bat as a Knight. All four of Corvallis' runs were unearned.
The series continues at 6:40 p.m. Thursday. Western Oregon efty Jacob Fricke (1-0, 1.80) will start for Corvallis, opposed by righty Wyatt Hoccou (2-0, 0.67) of Biola. The series concludes at 6:40 p.m. Friday; Linfield lefty Cason Cunningham (1-0, 0.75 will start for Corvallis against a to-be-determined Port Angeles pitcher.
The Knights then conclude their opening homestand by hosting Cowlitz on Saturday through Tuesday.