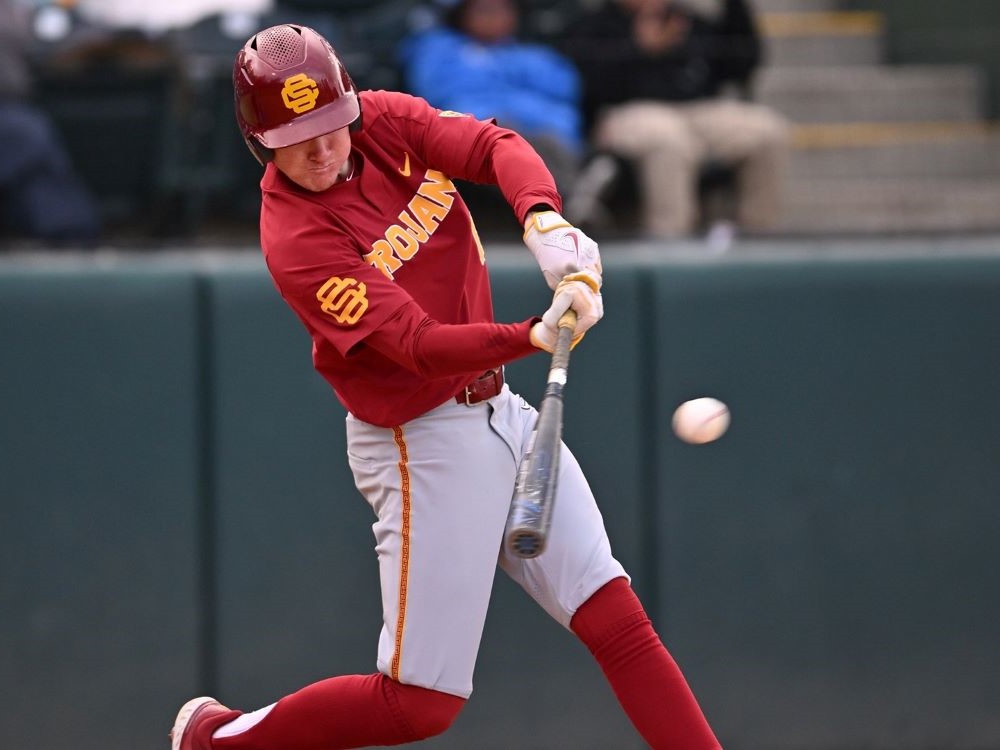 Knights own worst enemy in 5-0 loss to Black Bears
Friday, July 7, Longview, Wash.  – The Knights were their own worst enemy in a 5-0 loss at Cowlitz in their first game of the second half of the West Coast League season.
The first three Black Bears to bat in the first inning reached base via a walk or hit by pitch and all eventually scored for a 3-0 Cowlitz advantage. A two-out error led to a fourth run in the second inning.
The Knights (20-11, 17-11) lost their third consecutive game.
Reliever Nathan Marshall (Lane CC) entered in the second inning and allowed only one earned run in 4.2 innings, with two strikeouts. Ethan Collins (Pomona-Pitzer) went the final 2.1 innings and didn't allow a run, and also fanned two.
Ethan Hedges (USC, pictured above) doubled for one of the Knights two hits. Former Knight Ely Kennel (2022) hit a solo homer for Cowlitz.
The two clubs meet again at 6:35 p.m. Saturday; Zach Johnson (2-0, 1.92) is scheduled to start for Corvallis, opposed by Mt. Hood CC's Jayden Vinson (1-0, 1.89). The 1:05 p.m. Sunday finale pits Corvallis lefty Ethan Ross of San Jose State (0-1, 10.50) vs. UC San Diego's Spencer Seid (0-0, 0.00).
The Knights next home game is Wednesday vs. Springfield, the middle contest of a set that starts and finishes in Springfield.