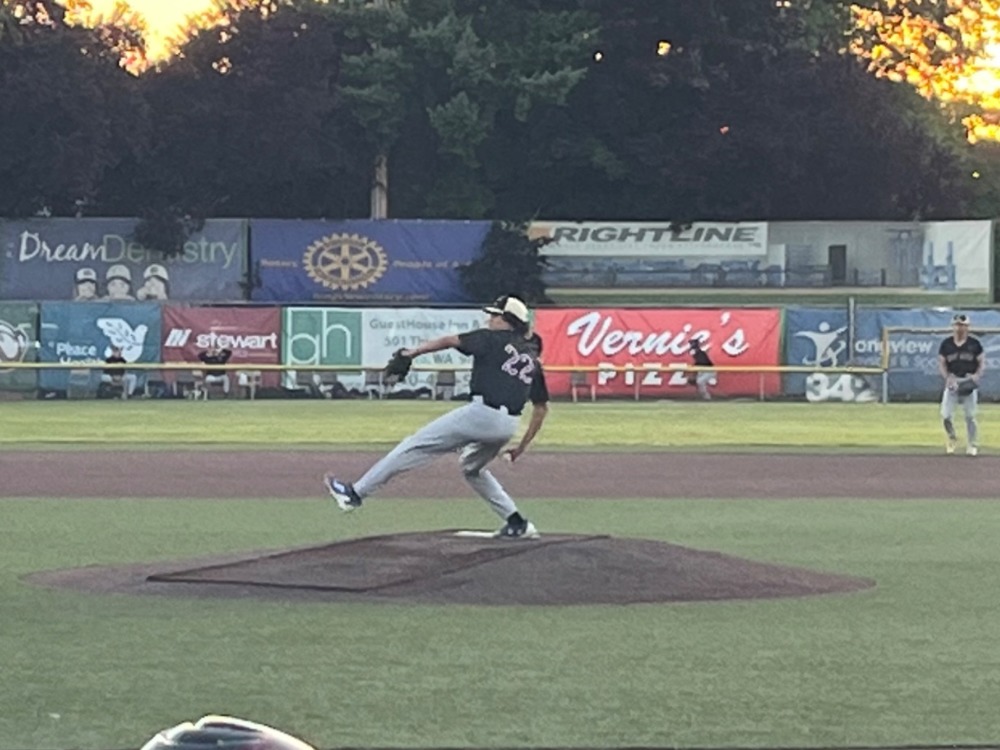 Corvallis Bats Come Alive, Knights Even Cowlitz Series With Resounding 9-2 Win
Saturday, July 8, Longview, Wash. – After getting blanked on Friday night in the opener of their road series versus longtime rival Cowlitz, the Knights came out swinging to the tune of 15 hits and 9 runs as Corvallis took game two of the three-game set, 9-2, before a Black Bears crowd of 1,030.
Three Knights relievers combined to toss five scoreless and hitless innings after starter Zach Johnson twirled four frames. Neil Feist (Cal State Northridge) pitched two innings to earn the win, Frank Camarillo (UC Santa Barbara, pictured) tossed a stellar two frames, striking out 3, and lefty Luke Kovach (Cal Poly) closed things out with a scoreless ninth.
Offensively, both third baseman Tyler Quinn (Utah) and first baseman Blake Avila (Grand Canyon) each collected three hits; right fielder Sam Stem had two hits and 2 RBIs. All 15 Knights hits were singles. Corvallis catcher Tyler Howard (Portland) reached base four times with two walks and two singles.
With the win, Corvallis improved to 18-11 in the WCL (21-11 overall). The Knights face Cowlitz Sunday at 1:05 pm at David Story Field in the series rubber match. Southpaw Ethan Ross of San Jose State is Corvallis' probable starting pitcher.