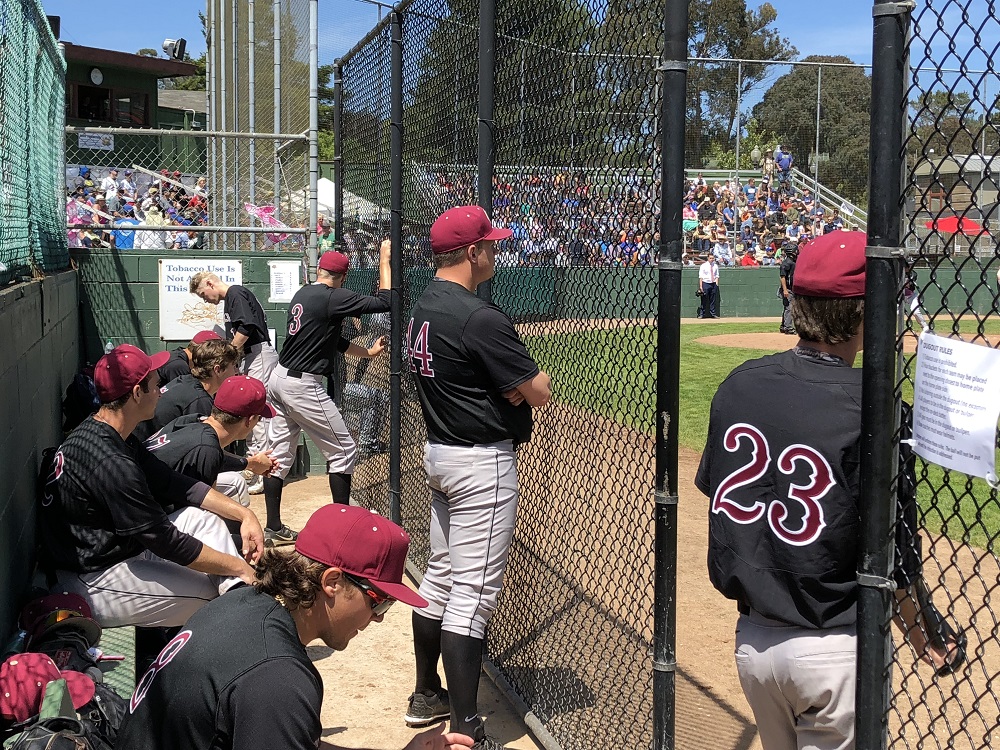 Knights Start Title Defense June 4 at Walla Walla, But First it's Crabbing Season
Before the Corvallis Knights start thinking dynasty, and extending their WCL title run to four in a row, they head down to one of their favorite places this weekend – Arcata, California – to face their longtime friends and rivals the Humboldt Crabs in a three-game series May 31-June 2.
Corvallis opened its season this past Tuesday with a 4-2 non-conference win vs. the Portland Sea Dogs before an enthusiastic crowd of 2,830 at OSU's Goss Stadium on Weyerhaeuser Science, Engineering & Art Day.
The hometown team's West Coast League season home opener is slated for Friday, June 14th on Samaritan Health Fireworks Night vs. the Cowlitz Black Bears.
The 2019 edition of the Corvallis Knights hopes to cement the team's status as a summer collegiate baseball dynasty by hunting a fourth consecutive title in the club's 30th season, and 13th in Corvallis.
Last year, the Knights found a way to overcome the upstart and very talented Portland Pickles to capture a crown versus its founding member friends, the Kelowna Falcons.
It will be a hard road to travel, as the West Coast League continues to improve each and every year. And the South will not only feature the fierce Pickles, but the expansion Ridgefield Raptors, always tough Walla Walla Sweets and traditional contenders Bend and Cowlitz.
Once again, coach Knight and his staff of Ed Knaggs, Kellen Camus and Youngjin Yoon will count on pitching and defense to get Corvallis to its 13th straight post-season appearance.
University of Portland junior closer and Knights' returnee Connor Knutson is one of several talented arms that hope to develop in Corvallis this summer. Knutson led the Pilots in saves this past spring with 10 and went 3-3 with a 2.85 ERA.
Abbott Haffar of UC Riverside and big-game Connor Redmond are also returning for the Knights. Haffar had a solid spring posting the Highlanders lowest ERA at 4.35 over 21 appearances and 8 starts. Redmond shined the past two summers in the WCL post-season and sat out this past spring as he's transferring.
Newcomer southpaws from the Big West, frosh Chase Watkins of Cal Poly and sophomore Timothy Jostens of Cal State Fullerton are likely to be part of a strong rotation that includes a range of exciting options such as junior right-hander Kevin West of UC Riverside, frosh lefty Nick Caviglia of Utah and freshman right-hander David Watson of Utah.
Watkins made 14 appearances and 9 starts; posting a 5.20 ERA for the Mustangs while Jostens made 19 appearances and 8 starts for the Titans, going 3-4 with a 4.14 ERA. Watson tossed 8 shutout innings for the Utes in his last start in Utah's 8-0 win over UC Davis.
The Knights will also feature two intriguing Pac-12 pitchers in frosh Andrew Walling of Oregon State and freshman Alex Williams of Stanford. Williams went 7-1 in the regular season and posted a 2.48 ERA, walked only 6 and struck out 35 over 13 appearances and 9 starts for the Regional hosting Cardinal.
Young arms like freshmen Brodie Cooper-Vassalakis of Grand Canyon and Trevor Bateson of UC Riverside; and incoming frosh right-handers William Kempner of Gonzaga and Jacob Dobmeier of UC San Diego (by way of Newport, Oregon) are poised to develop, and contribute to what skipper Brooke Knight thinks is a solid pitching staff.
"We're deep and I think we have a great opportunity for improvement over the summer," said Knight. "I'm optimistic our pitching staff will be playoff ready if we're fortunate enough to earn a berth."
The team's catching duties will be handled early by two junior catchers that started for their spring teams – Zack Moeller at Utah and Chase Hodkinson at San Francisco. Both bring solid leadership to the club, and defensive prowess. But it's redshirt frosh Stephen Lund of Gonzaga that might be the key to this catching trio as he'll get lots of opportunities to be the Knights lead catcher. While Lund redshirted this past spring, Moeller hit .264 with 16 doubles, 3 home runs and 31 RBI for the Utes.
First base will be manned once again by University of Portland frosh Trace Tammaro, a returnee from last summer's Three-Peat champions. Trace led the WCL in fielding percentage in 2018 and this past spring he hit .261 with 5 home runs and 26 RBIs while leading the Pilots in walks with 30.
The middle infield will feature great depth with returnee junior Andy Atwood of University of Texas Rio Grande Valley manning shortstop early and offering coach Knight extraordinary versatility as Atwood can play second, third and all three outfield positions equally well. Andy starred for the 2016 WCL champion Knights while he was at Oregon State. This past spring he hit .303 for the Vaqueros.
Likely high draft picks Brooks Lee, a Cal Poly commit, and incoming UCLA frosh Michael Curialle are set to flash their plus leather at shortstop this summer, but can also play other infield positions and outfield.
"We are very deep in the infield and are hoping to showcase two of the best young infield prospects in the country in Lee and Curialle," said Knight.
Oregon State frosh Jake Harvey is set to start at second base. His mix of speed and power should make him a fan favorite at Goss Stadium this summer.
Coach Knight will look to freshman Matthew Gretler of Oregon State to get starts at third base, and also at second and first. Both Harvey and Gretler were key contributors to the Regional hosting Beavers.
The outfield features a slew of left-handed hitters and excellent speed. Returnee Briley Knight of Utah offers up both speed and power, and plays all three outfield positions well. The Utes' frosh from Crescent Valley High School can also play third base and catch. Junior outfielder Nick Yovetich of University of San Francisco and incoming frosh Kai Murphy are the other lefty hitters who can run and play outstanding outfield. Returnee (and two-time WCL champion) redshirt sophomore outfielder Elliot Willy of Oregon State is the lone right-handed hitting outfielder for the Knights. Willy hopes to add thump to the Corvallis lineup.
Knight hit .255 with 8 doubles, 2 homers and 17 RBIs this past spring at Utah. Yovetich hit .240 over 121 at bats with 5 doubles and 4 stolen bases for the Dons. Murphy collected three hits in his Goss Stadium and college baseball debut May 28 against the Portland Sea Dogs.
"I am really excited about our position players," said coach Knight. "We're deep and versatile. This group might be one of the most talented we've ever had. We're excited to get this thing going and hope we can finish on top at the end while further developing our guys, preparing them for their next spring season."