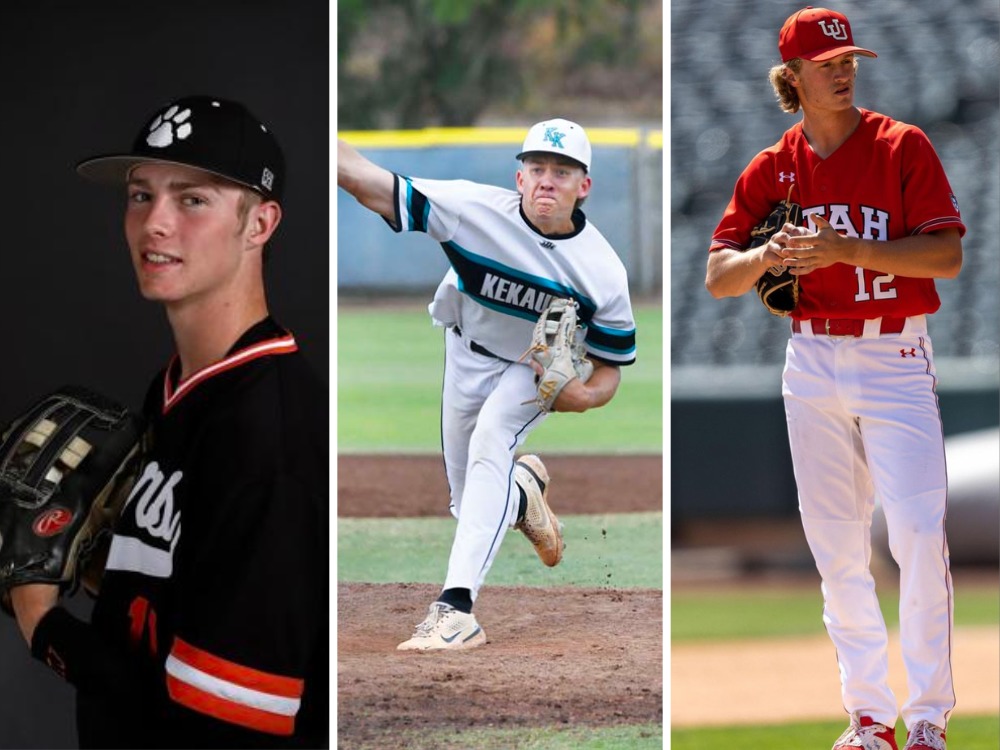 Knights sign Utah Utes pitching trio
Saturday, Feb. 18, Corvallis, Ore. – The Corvallis Knights of the West Coast League have signed three University of Utah pitchers for the 2023 season, head coach Brooke Knight announced Saturday.
The latest signees are Jaxon Grossman, Merit Jones and Bransen Kuehl. All three are right-handed pitchers.
Grossman is a 6-foot-3, 205-pound freshman righty from King Kekaulike High School in Maui, Hawaii. He was ranked as the No. 12 prospect in Hawaii by Perfect Game.
Former Knights' pitcher Ryley Widell (2016), an honorable-mention WCL all-star and the seventh-round selection by the Minnesota Twins in the 2017 MLB draft, also played at King Kekaulike High.
He enjoys cliff jumping, surfing and skating in his spare time and is a Los Angeles Dodgers fan.
Grossman played at Corner Canyon High in Draper, Utah, as a junior to get more exposure.
Jones is a 6-3, 190-pound freshman from Idaho Falls High in Idaho Falls. He was ranked as the No. 1-ranked righty and the No. 2 player overall in the 2022 recruiting class in Idaho by Perfect Game.
He was 7-1, with a 1.57 ERA as a high school senior, with 71 strikeouts in 53.1 innings, while hitting .405 with six homers and 27 RBIs. He was the Gatorade Idaho Player of the Year, the Post Register newspaper's Player of the Year, the 4A/5A High Country Conference Player of the Year, the District 5/6 5A Pitcher of the Year and the A Idaho Player of the Year.
Jones was also the 4A/5A High Country Conference Pitcher of the Year in 2021, when he was 9-0, 1.25, with 64 strikeouts. He was the winning pitcher for the Idaho Falls Bandits in the championship game of the 2021 American Legion World Series and earned all-World Series honors.
A prospective kinesiology major, he is a Boston Red Sox fan who enjoys hiking, bowling and disc sports in his spare time.
Kuehl is a 6-1, 190-pound sophomore righty who played at Stevens High School in Rapid City, S.D. He was 0-0, 9.42 in 12 games as a Utah freshman, with one save and six strikeouts in 14.1 innings.
He then played for the Naniamo NightOwls in the WCL and was 0-2 in 11 games, with a 9.81 ERA and 21 strikeouts in 14.2 innings.
He was a Perfect Game top-100 RHP in Class of 2021, was named the No. 1 RHP in South Dakota and No. 2 overall player in the state. He was a first-team Perfect Game Central Region all-star.
A San Diego Padres fan, he enjoys hiking, fishing, bowling and basketball in his spare time. He is a health and kinesiology major.
Corvallis opens the 2023 season on May 25 with the annual Science, Engineering & Art Day at Goss Stadium, presented by Paventy & Brown Orthodontics.
The Knights begin their quest for a seventh-straight WCL championship against the host Ridgefield Raptors on June 2. Their home opener is set for June 15 against the Bend Elks.