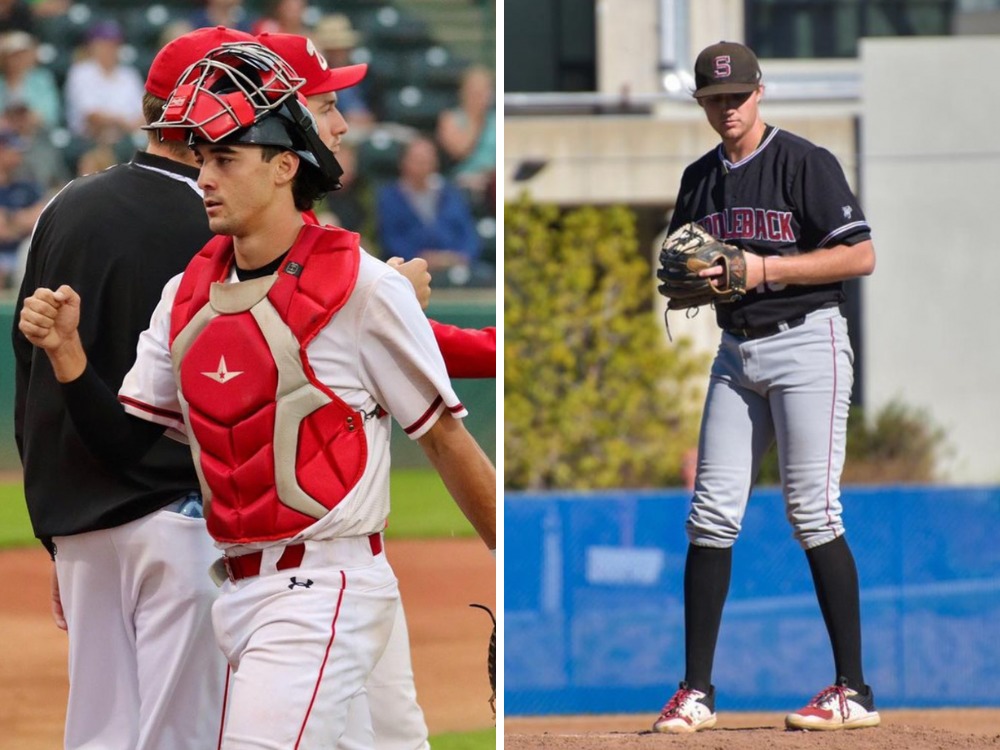 Washington State duo coming to Corvallis
Monday, Feb. 20, Corvallis, Ore. – Two Washington State Cougars with extensive college experience will join the Corvallis Knights for the 2023 West Coast League season, head coach Brooke Knight announced Monday.
They are catcher Jake Morrow, a junior alum of the Linn-Benton Community College program, and sophomore pitcher Connor Wilford, an alum of Saddleback College in Mission Viejo, Calif.
Morrow is a 6-foot-1, 205-pound social science major from Warrenton High School in Warrenton, Ore. He was a four-year letterwinner, three-time captain and earned Coastal League Player of the Year as a junior.
His 2020 season was canceled because of the Covid-19 virus. He also lettered four times in football, twice earning all-state honors, and three times in basketball. He was a three-year football captain and a two-year basketball captain.
Morrow hit .262 with no homers and 17 RBIs in 40 games at LBCC in 2022 and .271 with a homer and 14 RBIs in 19 games in 2021. He was the NWAC South Region Gold Glove winner at catcher in 2022.
He played for the champion Okatoks Dawgs in the Western Canadian League in the summer of 2022 and hit .301 in 31 games, with three homers and 26 RBIs. He also played for the West squad in the all-star game. He was in the WCL with the Portland Pickles in 2021 and hit .296 in 10 games, with four RBIs.
He is a fan of the San Diego Padres and Seattle Mariners and likes to fish, surf, hunt and invest in his free time.
Wilford is a 6-3, 210-pound righty who is a sophomore this spring. He graduated from San Clemente High School in San Clemente, Calif., and attended Cal Poly in the fall of 2020 before transferring to Saddleback from 2020-22.
Wilford was a first-team Orange Empire all-star in 2022, when he was 11-2 in 16 starts, with a 3.07 ERA and 87 strikeouts and only 14 walks in 96.2 innings. He was 0-3, 5.73 in nine games in 2021, with a save and 13 strikeouts in 11 innings.
Saddleback's 2020 season was canceled because of the Covid-19 virus.
Wilford enjoys surfing, video games and spending time with his family. He favorite MLB team in the Los Angeles Angels. He is majoring in communications at WSU.
Corvallis opens the 2023 season on May 25 with the annual Science, Engineering & Art Day at Goss Stadium, presented by Paventy & Brown Orthodontics.
The Knights begin their quest for a seventh-straight WCL championship against the host Ridgefield Raptors on June 2. Their home opener is set for June 15 against the Bend Elks.