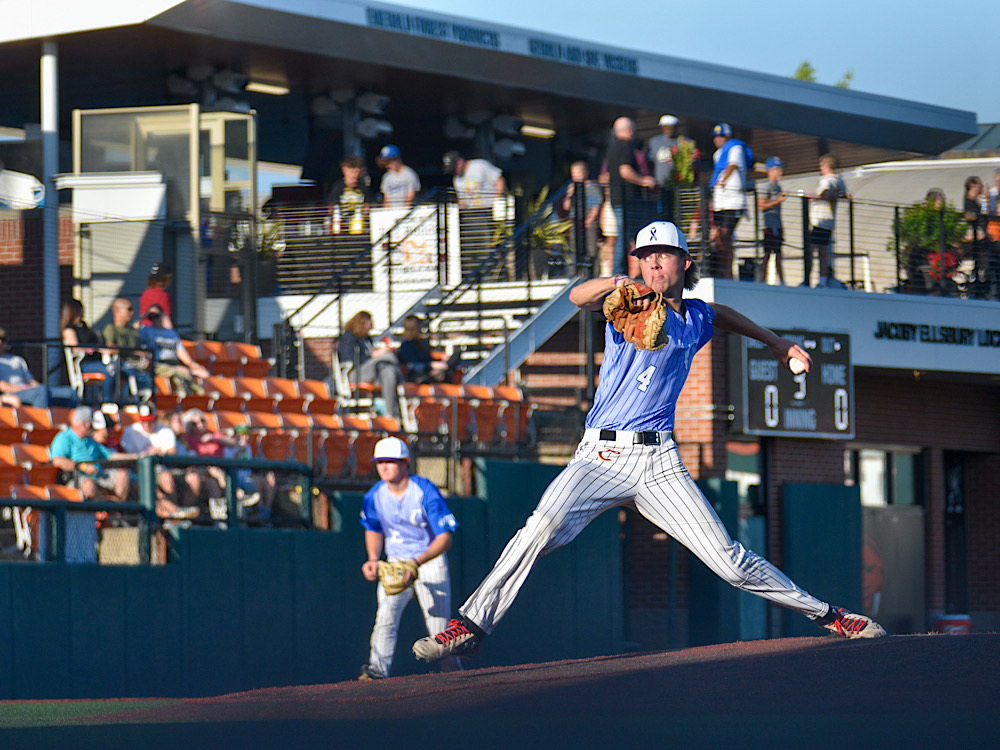 Knights complete series sweep of Falcons, keep division lead
Thursday, July 20, Corvallis, Ore.  – The anticipated showdown between West Coast League division leaders turned in to a mismatch.
Corvallis defeated Kelowna 6-0 before a Goss Stadium crowd of 1,937, completing a three-game series sweep and stretching the Knights' winning streak to 10 in a row in all games and nine straight in league play.
The Knights (31-12, 27-12, 10-2 second half) maintained their grip on first place in the South Division's second-half pennant race. Corvallis outscored the Falcons 23-5 in the series and now also has the best overall record in the division.
Four Knights pitchers combined to blank the Falcons on six hits, one night after starter Jakob Wright (Cal Poly) and two relievers held them to one run and three hits in a 6-1 victory.
Incoming Gonzaga freshman Miles Gosztola (pictured above) allowed nine baserunners over five innings, but escaped trouble every time. He struck out four and stranded three Falcons at third and two more at second and earned Washington Park Advisors Player of the Game honors.
Merit Jones (Utah) had two scorelesss innings, Max Debiec (Texas A&M) and Bransen Kuehl (Utah) one apiece to close it out. Kelowna had just one hit in the final five innings.
Corvallis took a 1-0 lead in the fifth on a double by shortstop Phoenix Call (UCLA) and two flyouts, the second one a sacrifice fly by Tyler Quinn (Utah). Corvallis added five more runs on only two hits in its next two at-bats, aided by seven walks.
Call also ended the game by leaping to snag a line drive and then doubling a runner off second with a backhanded flip. It was one of three double plays turned by the Knights, who also stole seven bases.
The Knights hit the road on Friday for a weekend series against South Division rival Walla Walla. Game times at Borleske Stadium are 6:35 p.m. Friday, 4:35 p.m. Saturday and 6:05 p.m. Sunday.
Projected starters are Kaden Segel of Portland (1-0, 1:35) for Corvallis vs. Francisco Lopez (1-2, 13.50) of Columbia Basin CC on Friday; Zach Johnson of Utah Valley (3-0, 1.90) for Corvallis vs. Kolby Solomon (1-1, 4.05) of Gonzaga on Saturday, and Ethan Ross of San Jose State (0-2, 4.50) for Corvallis vs. Otho Savage (0-1, 18.00) of Blue Mountain CC on Sunday.
Corvallis is idle on Monday. It opens a three-game homestand with Yakima Valley on July 25-27.
Thursday's crowd of 1,937 raised the season's attendance to 42,745 in 25 dates.