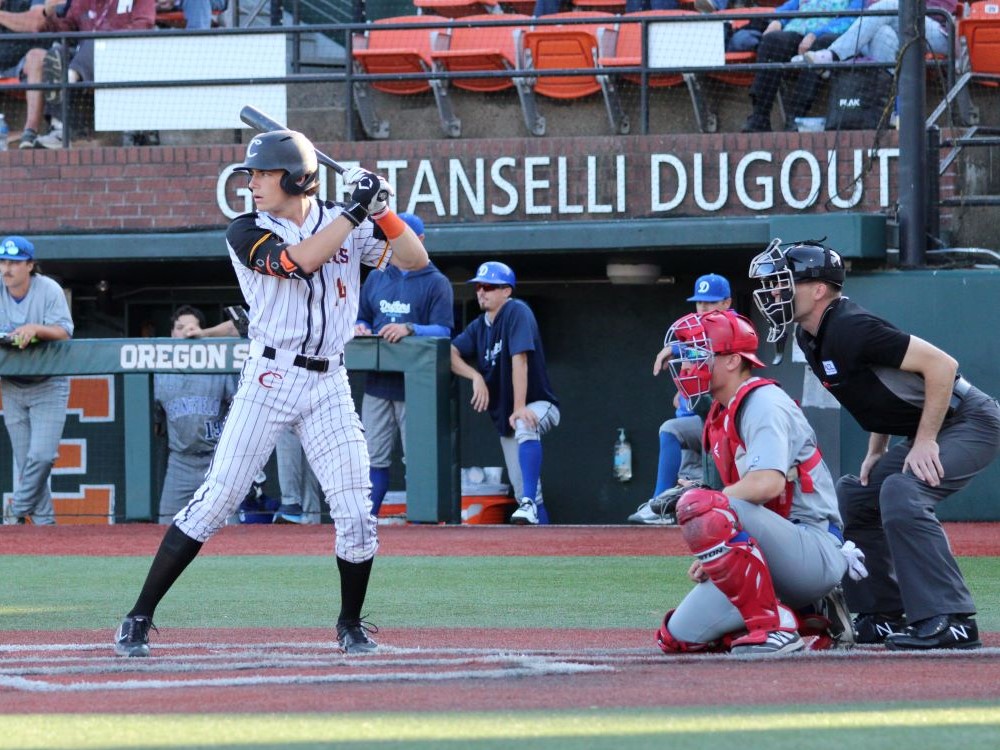 Jones has four hits, leading Knights over Walla Walla 13-1
Friday, July 21, Walla Walla, Wash.  – The Corvallis Knights stayed red-hot by blasting Walla Walla 13-1 for their 11th consecutive victory.
It was also the 10th straight West Coast League triumph for the Knights (32-12, 28-12, 11-2 second half). They maintained their grip on first place in the South Division's second-half pennant race by taking the opener of the three-game weekend series at Borleske Stadium in convincing fashion.
Incoming Oregon State freshman Levi Jones (pictured above) was 4-for-4 with two RBIs, three runs and walk, reaching base safely in all five plate appearances and raising his average 48 points to .302. Mason Le (CSU Northridge) was 3-for-4 with two RBIs and Ethan Hott (Stanford) had two hits and three RBIs to pace a 15-hit attack.
Sam Stem (Gonzaga) added two hits and two runs and Ty Yukumoto (Pacific) added two RBIs.
Corvallis batted around and scored six times in the first inning, with the big blow a 2-run single by Hott. He added an RBI single in the second to make it 7-0.
Ethan Hedges (USC) had an RBI triple and then scored on a single by Jones for a 9-0 lead in the fourth. Doubles by Jones and Le produced a run in the sixth. Le and Jones also had RBIs in the big first inning.
Corvallis starter Kaden Segel (Portland) allowed one run on one hit through five innings, with three strikeouts. A first-team WCL all-star in 2022, he is now 2-0, 0.77 in four appearances since joining the team in early July after spending the first part of the summer in the Coastal Plain League.
Cameron Rowe (Utah Valley), who began the season as a catcher before transitioning to the mound following an injury, made his pitching debut with a scoreless sixth inning.
Ethan Collins (Pomona-Pitzer) finished up for a three-inning save. He struck out four and allowed no runs, extending a streak of excellence that has seen Knights pitching surrender just two runs in the last 27 innings.
The series continues at 4:35 p.m. Saturday. Zach Johnson of Utah Valley (3-0, 1.90) for Corvallis and Kolby Solomon (1-1, 4.05) of Gonzaga are the projected starters.
Sunday's finale is set for 6:05 p.m. Ethan Ross of San Jose State (0-2, 4.50) will start for Corvallis, opposed by Otho Savage (0-1, 18.00) of Blue Mountain CC.
Corvallis is idle on Monday. It starts a three-game homestand with Yakima Valley on Tuesday; all games are scheduled for 6:35 p.m. at Goss Stadium.