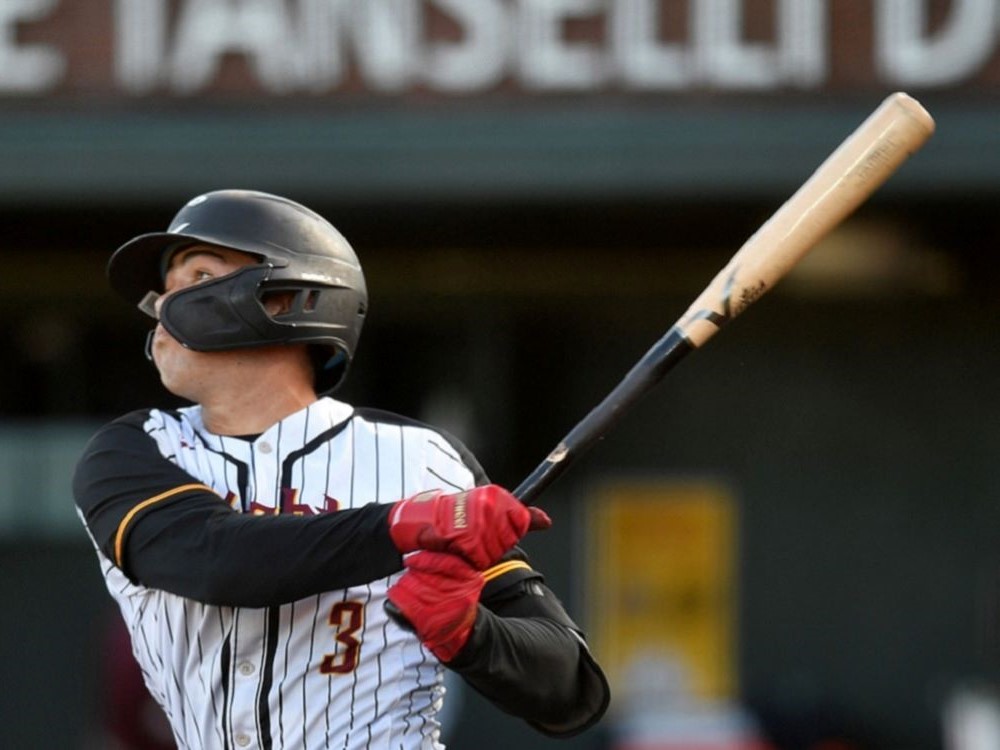 Knights edge Sweets in 13-inning battle for 11th WCL win in row
Saturday, July 22, Walla Walla, Wash.  – The Corvallis Knights scored three times in the 13th inning  to top Walla Walla 11-8 at Borleske Stadium to capture their longest game of the 2023 season.
The Knights (33-12, 29-12 WCL, 12-2 second half) overcame five errors to post their 12th consecutive victory in all games and their 11th straight in West Coast League play.  They maintained their hold on first place in the South Division's second-half pennant race and clinched their fourth series win in a row.
JC Ng (Pomona-Pitzer) walked to lead off the decisive 13th and scored the go-ahead run on Tyler Quinn's (Utah) second double of the game. Sam Stem (Gonzaga) singled Quinn to third and Quinn scored on Ethan Hedge's (USC) squeeze bunt to make it 10-8.
Stem advanced to third on the play. He scored on another squeeze, by Ethan Hott (Stanford) for an 11-8 advantage.
Kaleb Woltz (San Francisco), the Knights fifth pitcher, threw two scoreless innings to nab the win. He struck out one and ended the game by retiring a batter who represented the potential tying run on a comebacker to the mound.
Quinn also tripled, drove in four and scored twice. Mason Le (CSU Northridge, pictured above) went 4-for-5 with a double and scored two runs. He raised his average 82 points to .302. Hedges had three hits and two runs and Tate Shimao (Cal Poly) and Blake Avila (Grand Cayton) both drove in two runs.
The Knights collected 18 hits and have pounded Sweets' pitchers for 33 hits and 24 runs in winning the first two games of the series.
Corvallis scored single runs in the third on Quinn's RBI double and in the fourth on Shimao's RBI single. They broke loose for four runs in the fifth on Quinn's two-run triple and a two-run single by Avila but Walla Walla stormed back with four runs in the home half to draw even at 6-6.
The defending champs went back ahead 7-6 in the sixth on a double by Le and two groundouts, the second an RBI by Ng. The Sweets tied the game again in the home seventh and then went ahead 8-7 in the eighth.
However, the Knights drew even in the ninth thanks to two-out singles by Anson Aroz (Oregon) and Shimao with Tate's clutch knock driving in pinch-runner Hott to make it 8-8.
Frank Camarillo (UC Santa Barbara) pitched 3.2 innings of scoreless relief, ending a Sweets' threat in the eighth, retiring them in order in the ninth and 10th, and then escaping a bases-loaded jam in the 11th. He struck out two and allowed just one hit.
Sunday's series finale is set for 6:05 p.m. Ethan Ross of San Jose State (0-2, 4.50) will start for Corvallis, opposed by a pitcher to be announced for Walla Walla.
Corvallis is idle on Monday. It starts a three-game homestand with Yakima Valley on Tuesday; all games are scheduled for 6:35 p.m. at Goss Stadium.