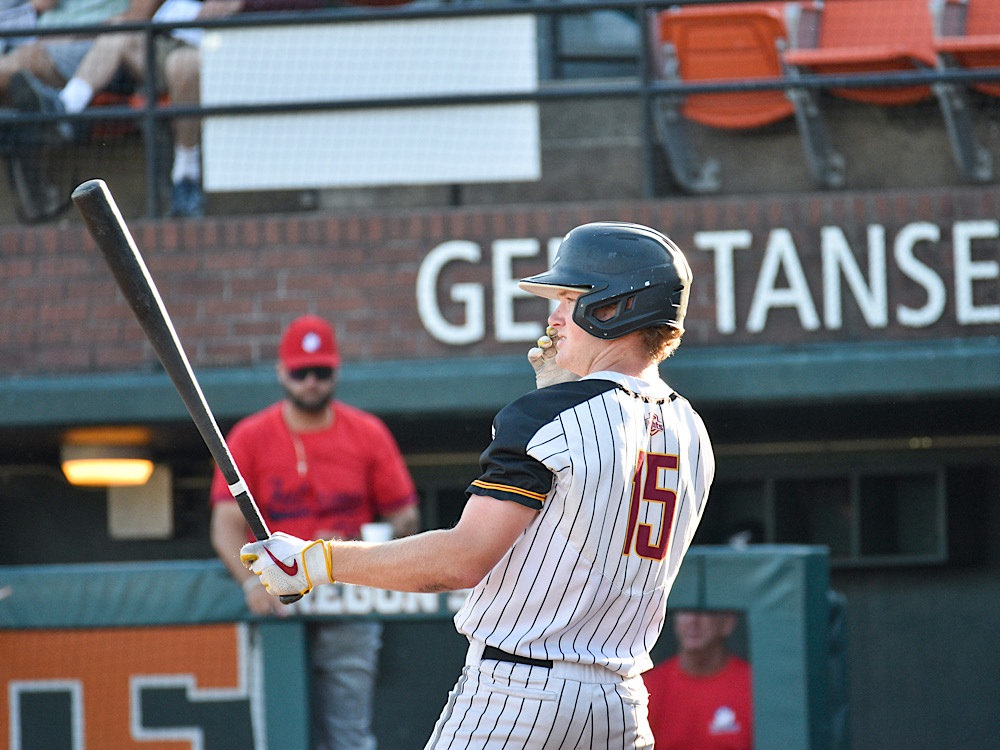 Knights keep rolling, top Falcons 6-1 to claim 9th straight victory
Wednesday, July 19, Corvallis, Ore.  – Pitcher Jakob Wright avenged his only loss of the summer and Corvallis stretched its winning streak to nine games with a 6-1 victory over Kelowna on a comfortable evening at Goss Stadium.
Wright (Cal Poly) was tagged for six runs in 3.2 innings in an 8-3 loss to Falcons in Kelowna on July 5. However, he was untouchable in the rematch, allowing only one hit and one run in five innings, with six strikeouts; only three balls were hit out of the infield.
The win clinched the series for the Knights (30-12, 26-12, 9-2 second half); they took the opener 11-4 on July 18. Corvallis remained in first place in the second-half South Division pennant race and stayed unbeaten on their current homestand, which winds up on Thursday.
First baseman Ethan Hedges (USC, pictured above) earned Washington Park Advisors Player of the Game honors by going 3-for-3 with a double, three RBIs, two runs and two stolen bases. His two-run double in the third inning snapped a 1-1 tie and keyed a four-run rally that gave the Knights an insurmountable advantage.
Center fielder Ethan Hott (Stanford) singled three times, drove in two and stole two bases. Corvallis finished with five steals in the fast-moving game, which took just 2:14 to complete.
Wright and relievers Nathan Marshall (Lane CC) and Frank Camarillo (UCSB) combined on a two-hitter, as Marshall and Camrillo each threw two shutout innings. The Falcons got a hit with one out in the second and did not reach safely again on a base hit until there were two outs in the ninth.
The series and 7-game homestand conclude at 6:35 p.m. Thursday. The finale pits Knights' southpaw Miles Gosztola (0-1, 3.37) of Gonzaga vs. Griffin Naess (2-0, 1.63) of Cal Poly.
Wednesday's crowd of 1,478 raised the season's attendance to 40,808 in 24 dates.